12 essential spray tan tips for getting the best results
These spray tan tips give the lowdown on what to do before and after your appointment to get the best results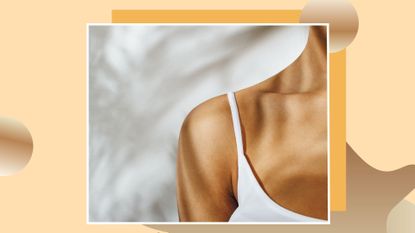 (Image credit: Future/Getty)
Whether you're new to the treatment or a seasoned tanner, our expert spray tan tips can help you get the very best results out of your appointment.
For newbies, heading to a spray tan appointment can be a daunting experience—especially if you've been burned by a certain Friends episode. So swotting up on exactly what you should do beforehand can help to put your mind at ease. And even practiced tanners could benefit from a refresh if you've started to develop some bad habits or have maybe only used home tanning methods before.
There are many benefits of spray tanning—like it's faster and healthier than tanning in the sun—and it's a great way to get a quick glow before a holiday or big event (without the UV damage). But make sure you still don't forget to slap on one of the best sunscreen for your face, as—spray tan or not—harmful UVA rays can make it through windows and clouds, so you always need to keep your skin protected.
Why opt for a spray tan?
"Spray tanning is the safest way to achieve a bronzed-all-over look in minutes without the harmful damaging rays of the sun," explains Meredith Boyd, celebrity hair and makeup artist. "From the fairest of the fair to the richest of skin tones, spray tanning is beneficial to enhance your skin tone and it provides a healthy glow when applied correctly."
In fact, a spray tan is one of the few safe and healthy ways to darken your complexion—especially if you're worried about whether sunscreen prevents tanning.
"There is no such thing as safe tanning from the sun or a tanning bed. Tanning from ultraviolet light leads to sun damage," notes Dr. Karen O'Neill, dermatologist and beauty expert. Instead, "You can 'fake the bake' using a spray tan booth, airbrush or spray gun, or self-applied tanning lotion."
And it's a much safer way to darken your skin than using coconut oil for tanning or if you've been tempted to use baby oil to help you tan (neither of these methods we'd recommend). Getting a spray tan isn't totally effortless, though. There are some steps you need to take to prepare, as well as important aftercare considerations to ensure the best results.
12 spray tan tips for getting the best results
From before tips to what you should and should not do after a spray tan, these are the dos and don'ts of spray tan...
What to do before a spray tan
Before you head off for your spray tanning experience, there are few steps to take from the very first moment you decide to get one that will help you get the best results from your spray tan.
1. Find the right salon
Do your research to find the best spray tan salon in your area. Look up reviews or ask your friends for recommendations.
"You want a facility that is clean, hygienic and well ventilated," recommends Dr. O'Neill.
2. Work out your skin tone
Arrive at your appointment prepared. Determine what your skin tone is so you know what kind of product the technician should use.
To do this, "Simply look at the veins at your elbow or wrist. If the vein is green, you are olive skin-toned, and if the vein is blue, you are fair skin-toned," explains Meredith.
"Olive-based skin tones work best with citrus-based tanning solutions, and fair skin tones work best with sugar-based solutions," she says. "This will help you avoid turning orange! Ask your technician what is the base of the formula. If they can't answer, run!"
3. Prepare your skin beforehand
"Your skin needs to be exfoliated and well-moisturized to achieve a streak-free, even finish," emphasizes Dr. O'Neill. "Arrive for your appointment showered and shaved, waxed, or threaded."
Also, "apply barrier cream or lotion to your nail beds, knees, elbows, and ankles to prevent these areas from getting too dark during your spray tan," says Meredith.
Our helpful guide can help if you're not sure whether to apply sunscreen or moisturizer first.
4. Wear loose-fitting clothes you don't love
"Don't wear tight clothing for 24 hours prior to your tan or after," recommends Meredith. Tight clothing might create marks on your skin before the tan, and it could interfere with the tan afterwards. "Wear a loose summer dress or T-shirt and flowy bottoms. No socks—wear flip flops or slides."
Opt for comfy loungewear or sweat sets—or you could even take a set of loose pajamas along to wear!
Even with loose-fitting items, "Some of the spray tan may rub onto your clothes following application, so it's best not to wear your favorite outfit to the spray tan salon," advises Dr. O'Neill.
5. Test your tan ahead of time
If you've never gotten a spray tan before, your first time shouldn't be right before a special occasion where you need to look your best. "Do a practice run before a major event, like a wedding or a photoshoot," recommends Dr. O'Neill.
You may not love the way spray tans look on you, or it might take some trial and error to find the right salon or technician.
6. Start with a lighter shade
Going from pale to dark in one day might be shocking, not only to you but to your friends and family, too. For that reason, it's best to test the waters and wade in slowly.
"First-timers should ask for a light to medium spray so they can ease into the process of spray tanning," advises Meredith.
7. Time the tan
"Timing is everything, as the spray tan will start to fade in around five to seven days.
Ideally, you want to schedule your spray tan one or two days before the big event," says Dr. O'Neill.
8. Skip the deodorant and scents
"Never wear deodorant, perfumes, lotions, or body sprays," warns Meredith.
"This will change the pH level of the skin and turn it green. Yes, your pits will turn green, guaranteed! You can apply antiperspirant to avoid sweating after your spray if you need to."
What to do after a spray tan
This is everything you should and should not do after your tan in order to get the very best results from your spray tan.
9. Be gentle with your skin
"Treat your skin gently. Try to wait 10-12 hours to have a shower after your spray tan, and avoid excessive showering," recommends Dr. O'Neill. "Refrain from exfoliation or shaving as well to prolong your spray tan results."
Also, remember: "Moisturize, moisturize, moisturize," emphasizes Dr. O'Neill.
Just be sure to avoid hydrating with body oils. "They will break down the tan faster and it won't last as long," says Meredith.
And if you're going out in the sun, make sure you know whether sunscreen or sunblock is best to protect your tan.
10. Avoid sweating
"Don't work out for 24 hours after the spray, as sweating will cause streaks," recommends Meredith.
"Also make sure your car is cool when you get in it. I line my car with a towel prior to the tan. Hot seats will cause sweating."
11. Rinse your skin after a full day
"Take a warm water rinse after 24 hours and do not scrub your skin. Lightly wash off with a gentle shower gel to refresh your skin. Pat yourself dry — do not rub!
"I call it washing your A, B, C… A is the face, B is the armpits and C is the lady area," advises Meredith.
12. Use makeup to hide streaks
If you're stuck with spray tan streaks, get your best foundation at the ready.
"Camouflage with makeup or concealer, and do a better job of prepping your skin the next time," says Dr. O'Neill.
What's most important is that you do your research, prepare adequately, and take good care of your skin after your appointment. And always be sure to still cover up with sunscreen—and check your sunscreen expiration too. Follow these best spray tan tips, and you'll be looking sun-kissed and beachy in no time.
My Imperfect Life thanks Meredith Boyd and Dr. Karen O'Neill for their time and expertise.
Deputy Editor at My Imperfect Life
Aleesha is deputy editor and beauty & fashion lead for My Imperfect Life, where she heads up the beauty, fashion and eCommerce pages. Previously she was shopping writer for woman&home and gained an AOP awards nomination after working on their news team. She earned an MA in Magazine Journalism from City, University of London in 2017 and has since worked with a number of brands including, Women's Health, Stylist and Goodto. When she's not testing new products, Aleesha spends her time soaking up the newest bestsellers and Netflix releases, learning about different wines, attempting new languages and travelling as much as she can.