The best accessible sex toys for people with disabilities or chronic pain
Our picks for the best accessible sex toys are lightweight and easy to navigate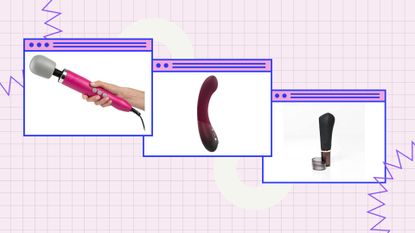 (Image credit: Future)
One area that has for too long been ignored for disabled people is access to sexual pleasure. Of course, we use vibrators and other sex toys, but what if they were designed to meet our needs fully? Finally, a revolution seems to be occurring, with some of the best accessible sex toys at long last making their way to market.
Kelly Gordon, Disability and Inclusion Lead at Hot Octopuss, notes: "Sex toys need to be accessible because everyone deserves pleasure. So many people assume that disabled people are asexual, and that obviously isn't the case for the most part. Disabled people have the same sexual desires as everyone else."
Brands are now (as they should) thinking much more about disabled customers and the design tweaks that can be made to improve our experience. After all, nothing can ruin the moment more than losing grip or being unable to press a certain button at just the right moment. Accessible sex toys need to be comfortable to use and hold, and lightweight and easy to maneuver. And above all, like all the best sex toys and app-controlled vibrators, they need to guarantee pleasure and a good time.
To help you decide on the right option for you, we've reviewed the best accessible sex toys here, including options for all preferences—from bullet vibrators to massage wands.
The best accessible sex toys to add to your collection:
1. Kurve
The best accessible vibrator all-round
Specifications
Power source: Rechargable
Material: Silicone ABS
Wearable: No
Reasons to buy
+
Attractive design and feel
+
Exciting concept
+
Great accessible features
Perhaps the first thing you'll notice about the Kurve is how attractive it is. The curve is near perfect and the bulbous head is soft and spongy, while the rest of the shaft is rigid. In addition, one of its selling points as an accessible sex toy is that the plastic handle is comfortable and ergonomic to hold and move. So, if you find gripping some vibrators for long periods uncomfortable, you won't have an issue here.
The toy contains two separate motors. The "treble" vibrates at a high frequency, while the "bass" gives a more profound sensation. The Kurve also has raised buttons, making it easy to find them without looking, and easy to press. It's a small detail but an important one: I have been on my way to climax and failed because my hands could not press firmly or manipulate the vibrator enough. Once you've mastered which side is treble and which is bass, you should be able to operate this option with ease!
2. Womanizer Premium
The best accessible clit stimulator
Specifications
Power source: Rechargable
Material: Silicone ABS
Wearable: No
Reasons to buy
+
Very effective—quick orgasms
Reasons to avoid
-
It can be hard to hard to find the right spot
The Womanizer Premium is ergonomically designed to feel comfortable when you handle it and place it between your legs, and it's also light enough to move around smoothly. It produces a soothing suction sensation, and delivers marvelous massaging airwaves straight to your clitoris.
It has twelve intensity levels, so it should be easy to find the right one to suit you and your preferences. The +/- buttons on the Womanizer Premium are meant to raise or lower the suction strength, and there should be no problem pressing the buttons. The intensity levels and autopilot mode mean there is very little work needed on your part once you've found the right spot. Top tip: spread the labia apart lightly to reveal your clitoris and then surround it in the stimulation head.
This is the most straightforward and quickest orgasm I have ever experienced. In the words of Janice from Friends: "Oh my GOD."
3. The Doxy Wand
The best accessible sex toy for a powerful all-over massage
Specifications
Power source: Mains powered
Material: Non-Porous PVC and ABS Plastic
Wearable: No
Reasons to buy
+
Incredibly powerful, even on lower settings
Reasons to avoid
-
It needs to be plugged in
The Doxy Wand may look slightly intimidating, but it promises a world of pleasure. It has three big buttons, which are comfortable to press, giving you all the control you could need.
Its power also means that it is perfect for people who need intense stimulation to feel more sensation, or for those who want to use a sex toy with a partner. This, combined with its extensive surface area, means it can still be effective if you find it hard to hold a vibrator in one position. It is mains-powered though, so one downside is that you'll need to be near an outlet while using this toy. Not a problem for most, but something to note.
4. DiGiT
The best accessible bullet vibrator
Specifications
Power source: Rechargable
Material: Silicone, PC
Wearable: No
Reasons to avoid
-
A single charge only lasts around 40 minutes
There are many bullet vibrators on the market; however, DiGiT feels more disabled-friendly than most. The ability to wear it, because of its finger rings, means that grip is not all-important, and it's super easy to wear if you struggle with holding something tightly for a long period of time.
Although the finger rings are not unique to the DiGiT, others with the same feature have felt comparatively lacking, as though your fingers alone could achieve the same effect. The DiGiT is both simple to use and effective. While it's not the most effective in our round-up of the best accessible sex toys, the finger rings will be a game-changer for some—and for that, it's well worth it.
5. Ignite Pleasure Balm
The best accessible pleasure balm
Specifications
Power source: N/A
Material: Balm
Wearable: N/A
Reasons to buy
+
Tingly, menthol feeling, which increases sensation
Reasons to avoid
-
Putting too much on can hurt!
Okay, this isn't exactly a sex toy, but we reckon it's an essential for any solo (or partnered) time in the bedroom. This pleasure balm is designed to boost sensitivity and intensify orgasms and it does just that, alongside being easy to apply. The disability I have can cause numbness in certain areas, which can make reaching a climax difficult. This balm increases sensation, so anyone who experiences the same should definitely try it!
It's a go-to product for a little extra help, and handily can also be combined with lubricants and arousal serum to help during sex or when using a sex toy. (Got more lube questions? We've got answers.)
With pleasure devices like these, orgasms just got more inclusive. Yay!
Melissa Parker is a disabled freelance journalist who has written extensively about issues facing disabled people and disabled women, notably, for publications such as Cosmopolitan, Digital Spy, Metro and Refinery29. In June, she appeared on the cover of Stylist magazine as part of their "The Weight on Our Mind" campaign. She's also a columnist for The Unwritten, a publication focusing on telling disabled people's stories in their own words.
She is particularly passionate about the importance of disability representation in the media, inclusive health and fitness, environmentalism and Beyoncé. You can find her watching TV or drinking coffee when she's not writing.