The best plants for an office desk
Spruce up your WFH space with these easy-to-care-for plants for an office desk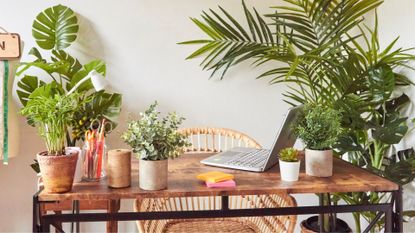 (Image credit: Getty)
Workspace feeling a little impersonal? Adding some plants for an office desk will spruce up even the dullest of work set-ups.
Many of us spend around eight hours each day working in the same spot and yet, aside from a dog-eared photo from the work Christmas party or a jazzy stack of sticky notes, we don't really make it our own. You'd never sit staring at a blank wall for hours at a time, so why put up with that at work?
Along with picking the best desk chairs for your space, one of the easiest ways to add personal flair to your office is by getting some greenery into your workspace, especially during the cold-weather months when we're all dealing with seasonal affective disorder and spending less time outside in nature. Just a few leafy friends can transform your workspace vibe from prison cell to Pinterest paradise.

But plants don't just look good—they can actually help with your work, too, especially if you're working from home.
"The organic shapes of plants and the abundance of textures invite you to explore your own creativity. Having plants in your home office will also boost your concentration and help you to take better breaks because plant care is self-care," says Igor Josifovic and Judith de Graaff, founders of Urban Jungle Bloggers and authors of the book Plant Tribe. Not only do plants promote a healthy home, but studies also show that having some at your office desk helps to relieve workday stress and anxiety.
The best plants for an office desk:
1. Spider plant
Perfect for a serial plant killer
Reasons to avoid
-
Requires cutting back
-
Needs to be kept moist
Not as creepy as they sound, spider plants are vibrant and low-maintenance organisms that get their name from the spider-like plantlets that grow off the main body. They thrive in a variety of conditions (from semi-shady to partial direct sunlight) and the only problem they commonly suffer from is brown tips, so they're basically foolproof. All they need is to be watered moderately so that the soil is kept slightly moist and occasionally cut back when they start to take over your desk.
2. Snake Plant
Greenery that will make your workspace look like an Instagram tile
These can survive whether they're kept in bright sunlight or dull corners. They come in a variety of types but they're all striking and bring a modern edge to any workspace. Snake plants are fairly indestructible but make sure not to overwater them—just do it when the soil starts to feel dry to the touch.
3. ZZ Plant
A modern-looking, low-effort plant
Reasons to buy
+
Air-purifying
+
Modern look
The ZZ plant (full title Zamioculcas zamiifolia) is a seriously cool succulent—even its name sounds badass. The ascending waxy green leaves of the regular variety bring a contemporary aesthetic to your desk, while the distinct near-black leaves of the raven ZZ plant are eye-catching. Easy to care for, not only can the ZZ plant grow with little water and little natural light, but it also has air-purifying qualities.
4. Jade Plant
A plant for those looking for luck
Reasons to buy
+
Considered lucky for financial success
+
Can survive a few days without water
Reasons to avoid
-
Requires a few hours of moderate light
Jade plants are an adorable yet robust addition to your desk. They need moderate light for just a few hours per day and will live on even if you forget to water them for a few days, so they're great for those among us who aren't so green-thumbed. Plus, the jade plant is also known as a money plant and is seen across Asia as a lucky charm bringing financial success. Who doesn't want that on their work desk?!
5. Pothos
It cleans your air, even when you neglect it
Reasons to buy
+
Low-maintenance
+
Air-purifying
If the cute, heart-shaped leaves don't sell you on pothos, nor its awesome alternative name of devil's ivy, then perhaps its super simple upkeep will. The evergreen vine isn't picky about its light source and can deal with being neglected for a few days. It also improves the air quality of your home. We're fans of the golden variety, with its irregular splotches of gold punctuating the green.
6. Aloe Vera Plant
The best plant for a sunny workspace
Reasons to buy
+
Doesn't need much water
+
Loves sun
+
Medicinal benefits
Those with a window by their desk should definitely buy an aloe vera plant or two. They love lots of bright, natural sunlight, so they'll flourish in a sunny spot. Those with a forgetful mind when it comes to watering plants will also love aloe vera, as it only needs to be watered every week or two. Winning.
7. Cactus
The plant to get if you can't handle a "proper" plant
Reasons to buy
+
Doesn't need much water
+
Likes sunlight
Really don't think you can handle looking after any of the above plants for an office desk? Then perhaps the humble cactus is the desk plant you need. Native to the desert, cacti are accustomed to living without much water and can retain whatever liquid you give them for a long time, so you really can't kill them (well, not easily anyway).
They do enjoy light, though, so they're best suited to a desk near a window. Just make sure to keep your wits about you while you work—these spiky little guys will attack when touched.
How to choose plants for an office desk:
When figuring out which foliage is for you, your office conditions are probably the most important things to think about. If your desk is right by a window, for example, you'll need plants that thrive in sunlight, but if you sit in a dingy, windowless corner (bad luck, bud), then your new shrubs should be shade lovers.
Plus, if you're picking plants for your office desk in an actual communal office, you'll want to go for ones that can survive the weekend without water—not a problem that those who work from home need to consider.
Finally, there's the look of the plant—there's no point plonking a spider plant next to your laptop if you think it's uglier than the hairdo you rocked during that awkward phase back in sixth grade. It kind of goes without saying, but pick something you actually enjoy the appearance of!
We've done the hard work for you and, ahem, rooted out the best plants for an office desk.
Victoria is a freelance journalist with eight years of experience, writing everything from reviews and news pieces to meaty features for various online and print titles — including easyJet Traveller and b.inspired. Her work covers travel, lifestyle, health, and fitness. In her spare time, Victoria performs improv comedy and she's currently training to be a PT.