Types of vibrators: everything to know about the buzzy sex toys
Check out all the different types of vibrators on the market, whether you're into rabbits, wants, bullets, or more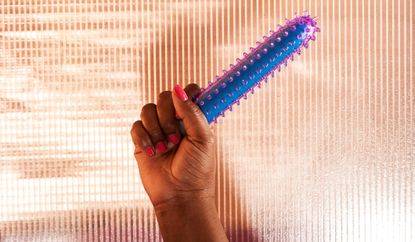 (Image credit: Getty)
As sex toys have become more accessible, many types of vibrators have been introduced (thank you, internet!). And vibrator sales have skyrocketed—recent studies have shown that a majority of women in the US have used a vibrator at least once in the past.
As sex toys have become more popular, companies have become more inventive in the types of vibrators and shapes, sizes, and materials that will work best for people's bodies, from personal massagers to app-controlled vibrators and hands-free vibrators to use alone or with a partner. Manufacturers know that each person is different and has a different sense of what pleases them, so vibrators are no longer one size fits all.
With all the different types of vibrators out there, how's a girl deciding what to use? Which one is going to be best for my body? Should I be perusing the internet for the best reviewed sex toys on the market? We dove in deep (pardon the pun) so you don't have to—here's everything you need to know about the many types of vibrators on the market today.
What are the best types of vibrators for you?
1. Wand vibrators
Though experts disagree on the exact percentage, it is becoming clear in scientific research that few women can orgasm from internal stimulation alone. This does not mean that it is impossible for these women to orgasm. Rather, it's much more common to orgasm following stimulation of the clitoris, a collection of nerve endings that sit above the vaginal hole, right where the inner labia meet to form a little "hood."
Wand vibrators look a bit like microphones except with a vibrating head. They may be a great solution for those who find internal stimulation lacking. The nerve endings in the clitoris are extra sensitive to the vibrating sensation the wand produces, making it a fantastic option for women who are just beginning to experiment with vibrating toys.
2. Bullet vibrators
Small, compact, and not much different in appearance than a tube of lipstick, bullet vibrators are great when you need to take your vibrator with you but want to remain discreet.

Often they are small enough to provide ample clitoral stimulation but don't come with the same bulk or require the same maneuvering as more full-sized wand options.
3. G-spot vibrators
For women who are looking for more internal stimulation, there's a range of vibrators meant to be inserted internally into the vagina.
The first is a G-spot vibrator. The G-spot is the internal pleasure zone within the vagina, along the interior frontal wall. Though it's not responsible for all internal sexual pleasure—there are thousands of nerve endings in a vagina to assist with that—it is responsible for a fairly large portion of that and is often crucial for giving women internal orgasms if they are able. A G-spot vibrator is then, perhaps predictably, angled inward to stimulate the G-spot.
As a bonus, you can try these in the anus for potential prostate stimulation, whether you're alone or experimenting with partner play. Just remember that anything inserted into the anus should have a flared base.
4. Rabbit vibrators
If you just can't decide between internal or external stimulation, consider grabbing a tool that gives you both. Popularized in the late 1990s as clitoral stimulation was increasing in popularity, rabbit vibrators have diverging appendages: one intended to be internal for G-spot stimulation and one for external, clitoral stimulation. The two appendages can look a bit like bunny ears, which is how the toy got its name.
5. App-controlled vibrators
If you're interested in considering partner play, then an app-controlled vibrator may be for you. These can be any type of vibrator previously listed—a wand, a rabbit, a bullet—but they are controlled by an external remote.

Your partner then can be in full control of adjusting the tempo of the vibration or starting and stopping your toy altogether. Handing over the control of your orgasms can help build anticipation (and makes for some intense O's).
Lovense Nora review: is this the best app-controlled vibrator ever?
6. Suction vibrators
Suction vibrators are the newest kid on the vibrator block, but that doesn't make them any less fun. Often used on the clitoris, these vibrators use blowing and sucking functions that mimic oral sex and provide a different stimulation form. Some, but not all, vibrate in addition to the suction.
Bonus tip: while this can be great on the clitoris, it can also be a ton of fun for nipple stimulation. Don't be afraid to use it during partner play on either you or your partner.
All people are different and it may take a few attempts to find the toy (or toys) that work for you or your partner. Don't be afraid to try out a few different types of vibrators—internal, external, suction, app-controlled, and everything in between— until you find what works best. Happy experimenting!
The My Imperfect Life team is all about helping you navigate your world. We bring you the latest on fashion, beauty, travel and wellness so you can live life on your terms.