The 5 best vibrating panties for a fun, discreet way to orgasm
Vibrating panties and wearable panty toys are a fun way to lean into pleasure—wherever you are!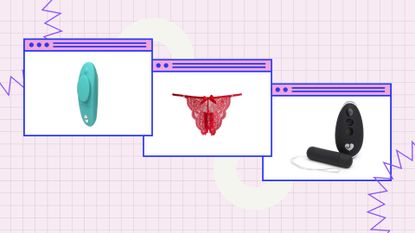 (Image credit: Future)
Vibrating panties have recently been transformed from a novelty or punchline—no longer a joke, it feels like actually, they should be the quintessential sex toy, mixing pretty lace with a strong, rumbly, effective vibration for hours of pleasure (or minutes, if you prefer!).
Nowadays, there are more and more options for inclusive vibrating underwear and panty toys, with wearable vibrators that use remote controls and smartphone apps. These types of hands-free vibrators and app-controlled vibrators are some of the best sex toys around—the vibrators themselves have become much more powerful and smaller for more discretion, allowing you to enjoy hands-free stimulation pretty much wherever you are.
We've tried and tested a variety of vibrating panties out there to help you choose the right one for you—and there's everything from budget options to the best wireless choices for instant pleasure. Enjoy!
The best vibrating panties and panty toys to try:
1. Lovense Lush 3
Specifications
Power source: Rechargeable
Material: Silicone
Wearable: Yes
Reasons to buy
+
Strong vibration
+
Innovative
+
Compact for use anywhere
Reasons to avoid
-
It might take some getting used to
The Lovense Lush 3 is a wireless, wearable vibrator designed to stimulate your G-spot and clitoris simultaneously. It's small but has the perfect shape to fit your body, meaning you'll instantly feel the power of those solid and rumbly vibrations. It's also versatile, as it can be used in public, with a partner or alone. There are three speeds and four patterns, too, so you can decide on your preference.
Perhaps the most significant selling point for the Lush 3 is the app. It offers unlimited vibration possibilities and can be synced to music or particular sounds. Moreover, it's effortless to set up (although I am vaguely concerned that I will have some kind of Pavlovian response every time I listen to my favorite artist now...). There is also the option to allow a partner to control it from a long distance.
As a result, the Lush 3 feels like the next evolutionary stage for a panty vibrator—more secure, robust and quieter than most; a product that has embraced and improved all of the design flaws that a panty vibe can have.
2. We-Vibe Moxie
Specifications
Power source: Rechargeable
Material: Silicone
Wearable: No
Reasons to avoid
-
The app glitched
-
The power button seems unresponsive at times
The We-Vibe Moxie is small and designed to sit in underwear as close to the clitoris as possible, as the upper side is raised and curved for targeted stimulation.
Something I found interesting during testing was the idea of having magnets hold the vibrator in place. It feels more secure than the more traditional fabric pocket, which has long been an issue with vibrating panties. How is one supposed to achieve orgasm with such potentially limited contact, without, realistically, much pressure? Thankfully, the magnet really does hold it in place. Once you've put it where you want the stimulation, it will stay there.
For me, the idea behind the magnets shows a degree of evolution within the We-Vibe Moxie. The remote control works well, and it gives you, or a partner(s), a great deal of power—which, let's face it, is always sexy!
3. Ann Summers Vibrating Red Crotchless Knickers
Specifications
Power source: Batteries (Included)
Material: Lace
Wearable: Yes
Reasons to buy
+
Simple to use
+
Great quality and stylish too
+
Good value for money
Reasons to avoid
-
The bullet could be stronger
These Ann Summers crotchless buzzing briefs are a fantastic introduction to the world of vibrating panties. They are exceptionally discreet, undeniably sexy and relatively inexpensive, which is why we had to include them in our round-up of the best vibrating panties.
Having been an admirer of Ann Summer's underwear for many years, the quality really shines through—we'd be happy to wear these even when we weren't after a bit of extra assistance in the bedroom. However, importantly, the removable bullet itself feels like an excellent introduction to hands-free clitoral stimulation.
4. Lovehoney Hot Date 10 Function Remote Control Vibrating Knickers
Specifications
Power source: Batteries (included)
Material: Lace/hard plastic
Wearable: Yes
Reasons to buy
+
Simple to use
+
Good quality
+
Value for money
Reasons to avoid
-
Battery life could be better
This battery-powered vibrator from Lovehoney comes with a black-and-pink ribbon-tie pair of panties for style purposes as well as pleasure.
There are ten vibrating modes, each with up to six intensity levels for tailored stimulation. In addition, you can use the bullet vibrator independently for targeted external stimulation. The panties themselves were of good quality, and the pocket helps to prevent movement, which is great if you're planning to wear these on the go.
The remote control works from a range of up to three to five meters, which allows your partner to activate it from different rooms.
5. Ann Summers Fusion Remote Control Panty Vibe
Specifications
Power source: Rechargeable
Material: Silicone
Wearable: No
Reasons to buy
+
The shape is great for achieving orgasm, and is comfortable too
+
Feel of the silicone sleeve is really nice
Reasons to avoid
-
The bullet vibrator could be stronger
This Ann Summers Fusion Remote Control Panty Vibe is a bullet vibrator with a contoured silicone sleeve, designed to rest against the vulva. To operate it, you have three options: press the button on the bullet, use the remote or give it to a partner to control, meaning it's pretty simple and easy to use. The material is smooth and flexible, so it should sit comfortably against your body as well.
Though powerfully buzzy, with three speeds and seven pattern settings to explore, it's quiet enough that you can easily use it for some spontaneous public play without anyone getting suspicious, thanks also to the small, curved remote that can hide undetected in your partner's hand.
Melissa Parker is a disabled freelance journalist who has written extensively about issues facing disabled people and disabled women, notably, for publications such as Cosmopolitan, Digital Spy, Metro and Refinery29. In June, she appeared on the cover of Stylist magazine as part of their "The Weight on Our Mind" campaign. She's also a columnist for The Unwritten, a publication focusing on telling disabled people's stories in their own words.
She is particularly passionate about the importance of disability representation in the media, inclusive health and fitness, environmentalism and Beyoncé. You can find her watching TV or drinking coffee when she's not writing.