How to shop affordable swimwear trends for summer 2022
A useful guide on where and how to shop affordable swimwear this season, to ensure you look your best on the beach or by the pool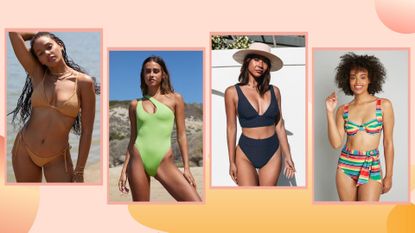 (Image credit: Future)
There's no better way to get ready for summer than going on an affordable swimwear shopping spree—after all, the warmer months (hopefully) signal plenty of time in or near the water, be it at our local beach, pool, or on a vacation.
Whether you've booked all your upcoming weekends with staycations or you're enjoying a long trip abroad to somewhere like the Amalfi Coast—chances are that swimwear is currently a key part of your capsule wardrobe. But given that most of us haven't been aware in at least two years, you can't blame yourself for wanting a swimwear upgrade. That swimsuit you've had since 2015 simply might not be your style anymore, or may not make you feel comfortable anymore.
But we know that shopping (especially for swimsuits) can become overwhelming with endless options out there—especially when it comes to different body shapes and types—so we've done the hard work of finding the best affordable swimwear brands and swimsuits, so you can concentrate on what really matters: enjoying the sunshine and looking good! We've also shared the most popular swimwear trends for 2022, ensuring you poolside attire is bang on-trend for the rest of the warmer months.
So if you need cheap bikini sets and bathing suits, take a look at our round-up of hidden gems, to save yourself some time and money.
Where to buy affordable swimwear
Where to shop in the US
Where to shop in the UK
What swimsuits are in style for 2022?
Monokini
If you're unsure whether to reveal it all on a bikini, or to stay slightly more covered with a bathing suit, why not go for a monokini?
Somewhere in the middle between the two popular styles, the monokini has evolved since the term was coined by Austrian fashion designer Rudi Gernreich over 50 years ago.
Monokinis in 2022 usually link top and bottom by a single strap at the front and look just like a bikini from the back. They nail two trends in one with their cut-out detailing, and are great to emphasize an hourglass silhouette.
Sparkly finishes
Go all out this summer by jazzing up your swimwear with some metallic and glitter finishes; it's the focus of the latest SKIMS swimwear collection, after all!
One of the hottest swimwear trends this year, this one won't let you go unnoticed—for all the right reasons.
If opting for a full sparkly look feels a bit daunting, opt for a subtle shiny piece, or one with metallic details like a chain or ring. It's all about adapting it to your style.
Cut-outs
Coming from the ready-to-wear runway straight to swimwear, cut-outs are everywhere.
This comes as no surprise, as they're sexy, revealing and fun, and that's what summer is all about.
Look for the less obvious ones to ensure a fresh and flattering ensemble, like cut-outs on the shoulder, above the hip or across the ribcage, and show some skin in a different way.
Belted swimwear
Elegant and classic, belted swimwear goes an extra mile when it comes to defining the waist and highlighting the narrowest point of the silhouette.
Usually found on bathing suits, this year it's also adorning high-rise bottoms.
Upgrade your piece by adding your favourite chain belt, and you have a fresh and flattering style, ready to hit the beach!
Ruffles
Delicate and feminine, ruffles are one of 2022 swimwear trends that will give your wardrobe a romantic feel. Ideal for accentuating the collarbones and the waistline, you can opt for a girly look in a ruffled floral bikini, or keep it cool and subtle with a plain bathing suit with ruffled straps.
Make sure you have the ruffles at the most flattering part of your body though, as they'll capture all the attention at first sight.
Textured swimwear
One of the most versatile swimwear trends, textured swimwear easily doubles up as ready-to-wear—pair a short-sleeve shirt with a square shoulder ribbed top and tailored shorts and you're ready to go pretty much anywhere.
More than that, it stretches and adjusts to your body as it changes, too.
Wrap-around
Add extra-long strings to any bikini set, wrap them around the waist and voilá, you have one of this summer's biggest hits.
Usually coming in the shape of either triangle or bandeau tops, the strings can be styled however you want. What's not to love about maximizing your wardrobe choices?
High-cut bottoms
Straight from the 80s and 90s, high-cut bottoms are seeing a comeback, and figuring as one of the top bikini trends of 2022. Great for elongating the legs, this flattering style sits above the hip, at the smallest part of the waist. Accentuate your curves, and get all the retro Baywatch feels in them too.
Sophie Saunders, a stylist who's worked with names like Harrods, Net-a-Porter and Stella McCartney, said, "If you're someone who has more of a petite body frame, then the foolproof secret for creating elongated legs is all in the cut of your bikini bottoms. By wearing a hip-hugging bottom you cut your body in half, which shortens your legs.
"Opt for a higher-cut bottom and you'll instantly create the illusion of having legs at least two inches longer. Pair it with a triangle-shaped top, a white linen shirt and a pair of Birkenstock sandals for an effortless look."
The best affordable swimwear to buy for 2022
1. Cupshe Shangrila bikini set
Specifications
RRP: $41 (reduced to $31) / £34 (now reduced to £26)
Sizes: XS - XL
This option is very Hailey Bieber swimsuit-esque! The Shangrila bikini set from Cupshe brings two trends together. Its dotted texture adds a modern twist to this staple style. The triangle top features a plunging neckline and a banded hem that provides extra support, making it a great choice for either small or big busts. The high-cut bottoms elongate the silhouette, while the high-rise gives it an elegant and flattering nod, making them a great option for pear shapes! It also comes in a lovely pastel blue colour option.
"The key to keeping your swimwear looking spenny is to choose the fabrics well—the seersucker material of this style will keep its shape, while classic black never fails to look expensive", says Hannah Eichler, an experienced fashion writer and stylist who has worked with major high-street brands like Oasis, Warehouse and Boux Avenue.
2. Ann Summers 'La Isla Bonita' bikini set
Specifications
RRP: $56 (now reduced to $34) / £42 (now reduced to £28)
Sizes: US 4 - US 20 / UK 8 - UK 24
Look no further than the Ann Summers' 'La Isla Bonita' set to turn some heads when going for a dip. This is another great example of cheap swimwear that nails two trends in one go, combining a shimmery fabric and cut-out detailing.
Its halter-neck top and rear clasp closure provide added support for fuller busts, and the cut-out and embellished strap ensure you have all the attention on your top half.
The jazzy high-rise bottoms feature a self-tie detail that accentuates the waist at its narrowest point too, ideal for inverted triangle and hourglass body types.
3. LA Hearts by Pacsun 'Green Honey' bathing suit
Specifications
RRP: $49.95 (now reduced to $34.96) / £46.06 (now reduced to £32.24)
Sizes: XXS - XL
With many affordable swimsuits, you will be able to maximize your wardrobe by having it double up as swimwear, and ready-to-wear clothing on summer days. And the 'Green Honey' piece by LA Hearts is a perfect example of this!
This swimsuit will make sure you feel and look good while hitting the beach—its asymmetric neckline and cut-out draw all the attention to your top half, working well for athletic figures as these require less support. Pair it with tailored shorts and go straight to an al-fresco lunch in style.
4. Victoria's Secret 'Rings' bikini set
Specifications
RRP: $80 / £66
Sizes: XS - XL
While some trends might come and go, animal prints always stick around. Combining metallic details and self-tie strings, this affordable bikini set from Victoria's Secret checks all the boxes to ensure a showstopper outfit.
The triangle top features double straps at the back that come together in a racer style and also removable paddings, making it a great choice for smaller busts. The thong bottoms are adorned with self-tie straps that can be styled however you want, bringing the focus to your waist and hips, which is perfect for inverted triangle shapes.
If you'd rather go for a minimalist look, opt for the black version. This is the perfect bikini option to pair with one of the best summer dresses, too.
5. ModCloth 'The Garbo' bikini set
Specifications
RRP: $118 (now reduced to $58) / £134 (now reduced to £66)
Sizes: XS – 4XL
Add a pop of colour with ModCloth's 'The Garbo' bikini set. Bringing a retro vibe to your swimwear, it features an underwired top with thick shoulder straps and high-rise belted bottoms that cinch and highlight the waist, making it especially flattering for apple shapes. This style is also available in yellow and red floral prints.
"If you're a vintage lover this Marilyn Monroe inspired cut is for you! The wider straps and under-wiring will support larger busts (and boost smaller ones!) and the tie waist will nip you in at the middle. Layer a linen shirt over the top and finish with retro cat-eye sunglasses", says Hannah Eichler.
6. Pour Moi 'Sicily' bikini set
Specifications
RRP: $96 / £50
Sizes: Tops: 32C – 38G, bottoms: US 4 - 16 / UK 8 – 18
Combining ruffles and a classic gingham print, the Sicily set by Pour Moi provides great support and coverage for fuller busts with its balcony top. The ruffled details on the shoulders accentuate the top half, making it a great option also for pear shapes.
The mid-rise briefs will keep you comfortable by keeping everything in place too, and not revealing too much.
7. ASOS Brave Soul bathing suit
Specifications
RRP: $57 (now reduced to $18.25) / £34 (now reduced to £10)
Sizes: XS – L
Nailing a few trends in just one piece, this Brave Soul monokini is the go-to option for athletic shapes and small busts. Its ruffled details accentuate both the shoulders and the waist, while the triangle-shaped top emphasizes the cleavage.
The cut-outs create a focal point, narrowing the silhouette, and you can't argue with such an affordable swimwear wardrobe upgrade!
8. Aerie 'Smocked' bikini set
Specifications
RRP: $63.90 (now reduced to $31.94) / £54 (now reduced to £27)
Sizes: XXS – XXL
This 'Smocked' set by Aerie is the proof that affordable swimwear can also be timeless and elegant, seeing you through many summers to come. The triangle top emphasizes the neckline, and the adjustable straps ensure comfort and support.
The tie-side bottoms highlight the hips, creating a balance between the top half and bottom—ideal for inverted triangle shapes.
Our favorite detail, however, is the ruched texture, which instantly updates this staple set. If you're a fan of bright colors, they also have green floral and blue alternatives.
Manuela is a Brazilian fashion & lifestyle stylist and writer, based in London since 2016. After working in different areas within the fashion business, both in the UK and in Brazil, she no works in fashion and media magazines in the UK. Passionate about all things culture-related, traveling and scuba diving.