The My Imperfect Life guide to: the Amalfi Coast
From Positano to Praiano, here's where we're basking in la dolce vita on the Amalfi Coast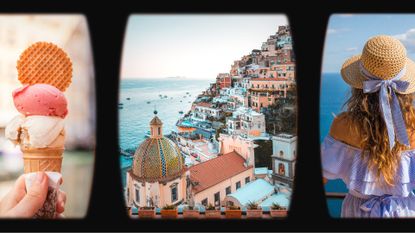 (Image credit: Getty)
Does any other place on the planet scream summer holiday quite like the Amalfi Coast? The stretch of southern Italian coastline has been a glamorous warm-weather reprieve for well-heeled travelers for centuries, luring everyone from Jackie O to John Steinbeck to JLo with promises of charming terraced towns, bumping beach clubs, exceptionally fresh seafood and some of the most stunning views on the planet.
The coast comprises many picturesque villages, from the popular honeymoon getaway of Positano—yes, according to our Instagram feeds, everyone we've ever met is currently sunbathing on Spiaggia Grande—to less-frequented gems like Furore. So to help you narrow it all down, we've got your guide on what to see, where to stay, when to go (pro tip: skip the tourist-heavy summertime for the still sunny and significantly less busy shoulder season) and what to do in the Amalfi Coast, the My Imperfect Life way.
Things to do in Amalfi Coast: The MIL guide
Stay here: Hotel Poseidon
Since the Amalfi Coast is a jet-setter's paradise, there's no short of fabulous hotels and villas to reside in during your stay, and we've definitely got our favorites, from Casa Angelina in Praiano to the Palazzo Avino in Ravello.
But if you're visiting the region for the first time, you're likely going to want to call the real-life postcard that is Positano your home base, with its easy day-trip access to neighboring towns via ferry or bus and those photogenic good looks. Our go-to lodging when staying in the "Vertical City" is the Hotel Poseidon, a 52-room villa that boasts one of Positano's best restaurants, Il Tridente, and some of the best panoramic views in town from its bougainvillea-filled terraces.
The Poseidon is centrally located on one of Positano's two roads—it's a leisurely six-minute walk to beach level—but if you're up for more exploring, the keys to a 1970s convertible Beetle are available for guests who want to zip along the coast.
Brunch here: Casa e Bottega
After days of pizza, pasta and post-swim spritzes, your body might be screaming for some healthy nourishment—and Casa e Bottega is the place to do it.
A hybrid vegan-friendly café and home-goods boutique selling locally-made wares—make sure to leave room in your suitcase for adorable ceramic cups, table linens and beach bags—this Viale Pasitea charmer is a breakfast-time favorite for its refreshing fruit smoothies, yogurt bowls, banana pancakes, omelet soufflés and rainbow-beet salads. Your bod will thank you.
Mosey around: Ravello's gardens
Two of the most gorgeous gardens on the entire Amalfi Coast are found in Ravello, a comparatively sleepy resort town located about 15 miles of mountain roads away from Positano.
Now converted into a five-star hotel, the historic Villa Cimbrone still opens its expansive gardens and grounds to visitors every day from 9:00 am to 8:30 pm. The villa's "Terrace of Infinity"—described by writer Gore Vidal as "the most beautiful place that I had ever seen in all my travels"—is a popular attraction, thanks to its series of marble busts dramatically keeping watch over the Mediterranean below, but there are plenty of temples, cloisters and bloom-covered pergolas to explore, too.
A ten-minute walk away, Villa Rufolo is home to its own sprawling multi-level garden that marries natural beauty with meticulous architecture, open to guests from 9am to 5pm daily. It's said to contain "the most photographed tree in Italy," an iconic umbrella pine that stands tall above the Tyrrhenian Sea.
Drink this: An aperitivo, duh
Italians know how to do happy hour and their aperitivo culture is delicious proof. (Pun intended.) Our favorite place for a pre-dinner drink on the Amalfi Coast is Franco's Bar at the exclusive Le Sirenuse hotel in Positano.
Reservations aren't taken at this al fresco terrace bar, so you'll want to queue up before its 5pm opening time but the wait is worth it, both for the views and booze. Of the first, there are magnificent seaside sights, of course, but the bar itself is molto bella, populated with cobalt-blue garden tables, a golden-yellow ceramic fountain and cheery lemon trees.
And the sophisticated cocktails are as aesthetically appealing as they are appetizing: think updated classics like basil Negronis and watermelon Palomas, served in hand-painted glassware with a gratis side of green olives and salted popcorn for snacking. If there's a better place to toast to the wonders of the Amalfi Coast, we don't know it.
Instagram this: La Fontelina
Okay, this one's slightly a cheat since, like the nearby Sorrento, the island of Capri isn't technically on the Amalfi Coast. But its time-honored glamor has long been a pull for fresh-off-the-ferry vacationers, looking to snap photos of its famous grottos, Roman ruins and luxury villas.
Speaking of glamor, there are few spots that will make you feel like the 2022 answer to Sophia Loren quite like La Fontelina, a chic cliffside beach club famous for its signature blue-and-white umbrellas, unobstructed views of the mythical Faraglioni rock formations, and its people-watching potential. (Celebrities like Drew Barrymore, Eva Longoria and Cyndi Lauper have all been spotted there in the last few weeks.)
You can't access the beach club without a lunch reservation at La Fontelina's straw-roofed restaurant, so book one of the two daily seatings (1pm and 3pm) and get there early for a pre-meal sunbathing session on a deck chair or sun mattress. And with super-fresh seafood plates like whole-roasted fish, linguine with clams, and crispy fritto misto, even the grub is worth a space on the grid.
Learn about: Furore's murals
A trip to the museum is a travel staple, but in a setting as picturesque as the Amalfi Coast, you likely won't want to spend precious hours stuck inside. Thankfully, in Furore—a hilltop fishing village so unassuming, it's known as "the town that isn't"—the art isn't just outside, it's everywhere.
Called "the painted village," the small settlement is basically an open-air gallery, thanks to the hundreds of murals, frescoes, sculptures and other artistic finishes that decorate the walls of home, the sides of staircases, even the lamp posts. Imbued with the history and heritage of the town, the works are part of the "Muri in Cerca d'Autore" (translating to "walls in search of an author") project dating back to the 1980s, welcoming artists both local and international to Furore every year to paint the town red—and blue and yellow and whatever other color they want.
Grab dinner at: La Tagliata
Two words: come hungry! La Tagliata is a family-run farmhouse restaurant in Montepertuso nestled high in the hills above Positano (handily, there's a free shuttle straight from town). And here, you're eating like you're at nonna's house: there's no menu, just a seemingly endless parade of handmade pasta, grilled meats, house wine, produce plucked straight from the restaurant's organic gardens, and old-school Italian traditions for a fixed price of €40 per person.
And when you're not marveling at the meal—which you can learn how to make yourself during one of the restaurant's cooking classes—you're being served sweeping views of the coast, from the pastel prettiness of Positano below to the Galli isles in the distance.
Shop here: Carthusia
Much is made about the fragrances of the Italian coast: the citrus fruits and olive groves and fresh sea air and wildflowers. It's so good, you'll want to bottle it—which is what Carthusia has been doing in Capri since 1948.
The original laboratory shop on Viale Matteotti—called the "world's smallest perfume factory"—is worth a visit for vibes alone: chemists in crisp white coats, wooden shelves meticulously stocked with jars of herbs and dried flowers, spiral staircases winding up hand-muralled walls. Treat yourself to one of the shop's luxurious bottles of perfume (go classic with Fiori di Capri, Carthusia's first fragrance) or bars of soap—one whiff will take you right back to the island, long after you've returned home.
Don't miss: the Path of the Gods
We're going to be real with you: exercise usually isn't high on our list of priorities when we're on vacation, especially at such an indulgent locale as the Amalfi Coast, but the Path of the Gods—a fittingly heavenly hillside hike stretching from the mountain village of Bomerano all the way to Nocelle, near Positano—is well worth lacing up your trainers.
The 5.5-mile trail will take about three hours, but the optimum time to kick off is around sunrise, before the Mediterranean heat and the clamoring crowds settle in. (In the early a.m., the only beings you'll encounter are some alpine goats.) Pack a big breakfast—we're partial to the pastries and panini from Positano's Collina Bakery—and enjoy it at the hike's end overlooking the entire Amalfi coastline. After all that, you've more than earned the right to plop down in a beach lounger for the rest of the day!
Want even more travel inspiration? Check out our guide to New York City, our Solo Travel package and our round-up of alternative city breaks for a trip away from the tourist crowds.
Christina Izzo is the Deputy Editor of My Imperfect Life.
More generally, she is a writer-editor covering food and drink, travel, lifestyle and culture in New York City. She was previously the Features Editor at Rachael Ray In Season and Reveal, as well as the Food & Drink Editor and chief restaurant critic at Time Out New York.
When she's not doing all that, she can probably be found eating cheese somewhere.