The best foundations for combination skin that balance oil and dryness
The best foundations for combination skin will quell oil and nix dryness to leave your skin radiant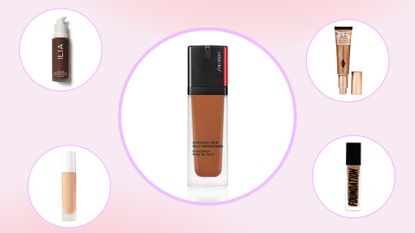 (Image credit: Future/brands pictured)
The best foundations for combination skin will tick all the boxes in terms of performance while also striking the balance for a complexion that's prone to both dryness and oily patches. Generally, when it comes to acing your base, not only does the hue need to be spot on, but your skins undertone must be catered for too. And of course it doesn't end there; let's not forget that your skin concerns (think lines, pigmentation and acne), all require consideration, and so too does your skin type.
For those with combination skin this process can be even tougher as, out of all the varieties, this is probably the most tricky to find the best foundation for. As Dr Joney De Souza explains, this skin type "can be dry in some areas, normal in others with oily patches most commonly found across the nose, forehead and chin, aka the T-zone".
With the oiliness comes pores that appear larger (due to being packed full of excess oil) and a tendency to break out. At the same time, dry areas often look dull and flaky, and it's this stark contrast that means the perfect formula has to be a delicate balancing act of ingredients. The ideal base, therefore, will hydrate, illuminate, and mattify where needed—and so we tasked an expert beauty editor with finding the best foundations for combination skin.
Meet the experts on foundation for combination skin
Dr Joney De Souza is an aesthetics doctor with over 20 years of experience in the field, and the founder of the Dr Joney De Souza Skin and Laser Clinic in Marylebone, London. Here he has advised My Imperfect Life readers on the characteristics of combination skin.
How we tested the best foundations for combination skin
To find the top-performing formulas, I tested a host of combination skin-friendly foundations, wearing each one for at least a full workday to see how well they would stand up to a brisk walk to my local tube station, the humidity of a tube carriage, an air-conditioned office, and whether it needed topping up when going out after work. I also took note of the following factors during my search:
Price
Packaging
Shade range
Ease of application
How it looked and felt on the skin
How it wore throughout the day
While testing, I paid particular attention to how easily the product blended into the skin, its pore-blurring abilities (as oilier skin equals larger looking pores), and whether it needed a powder on top, as well as how well it stayed in place later in the day.
Meet the tester
Meet the tester
Amerley Ollennu
My skin is unpredictable and a massive source of frustration. Prone to hormonal acne, sensitive, oily across my T-zone (and sometimes even my cheeks), but also normal, dry and dehydrated too. When it comes to finding the ideal foundation for my combination skin, I look for formulas that mattify my complexion without overdoing it so that the areas that are prone to dryness don't end up sapped of moisture—and one that has major staying power.
The best foundations for combination skin, as reviewed by a beauty editor
1. Charlotte Tilbury Beautiful Skin Foundation
Best foundation for combination skin for radiance
Specifications
RRP : $46/£34
Number of shades : 30
Coverage: Buildable, light to medium
Finish : Dewy, radiant
Reasons to buy
+
Wide range of shades
+
Hydrating
+
Non-cakey, "second skin" finish
Reasons to avoid
-
For those who like a matte finish you need to add powder; lacks staying power
Packed full of hydrating hyaluronic acid, this glides across the skin with ease and blends in so well it looks and feels like a second skin. The coverage is buildable all the way up to medium, and it has a dewy finish that for those of us with combination skin can be a little scary—will this dew turn into an oil slick after a couple of hours? But it didn't, although I did add a light touch of powder on top for more of a matte finish halfway through the day when I noticed that, for me at least, this formula needed some help staying put.
I found that this base blurred my pores and pimples, didn't pool into my lines, and really lit up my skin. It may not suit those skin types who are more on the oily side of combination skin than dry and prefer more of a matte finish, as it's very glowy and radiant, but that's precisely what makes it great for any dryness. Overall, it's a truly lovely base.
2. Ilia True Skin Serum Foundation
Best foundation for combination skin with skincare benefits
Specifications
RRP : $54/£52
Number of shades: 30
Coverage : Medium
Finish : Dewy
Reasons to buy
+
Packed with skincare actives
+
Clean formula
+
Natural finish
Reasons to avoid
-
Very expensive
-
Requires powder for a matte finish
A breathable foundation, I found that this formula feels more like a tinted moisturizer in texture, thanks to soothing aloe, and hydrating squalane. But unlike a tinted moisturizer, the finish is buildable, so I managed to layer up the formula to cover redness and hyperpigmentation, too. The main actives in the foundation-slash-serum are a dream for combination skin. Anti-inflammatory niacinamide has the ability to reduce sebum production and protect the skin barrier to prevent water loss, thus reducing my propensity for dryness and dehydration over time. I also found that it helped to lessen my acne, even out my skin tone and reduce the look of my pores, too.
The formula also includes allantoin, an extract from the comfrey plant that has a plethora of benefits—namely preventing dryness and irritation, and promoting healing, exfoliation, and hydration. It lasted well through a long, busy day and it wasn't cakey, so my dull and dry patches weren't taking centre stage—this is often the case when I wear über-mattifying formulas that suit oily skin well, but combination skin not so much.
3. Fenty Beauty Pro Filt'r Soft Matte Longwear Liquid Foundation
Best foundation for combination for shade range
Specifications
RRP : $39/£30
Number of shades : 50
Coverage: Buildable, medium to full
Finish: Matte
Reasons to buy
+
Wide range of shades
+
Long-wearing
+
Mattifies oily zones
+
No flashback
Reasons to avoid
-
Very matte, can be drying
With the abundance of shades and tone variations finding a match for my mixed Black skin, with its warm undertone this formula was a welcome breeze. However, note I found that the formula oxidises on contact with the skin, so to find your perfect match you have to wait for it to totally dry before deciding which shade suits you best. It has a creamy velvety texture that glides over the skin, mattifying as you go, and is both oil-free and non-comedogenic. I certainly put the climate-adaptive technology that makes this foundation sweat and humidity resistant to the test and give it top marks.
However, despite its pore blurring abilities and its matte nature being ideal for my oily T-zone, I did find that a touch of highlighter and contour cream above and below my cheek bones was needed to put back some definition to my face. Its staying power was incredibly impressive, it lasts all day and then some (yes, I've slept in this a few times after a night out) but in colder climates I have found I need to add a dab of moisturizer on top of any dry patches I have. If your skin skews far more towards the oily end of the combination spectrum, which is the case for beauty contributor Lucy Abbersteen, it could be the perfect match, as she found it plays well with oiliness without looking too matte.
4. Shiseido Synchro Skin Self-Refreshing Foundation SPF 30
Best foundation for combination skin with SPF
Specifications
RRP : $47/£42
Number of shades : 30
Coverage: Medium to full
Finish : Matte
Reasons to buy
+
Oil-free
+
Sun and pollution protection
+
Long-wearing
Reasons to avoid
-
Not enough dark shades
-
Can need blotting
Rather more watery than other matte foundations I've used before, I wondered how I would be able to get a decent amount of coverage with this base—but I was pleasantly surprised. It blended with ease and helped even out my skin tone offering a matte finish with just the right dose of luminosity—so my skin didn't look flat. It performed well under pressure, not budging despite the humid conditions the day of testing. I also appreciated the sun protection and the pollution protection too. Generally, my skin looked smooth, and my pores were less noticeable, but this did require some blotting after around four hours of wear.
5. Anastasia Beverly Hills Luminous Foundation
Best oil-free foundation for combination skin
Specifications
RRP : £41
Number of shades : 50
Coverage: Medium to full
Finish: Matte
Reasons to buy
+
Wide range of shades
+
Extremely long wearing
+
No flashback
+
Oil-free
Reasons to avoid
-
Can look cakey and cling to dry patches
Creamy and surprisingly light given that you don't need much to achieve a full coverage finish, I found this oil free foundation a good match for my combination skin. It holds up really well to heat and humidity, doesn't feel heavy and with neutral, cool and warm undertones available I was able to find a shade that literally looked like a second skin. Pores, lines and acne were blurred, but I'm not convinced it's luminous as the name would suggest. I had to add some life back to my skin with bronzer and highlighter, but I wasn't mad at that since it did such a good job at keeping my oily t-zone matte without drying out or drawing attention to the dry patches I had around my nose, and mouth.
6. L'Oréal Paris True Match Nude Plumping Tinted Serum Foundation
Best drugstore foundation for combination skin
Specifications
RRP : $19.99/£14.99
Number of shades: 9
Coverage : Light
Finish : Dewy
Reasons to buy
+
Hydrating
+
Lightweight
+
Good coverage
Reasons to avoid
-
Limited shade range
-
Packaging can get messy
I found the application tips for this serum rather wasteful and messy, as the brand recommend you apply 2-3 drops of this serum come foundation into the palms of your hand and then spread the base over the face with your fingertips as if you are using a serum. Needless to say, I ignored that advice and dropped the foundation straight onto the skin and then blended it in with my trusty foundation brush. Coverage was very light but can be layered enough to cover redness, and an uneven skin tone, making it a good day time base. While the hyaluronic acid definitely left me skin plump and hydrated, and the non-pore blocking formula ensured that I didn't develop any extra spots while testing. I chose to add some powder to my t-zone a few hours after application, not because my skin felt or looked any oiler than normal but I prefer a less dewy finish.
Amerley is an award-winning beauty & lifestyle journalist who has been writing for the UK's most well-known glossies, websites and newspapers for over a decade. Known for her ability to predict the next big trend, there is really very little she won't try for a story. From microblading and injectables, to10 step skincare plans and breathing her way to better skin, Amerley loves to share her experiences and write relatable, informative and trend-led copy for beauty novices and junkies alike.