Best meal prep delivery services: easy, delicious and balanced meals
The best meal prep delivery services that make dinner a breeze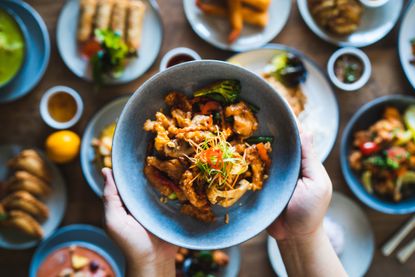 (Image credit: Getty)
If juggling a 9-to-5, a social life and grocery shopping leaves you wishing there were eight days in a week, the best meal prep delivery services could help lighten your load.
It's easy to become overwhelmed with meal prep or fall into a rut of making the same uninspired dinners. Recipe boxes reduce stress and eliminate the need to slog down supermarket aisles searching for gourmet inspiration. In each box, you'll receive ready-portioned ingredients—which can help reduce your food waste—and clear step-by-step instructions. How handy is that?
---
---
Meal prep delivery services are a great option for those who love food and like to cook but sometimes struggle to think of recipes or apply portion control to their daily diet. Some boxes go one step even further and deliver oven-ready meals or all the food you need for a day—including snacks!
Not only was Gousto the cheapest meal prep subscription we tested, but it also offered the most variety of meals in terms of cuisine and dietary options. The recipes were flavorsome, interesting and easy to follow, so we also crowned it the best overall meal prep delivery service.
Now for some worthy runner-ups: if you're looking for a treat and love carbs, we can't recommend Pasta Evangelists enough. Picture restaurant-quality pasta that's ready to plate in five minutes. (Yes, really!)
And we were really impressed with the ready-for-the-oven meals from COOK, too. They can be cooked from frozen and all you have to think about is a side dish, but even these can be added to your online order. For hearty, homemade-tasting food with minimal cooking, we can't think of a better option than the best meal prep delivery services around.
The best meal prep delivery services to try:
1. Gousto Recipe Box
Best meal prep delivery service for most people AND those on a budget
Specifications
Cost: from £24.99 per box, £6.25 per serving (two meals for two) or from £2.98 per portion
Delivery options: Nationwide, any day delivery
Dietary options: Dairy-free, gluten-free, plant-based, vegetarian, heart health-focused, high-carb and low-carb Joe Wicks options
Reasons to buy
+
Budget-friendly
+
10-min options
Reasons to avoid
-
Two is the smallest portion
-
Maximum four meals per week
Gousto has an outstanding selection of recipes, which allow your taste buds to travel without leaving home. Choose from two, three or four recipes a week, with portions for two or four people. The menu changes weekly and includes speedy 10-minute meals, which actually do only take that long to prepare.
There are some oven-ready options thanks to a new collaboration with Charlie Bingham for nights when you're feeling lazy. Plus, it can satisfy your takeout cravings with dishes like Paneer Jalfrezi With Buttery Cardamom Rice. You even have the option to add naan!
The instructions are clear and easy to follow, with an abundance of tips and tricks on the website, too. There are Joe Wick's "Lean in 15" recipes for the health-conscious, plus low-calorie options and recipes that target heart health.
2. Riverford Organic Recipe Box
Best meal prep delivery service for organic and premium recipes
Specifications
Cost: from £6.23 per serving (one meal for two people)
Delivery options: Most of England and some areas of Wales, set days depending on the area
Dietary options: Vegan, vegetarian
Reasons to buy
+
100% organic
+
Quick options
Reasons to avoid
-
Expensive
-
Limited choices
The ingredients in the Riverford Organic Recipe Box were noticeably high-quality, and we loved the farm-to-fork aesthetic. (Who knew de-husking corn was so satisfying?) The menu is limited compared to competitors, but it's the only recipe box that's 100% organic.

There aren't enough meat options for a full week of dinners, but you could substitute in veggie or vegan meals instead. With options like Romanesco and chickpea korma, we were easily tempted to cut down our meat consumption without needing to compromise on flavor.

We liked that deliveries are made on specific days to reduce food miles and that the packaging used limited plastic. Before your first delivery, you'll get a friendly phone call from the Riverford team to confirm your address, answer any questions and thank you for your purchase. It was a lovely touch that made us smile.
3. HelloFresh Recipe Box
Best meal prep delivery service for cooking for friends
Specifications
Cost: from £30 per box, £5 per serving (three meals for two people)
Delivery options: Mainland UK, The Isle of Wight, The Isle of Man, Jersey, Guernsey (Excluding Herm) and Northern Ireland, six days a week
Dietary options: Vegetarian
Reasons to buy
+
Rapid 10-min options
+
Precise ingredients
Reasons to avoid
-
Smallest portion is two
-
Minimum order of three recipes
HelloFresh is one of the most widely recognized recipe boxes on the market and is loved by many. The recipes are exciting, easy to follow and perfect for those who need some inspiration in the kitchen.
The portions are generous and could sometimes stretch to three if you added a few extra ingredients. This is a great option for those who like to cook for friends, without the stress of finding a recipe you know will impress them.
We loved that you can choose premium meals for special occasions and add-ons to your order, like dessert, bread and, most importantly, wine! While the menu is more limited than competitors, there are still plenty of options to choose from. Unless you have specific dietary requirements, we don't think you'd struggle to find something you like here.
4. Pasta Evangelists Fresh Pasta Recipe Box
Best meal prep delivery service for special occasions
Specifications
Cost: from £6.80, per single serving (subscription)
Delivery options: Nationwide, next-day available if before 2pm
Dietary options: Gluten-free, vegetarian and vegan
Reasons to buy
+
Restaurant-quality
+
Ready in five mins
We were shocked—and thoroughly impressed—with just how quick the recipes from the Pasta Evangelists Fresh Pasta Recipe Box were. Simply reheat the sauce with a splash of water and cook the pasta until al dente in three minutes flat! The recipes fully deliver on flavor, comfort and style. (The handmade ravioli is charming enough to distract any eye from chipped bowls and miss-matched cutlery).
It's by no means a cheap option but the Pasta Evangelists box is perfect if you're celebrating or want restaurant-worthy food without the service charge. If you opt into a subscription, you can save 15%; if you choose double portions, you save another 15%.
The meals are quite calorific so you might not want a delivery every week but subscription options are flexible, with once every other week and once a month among the most popular choices.
5. Mindful Chef Recipe Box
Best meal prep delivery service for dietary requirements and single portions
Specifications
Cost: from £28 per box, £7 per serving (two meals for two people)
Delivery options: Nationwide, 7 days a week 8am-7pm
Dietary options: Dairy-free, gluten-free, high protein, low-cal, low-carb, vegan, vegetarian
Reasons to buy
+
20-min options
+
Health-focused
Mindful Chef is the only recipe box service to offer a 100% gluten-free and dairy-free menu, as well as a single-portion subscription. It's the perfect box for those with dietary requirements and those focused on their health.
The menu is varied and exciting with 16 choices a week. Example meals include sesame chicken, egg-and-spinach rice, pork barbecue beans with sweet-potato fries, and sticky tamarind and ginger tofu with snow peas.
Quality is important to Mindful Chef, which is why all meat is 100% grass-fed, the chicken is free-range, and the fish landed fresh in the UK. Plus, for every meal Mindful Chef sells, they donate a school meal to a child living in poverty—to date, over one million meals have been donated. They're also a certified B Corp, which means they meet the highest standards of verified social and environmental performance, as well as public transparency and legal accountability.
6. Balance Box Healthy Meals Delivered To Your Door
Best meal prep delivery service for minimal cooking
Specifications
Cost: from £80.97 per box or £26.99 per day (three days of food for one person)
Delivery options: London, Mondays and Fridays. Rest, Tuesdays and Fridays
Dietary options: Pescatarian, vegetarian, free-from (without meat, fish, gluten and cow's dairy)
Reasons to buy
+
Food for the day
+
Calorie counted
Reasons to avoid
-
Expensive
-
Set menu (no substitutions)
The Balance Box is the ultimate meal prep delivery service for those who don't want to think about food, but want a healthy, nutritious diet. There are two calorie plans to choose from—1,200 and 1,800—depending on your health goals.
There's no denying this is a costly option but the meals are genuinely tasty and interesting. We tried a breakfast of smoked salmon, boiled eggs, avocado and rice cakes; a lentil, carrot and feta salad for lunch; and chicken with leek-and-mushroom risotto for dinner. Snacks include fresh fruit and nuts, and in the afternoon you can choose a bar, or keep it for dessert!
With Balance Box, calorie counting doesn't feel like a chore and the food is microwavable or ready-to-eat, so there's no time for temptation to creep in.
7. COOK Frozen Ready Meals
Best meal prep delivery service for oven-ready meals
Specifications
Cost: from £6.50 (meal for two people)
Delivery options: Nationwide, seven days a week
Dietary options: Dairy-free, gluten-free, vegan, vegetarian, low-calorie and indulgent
Reasons to buy
+
B Corp certified
+
Cook from frozen
Reasons to avoid
-
Need freezer space
-
Minimum order £35
Handmade using high-quality ingredients, COOK has already done all the heavy lifting needed to make a satisfying meal. Simply grab the meal from your freezer and pop it in the oven or microwave to heat.
Many recipes, including the Moroccan spiced lamb tagine, have a prestigious and well-deserved Great Taste Award. Every meal is signed by the chef that prepared it in the Kent-based kitchen, which we thought was a lovely touch.
The meals don't automatically come with sides, but you can add a la carte things like mashed potatoes and rice to your order. We liked this flexibility and didn't mind using pasta we already had in the cupboard!
COOK was also one of the UK's founding B Corp members, so not only does it provide a fantastic service, it's run to the highest of standards.
How to pick the best meal prep delivery service for you
Some of the best meal prep delivery services mean you can cross a supermarket trip off your to-do list altogether, while others will require you to stop in for supplemental breakfast, lunch and snack supplies.
If you have dietary requirements or restrictions, your options may be limited with some services. All of the services we reviewed catered to vegetarians, but vegan and gluten-free options were sometimes scarce.
Some boxes offer single portions but most of the services provided recipes for a minimum of two. (If you're cooking solo, you can always save the second portion for lunch the next day!)
If you regularly find yourself having scrambled eggs for dinner because you can't muster the energy to cook anything else, or haven't picked up ingredients for a more adventurous supper, it's likely a meal prep delivery service is going to cost more than you're currently spending. However, this is a good thing if it means eating more balanced, wholesome meals, but the price is a consideration nonetheless.
Think about how much time you want to spend in the kitchen. Most of the boxes reviewed deliver pre-portioned ingredients. So while they definitely save you time thinking of recipes and going to the supermarket, you still have to cook. There are ready-to-heat options and services that plan your food intake for the whole day, but the convenience comes at a cost.
Jessica is a senior food writer at Future and works across the Life & Style portfolio writing recipes and curating food and drink content. When she's not cooking, Jessica loves to dine out and travel in search of new inspiration. Her saved posts on Instagram mostly consist of burgers and craft beer or brunch spots. She also likes to keep fit and chill out with yoga after a long day.