Which vegan foods are high in protein? Here's everything you need to know
Which vegan foods are high in protein? Here's everything you need to know.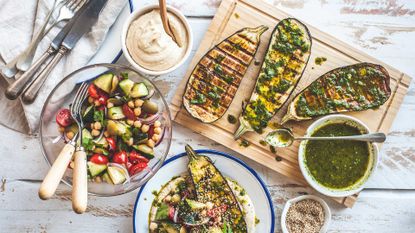 (Image credit: Getty Images / Moment / Enrique Díaz / 7cero )
In the wake of the coronavirus pandemic, many people are trying to control what they can, which includes following a healthier lifestyle, whether by cooking at home or by signing up for one of the many meal prep delivery services that are available. For many, making the switch to a vegan diet is the answer.
For those who are trying to decide whether following a vegan diet is right for them, some questions could linger. Getting an adequate amount of protein each day is a concern for anyone, regardless of diet or lifestyle, and while some might wonder if vegan foods provide enough daily protein, the answer is a resounding affirmative. If you are curious about which vegan foods are high in protein, here are five vegan options that are versatile enough to incorporate into any daily routine.
Tofu
Tofu is a standard in many vegan diets. This high-protein food offers a plethora of benefits and is extremely versatile. Tofu can be used in stir-fries and salads, and it can easily be seasoned to taste. Plus, the firm, slightly meaty texture of tofu means that it is an excellent substitute for hamburgers or hotdogs on the grill.
Tofu also provides lots of calcium, in addition to protein. Pick up a few packs of tofu from the refrigerated section in your grocery store, and start experimenting with this versatile, delicious, vegan option. There are many different brands of tofu that are available, so it might take some experimentation to find the one that is right for you.
Kidney beans
Filling, delicious, and nutritious, kidney beans are a beautiful, deep red color, and are the perfect addition to any diet, vegan or otherwise. A half-cup of kidney beans features an incredible seven grams of protein, making them the perfect meatless addition to many soups, salads, or casseroles. The next time you decide to whip up a hearty chili for the colder weather, pick up a few cans of kidney beans and enjoy one of the world's tastiest vegan staples.
Alternatively, dried beans keep for months when stored properly and are often cheaper than the canned version. Stock up on kidney beans (as well as black beans, white beans, and even pinto beans) so that you always have options. It's worth noting, mind, that kidney beans should be prepared properly by boiling for ten minutes to remove any toxins.
Chickpeas
Chickpea fever is sweeping the nation – and for good reason. Chickpeas contain about 15g of protein per cup. This mighty legume has many benefits and has been shown to decrease cholesterol, control blood sugar levels, and even help with weight loss. Chickpeas are incredibly versatile and can be used for protein-packed main courses as well as hearty, delicious sides. Try roasting some chickpeas in the oven with some salt and pepper to really give them a crispy coating and delightful crunch.
To really change it up, use chickpeas in a dessert recipe. They are popular for use in brownies, cookies, and even some sweet dips, since their relatively mild flavor means that they adapt easily to seasonings, spices, and sweet flavors.
Lentils
If you want the hearty taste of meat but the health benefits of beans, reach for a bag of lentils. This vegan staple offers a wide variety of benefits, including healthy doses of folate, iron, and manganese. They are the perfect addition to soups and salads, and they offer plenty of fiber to help your system run smoothly from day to day.
Keep a bag of lentils on hand for your weekly meal prep. They keep well in the refrigerator, and can easily be tucked into a wrap (along with some vegan cheese and lettuce) for a nutritious and delicious snack.
Nuts and nut butter
Whether you want the perfect addition to your trail mix or a tasty topping for a dinner salad, nuts are the ideal option. From walnuts to pecans, nuts and legumes offer a plethora of health benefits, including fiber and healthy fats. They store well in the freezer for months at a time and can be prepared in many ways, from roasting to simply eating them raw. Cashews and almonds are also delicious, with cashews being the higher-protein option.
Nut butter is a slightly sweeter option, for those who crave a sweet finish to a meal. Almond butter and peanut butter are both delicious, with almond butter being slightly lower in calorie content and peanut butter featuring a good amount of muscle-building fats. Fill your kitchen cabinets with both nuts and nut butter to set yourself up for success in your vegan journey.
Now that you know which vegan foods are high in protein, try any or all of these vegan staples and start discovering the joys of a vegan lifestyle – and check out the rest of our wellness tips for even more ways to reset and recharge your life on a day-to-day basis.
The My Imperfect Life team is all about helping you navigate your world. We bring you the latest on fashion, beauty, travel and wellness so you can live life on your terms.