Curly hair tips: the mistakes to avoid at all costs when you have curly hair
These curly hair tips are a lifesaver if you've been blessed with curly hair.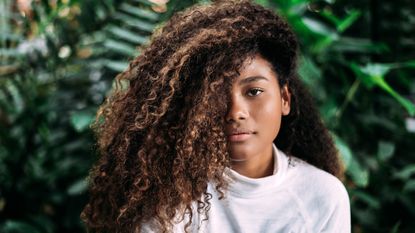 (Image credit: Getty Images)
Looking after your curly and coily hair can feel like a minefield at times, and styling mishaps can feel inevitable. But with the right curly hair tips, products and TLC, curly hair can be one the most fun and experimental hair textures to style.
So, to keep your curls looking bouncy and tangle-free, we quizzed some curly hair experts to advise us what to avoid when looking after our manes. From choosing the wrong brush for curly hair to not having a good night time routine, here are the hair care mistakes to avoid when you have curly hair.
Using the wrong brush to detangle
Using the wrong type of brush to detangle curly hair can lead to damage and breakage. When you detangle, make sure you're using an actual detangling brush, as they have teeth that are flexible and designed to ease through knots without ripping your curls. We tried and tested the best brushes for curly hair, so you don't have to!
Combing from root to tip
This is something that celebrity hairstylist Dionne Smith sees a lot. "I would say the first mistake would be detangling curls from roots to tips instead of tips to roots which is the right way around," she says. Combing from top to bottom can make tangles worse and leave you with split ends and breakage.
Detangling while your hair is dry
Curly and coily hair can be the most sensitive hair type at the root and the most delicate to the tip. Bearing this in mind, detangling your curly hair when it's dry can be a recipe for disaster. "Detangling curly hair whilst the hair is dry is a very painful experience," warns Dionne. "Doing so can lead to hair breakage and damage so I always tell my clients to avoid this."
Rough drying your curls
When you step out of the shower after washing your hair, it's natural to want to fully dry yourself, including your hair. But if you're familiar with the popular Curly Girl method, you'll know drying your curls in the same way you rough dry your body with a towel can lead to a hot, frizzy mess - and no one wants that.
Instead, squeeze excess water out of your curls with your hands and then follow the advice of Lisa Farrall, Matrix ambassador UK & Ireland for post-wash, starting by spraying with a leave-in conditioner. "My go to product is the Matrix Miracle Creator 20 Leave In Spray. This is an all in one spray and a great leave in treatment," she says. "Spritz into damp hair after conditioning, then wrap hair in a towel. Be careful not to over dry the hair or rub. It will help keep the curls intact, prevent frizz and protect hair from heat damage. Leave hair to dry naturally or twist the hair and then diffuse."
Stripping hydration from your curls
Curly hair can at times appear less shiny and feel more dry than straight hair and one of the reasons is because the natural oils that the scalp produces don't reach the tips of the strands due to the curves in your curls.
So, if on top of this you are using shampoo that's quite stripping, it's going to lead to your hair becoming more brittle and breaking. This doesn't mean that you can't use a foaming shampoo, but you should avoid anything with sulphates. "Sulphate is the detergent that will strip your hair of its natural oils, making curly hair even drier and more fly away," says Matt Surplice, owner of Spring Salon. Minimise any clarifying shampoos in your routine and swap them for a cleansing conditioner or co-wash, which cleans and moisturises at the same time.
Skipping deep conditioner
Ok, let's be real, your curly hair washday is lengthy, isn't it? There's no quick wash and go, even if you're doing a "wash and go" style so always including a conditioning treatment can seem like an unnecessary addition, but it can be the difference between a good wash day and a great wash day. "A big mistake, in my eyes, is skipping deep conditioning," says Stefan Bertin, session hair stylist. "Some people say they don't have time but I think... Just make time! Curly hair is naturally drier than other hair types so it's super important to replenish and restore moisture to it every one or two weeks. It makes such a difference." The Shea Moisture Raw Shea Butter Deep Treatment Masque packs a hydrating punch.
Using too much heat
Some experts say people with curly hair should avoid heat altogether as it can change your curl pattern and if not properly protected can lead to split ends and breakage. But, if you're in a rush, using a good hairdryer and a diffuser attachment is an option to speed up the drying process without damaging your curls. Just don't crank up the heat to rush the process.
"Slow and steady wins the race," says Matt. "When drying hair make sure you do so with a diffuser on a low heat (not cold) and slow speed. If you rush it by having the speed up high and having your hair get blown about while drying, you'll end up with a big ball of frizz," he warns.
Keeks is an award-winning digital & social content specialist a hair & beauty writer and a brand consultant. You can find her work in Cosmopolitan (in print and online), Refinery29, Harper's Bazaar, Woman and Home, Women's Health, My Imperfect Life, OK! Online and Hairdressers Journal