Kardashians on Hulu: everything we know about their new show so far
The Kardashians on Hulu? Sounds like we're in for KUWTK 2.0!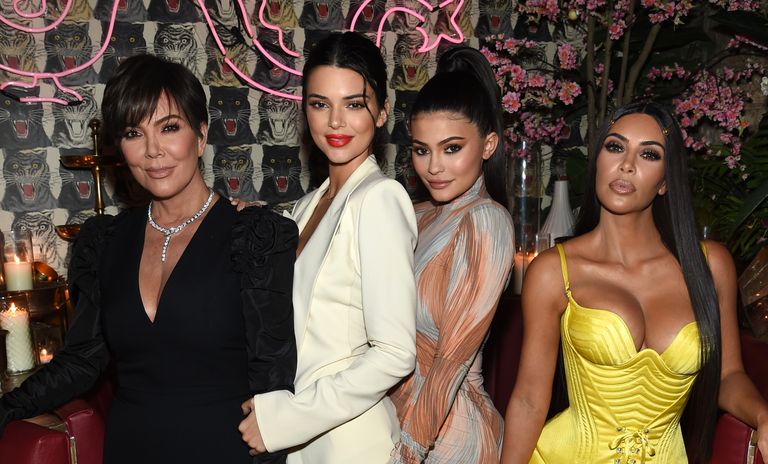 (Image credit: Photo by Dimitrios Kambouris/Getty Images for The Business of Fashion)
Say hello to the Kardashians on Hulu. Although reality TV's favorite family has bid adieu to its long-running series on E!, it doesn't mean it's ready to step away from the spotlight entirely—not a chance!
After 15 years and 20 seasons, the Keeping Up With the Kardashians reunion special wrapped things up for reality TV fans in June 2021. Now, the KarJenner crew is looking forward to its new chapter—which seems like it could quite possibly be very similar to KUWTK.
Everyone has remained tight-lipped about what's to come on Hulu, so we were forced to do some digging of our own. Here's what we've managed to uncover.
---
---
Kardashians on Hulu: what can we expect?
In October 2020, a month after the Kardashians announced via their social media accounts that they would be ending their contract with E! and wrapping up Keeping Up With The Kardashians, Hulu revealed that the family signed a major multiyear deal to create new content for the streaming service.
Not much else has been outlined about what exactly the new content will be, but momager Kris Jenner did speak about it during the recent KUWTK reunion episode, saying it felt natural after 20 seasons with E!.
"I think we were all feeling a little overwhelmed, we had done it for so long," she said. "When I discussed it with each one of the girls and then as a group, Kim was somebody who said 'You know what, 20 is a really nice, beautiful number. Why don't we do the last season and see how we feel?'"
Kris also shared some words with WSJ Magazine stating that a format is still to come, but they're anxious to be working with Hulu on whatever you might like to call the project.
Speaking at a Disney event in May 2021, she further detailed how the deal came about, saying: "Hulu is the perfect place for our new show since it's where you can currently catch up with every season of Keeping Up With The Kardashians. Hulu feels like family and they immediately embraced the idea of a new show with such open and welcoming arms."
She continued: "I can't say much about what's coming but, spoiler: we're going to look fabulous and everyone's going to watch." Sounds like we'll be getting KUWTK 2.0! What do you make of all this?
The famous family dropped another little teaser at the People's Choice Awards 2021 when they collected the award for Best Reality Series.
Taking to the stage, Kim said: "This is a bittersweet moment for us because you guys have voted for us on our last season of Keeping up with the Kardashians. It's been an incredible 14-year ride, and all of the memories we have can never be replaced. We started the show with an idea of bringing our crazy family into your homes, and we could not have imagined that it would have lasted this long."
Kris then hinted that the new Hulu show is a "new chapter" for them, she said: "We've closed this one chapter but a new one is coming. We can't wait for you to see what we have in store for you coming in 2022 on Hulu, so get ready." We're so ready, Kris!
What will the Kardashians on Hulu be about?
There's plenty to unpack: who Kim is dating now that she and Kanye are divorcing? What's happening with Kendall Jenner and Devin Booker's budding romance? Are Kylie and Travis getting back together? And, of course, wondering, "How far along is Kylie Jenner?" as she secretly gives fans small glimpses at her second pregnancy.
Naturally, we will get some sort of scoop on Kourtney and Scott's never-ending saga, but now that Kourtney Kardashian and Travis Barker are engaged, it's going to be interesting to see how that whole dynamic plays out. Will Scott be another member of the family, or is he going to have to bow out? Kourt—whose younger sis Kim once declared the "most boring to look at" during a heated exchange—just might be the center of attention this go-around. Who knows!
While breaking her silence on the Kourtney and Travis PDA, Kim hinted on The Ellen DeGeneres Show that we "might" catch the Blink-182 drummer on an episode or two. Although she remained fairly vague but did give her big sis a stamp of approval.
"I love their relationship," she revealed on the talk show. "They've grown so much together. Just to think that they've been neighbors, and friends for almost 15 years. Neighbors for like, a decade!"
Kim also told WSJ magazine that the show will see a new side of the family than what we saw in KUWTK. She said: "I think it will be a different side. But I wouldn't say that our silly sides are not going to come out."—Exciting!
Is there a release date for Kardashians on Hulu?
While there is no confirmed release date for the new Kardashian show on Hulu, Khloé seemed to give fans a pretty good indication about the timeline. While on The Ellen DeGeneres show on October 20, 2021, she revealed that the family is likely going to be on the streaming service sometime in early 2022, either January or February.
"That's fast," DeGeneres noted.
She replied: "That's the beauty of Hulu, we're streaming, and we get to have a much quicker turnaround than previously. We're really excited."
Well, when it comes time to find out more juicy details, we know which sister we can turn to for the tea. Klo, we're waiting...
(Psst: we'll be sure to update you on the exact release date and share the trailer as soon as the information is available.)
Sagal is a journalist, specialising in lifestyle, pop culture, fashion and beauty. She has written for a number of publications including Vogue, Glamour, Stylist, Evening Standard, Bustle, You Magazine, Dazed and Wonderland to name a few.