Everything we learned from that new Kardashian Hulu trailer
Excited for 'The Kardashians' on Hulu? From the new Kardashian Hulu trailer, it sounds like we're in for KUWTK 2.0!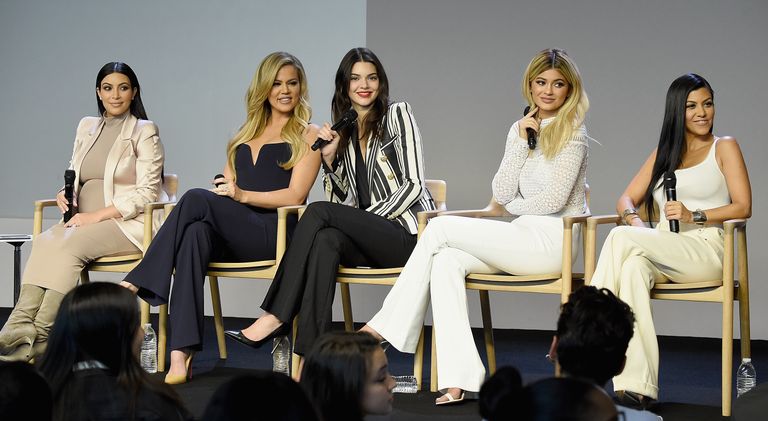 (Image credit: Jamie McCarthy/Getty)
Contributions from
Looking forward to The Kardashians on Hulu? A new Kardashian Hulu trailer has us waiting with bated breath for the series launch.
After 15 years and 20 seasons, the family's E! series Keeping Up with the Kardashians came to a close in 2021. Our favorite reality TV family has recently been tight-lipped about their new endeavor, but now the Kar-Jenner clan are slowly starting to open up about their next chapter.
On Monday, March 14, fans were treated to an official trailer of the brood's new reality show—and we have even been blessed with a release date coming very soon. (Impeccable timing cleverly executed by Momager Kris Jenner, no doubt.) Plus, we get an update on those baby rumors from Kourtney Kardashian and Travis Barker!
---
---
When does 'The Kardashians' on Hulu start?
Your spring TV lineup is about to get Kardashed: the new series, The Kardashians, will premiere on Thursday, April 14, 2022.
Along with streaming on Hulu, The Kardashians will be available to watch on Disney+.
Watch the new Kardashian Hulu trailer:
Big news Kardashian fans! Hulu has dropped an official trailer for its new series The Kardashians—and it's a doozy.
"I think it's time we see a whole new side of the family," Kendall says, and it looks like the series will live up to that promise. The two-minute trailer gives us a glimpse at what we can expect from the new reality show, from fun family moments to big reveals from over the last few months, including Kylie's second pregnancy, Khloé and Tristan's "complicated" relationship and Kourtney and Travis' engagement.
In regards to ending Keeping Up with the Kardashians, Kim says in the trailer: "We've had so much time off, we've kind of gone into our own worlds."
"I'm excited for this new chapter. I've been in this game long enough to know that you just have to be yourself," she continues. "They're gonna like you for who you are, not what you wear...I'm just kidding, obviously," Scott Disick jokes over clips of an ultra-glam Kim. Glad to see The Lord hasn't lost his sense of humor!
Who knows if Disick will still be all jokes when he sees footage of Kourtney and Travis discussing their future baby plans, as they're shown going to a fertility clinic in the trailer.
And Kanye "Ye" West definitely isn't going to be pleased seeing all of the insights on the unlikely power couple that is Kim Kardashian and Pete Davidson. "This is a relationship that I don't think anyone saw coming, Kris Jenner exclaims over videos of a smiling Kim texting her beau. You can say that again!
Despite all of the new happy relationships and future plans, the new series doesn't seem afraid of going deep, with one clip showing an emotional Khloé questioning, "Why are we always making excuses for the people that traumatize us?" and another showing Kim ominously say over the phone, "We have all of the time and all of the resources to burn them to the f*cking ground."
One thing is for sure: there will be drama.
What will 'The Kardashians' on Hulu be about?
Like their E! series before, the show will chronicle the daily lives of the world's most famous family. And there's plenty to unpack: budding romances, difficult divorces, messy dramas and more. We've got the public nightmare of Kanye harassing Kim, the fact that Kourtney Kardashian and Travis Barker are engaged and, of course, Kylie and Travis' relationship timeline, given that their new little one has just arrived.
There are plenty of other areas that need attention as well: Kendall Jenner and Devin Booker's love live, Kourtney and Scott's never-ending saga, and so on.
Although Kim told WSJ Magazine (opens in new tab) that the Hulu series will showcase a new side of the Kar-Jenner clan than we've seen before. We're excited to find out!
Why did the Kardashians leave E!?
In October 2020, a month after the Kardashians announced on their social media accounts that they would be ending their contract with E! and wrapping up Keeping Up With The Kardashians, Hulu revealed that the family signed a major multiyear deal to create new content for the streaming service.
While there are still a lot of unknowns surrounding the new Hulu show, what we do know is that we'll be seeing a whole lot more about the inner workings of the famous family. Which does beg the question, why did they leave E and end KUWTK?
Kris Jenner did speak about their decision during the KUWTK reunion episode, saying it felt natural after 20 seasons with E!—especially given that their contract was up.
"I think we were all feeling a little overwhelmed, we had done it for so long," she said. "When I discussed it with each one of the girls and then as a group, Kim was somebody who said 'You know what, 20 is a really nice, beautiful number. Why don't we do the last season and see how we feel?'"
But it seems the family was keen to return, with their new Kardashians on Hulu show. Speaking at a Disney event in May 2021, Kris further detailed that the platform is the perfect place to begin this new chapter, considering it houses all of the Keeping Up with the Kardashians content we've been watching for the past 15 years.
"I can't say much about what's coming but, spoiler: we're going to look fabulous and everyone's going to watch," Jenner said.
Sagal is a journalist, specialising in lifestyle, pop culture, fashion and beauty. She has written for a number of publications including Vogue, Glamour, Stylist, Evening Standard, Bustle, You Magazine, Dazed and Wonderland to name a few.
With contributions from