Meet 'Marriage or Mortgage' hosts Sarah Miller and Nichole Holmes
Who are the women behind Marriage or Mortgage? Hosts Sarah Miller and Nichole Holmes helm the Netflix reality show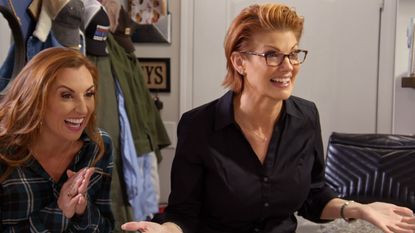 (Image credit: Netflix)
"Marriage or Mortgage" hosts Sarah Miller and Nichole Holmes seem to be polar opposites. Miller started her wedding planning career ten years ago, after planning her own nuptials and building on an already successful interior design career. Meanwhile Holmes, who has a radio and television degree, worked in and around the real estate industry selling luxury condos after the housing market collapse.
So, you might be wondering how do the pair go together? Well, it's their shared love for, well, love that brings them together. Sarah Miller is a self-described hopeless romantic, while Nichole Holmes, who has been divorced twice, finds herself a skeptic (who still believes in "the one").
The pair have successful careers in their respective industries—that's why fans can see them battling it out to instill their values in the contestants.
But, as loyal fans, we've always wanted to know how close the twosome is in real life, and according to the pair, they've become "thick as thieves" after only one season of working together. They confess that, while working in the same city, they had never actually met before coming together to help the "Marriage or Mortgage" couples choose between their dream wedding or future home.
As Miller explains: "We've always crossed each other's paths, but we've just never really actually met or talked until this show came about."
Holmes said they didn't know how many mutual connections they had until she heard Miller was planning her best friend's wedding during a pre-production Skype call.
They've become great friends since they've spent a season working together even though they're vying for the contestants' business.

Let's learn more about the "Marriage or Mortgage" hosts below!
How old is "Marriage or Mortgage" Sarah Miller?
Wedding planner Sarah Miller is 48 years old. Sarah is married to Chase Miller, and the couple has two children.
The Netflix star founded and owns Southern Vine & Company, a Nashville-based interior design and event planning firm.
According to the company's website, it specializes in "Southern flair," and it adds: "Sarah's experience and vendor team ensures that your event or design project will not only be beautiful but also a pleasant journey along the way. If you want a trusted partner for your luxury event or home design project, hire Sarah and relax! You will be delighted with the outcome!"
How old is "Marriage or Mortgage" Nichole Holmes?
Born as an Aries, Nichole Holmes turned 46 in 2020.
Holmes is a former beauty pageant queen who was crowned Miss Illinois in 1995. She grew up in Marion, Illinois. She went on to finish second runner-up in the Miss USA pageant the following year. She continues to strut the runway and is the face of several commercials today.
Are the "Marriage or Mortgage" hosts related?
Nope, despite those matching, equally envy-worthy heads of red hair and their Nashville roots, Sarah Miller and Nichole Holmes do not seem to be related. But maybe a 23andMe test is in order just to be sure!
Since December 2020, Kudzai has worked as a trainee journalist at FUTURE, writing about fashion, entertainment and beauty content for My Imperfect Life.

Kudzai previously worked as a freelance fashion wardrobe stylist, directing magazine photoshoots and coordinating the fashion direction of recording artists.

A fully qualified Journalism and Media graduate from De Mont Fort University, Kudzai graduated in the summer of 2020.