When was Marriage or Mortgage filmed?
Marriage or Mortgage: Netflix's romantic reality show has everything you need to see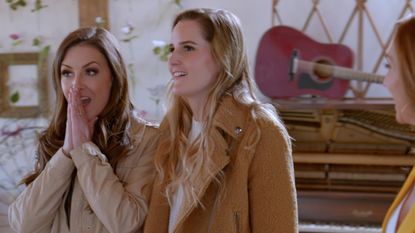 (Image credit: Netflix)
Marriage or Mortgage, Netflix's latest romance-focused reality show, is a fascinating take on the harsh realities that couples face before getting hitched.

In the exciting new series, the Marriage or Mortgage hosts—wedding planner Sarah Miller and real estate agent Nichole Holmes—must help couples choose between the fairytale wedding of their dreams or using the money instead to pay the mortgage on their future home. But when the two options are pitted against each other, the situation becomes murky.
While the couples are under extreme stress to make the best decision for them and their future, the audience is left wondering exactly how and when the show was shot in the midst of a pandemic.
When was Marriage or Mortgage filmed?
Wedding planner Sarah Miller, one of the co-hosts of Marriage or Mortgage, tells Women's Health that the show began filming in "the latter end of 2019 and wrapped in 2020."
"Whatever the couples decided, it ran back into 2020, so if they chose wedding, of course, we had to fulfill the wedding and if they chose home they moved into their homes," she added.
Miller confirms that the TV production followed COVID-19 precautions to keep everyone safe.
The successful bridal planner continued: "I mean, especially nowadays—which I think is amazing—there are protocols that have to be taken to even have a larger wedding. Every single vendor had to follow protocols—masks, sanitizing, all of that kind of stuff. Safety was first, 100 percent."
Fellow co-host Nichole Holmes and her real estate team didn't require as much preparation, but she had to be cautious when showing the couples potential homes, telling the publication that: "We just had to do it much more carefully and with a lot of care and that's what we did."
Is Marriage or Mortgage scripted?
None of the scenes on Marriage or Mortgage are staged, believe it or not. One of Miller and Holmes' biggest draws to the show is that it's as real as it gets.
"Once I heard more of the show dynamic and what it was all about, honestly the reason I jumped in is it's real," Miller said. "It's all unscripted. It was all about really doing what I love, showing the audience the reality of wedding planning—so why would I not want to be a part of that?"
That means that the competition between Miller and Holmes throughout the entire series is completely real! Miller laughs at their fierce friendly rivalry, saying: "At the end of the day, it was a real competition."
Holmes added: "Sarah and I would have these conversations on where we thought the couples were going to land, and some days we thought for sure, 'Oh they're going to choose marriage, they're going to go here.' Then I'd be shocked when they would say they want the house."
Will there be a Marriage or Mortgage season 2?
Nichole Holmes talked with PureWow about the prospect of a second season, adding: "We don't know, but hopefully Netflix hears this because we would love it."
Holmes continued: "We (co-host Sarah Miller and I) both had such a blast doing what we love doing every single day and making people happy."
Even though Marriage or Mortgage is proving as popular as Netflix reality shows Bling Empire and Selling Sunset, it seems it might take the streaming service a while to officially renew the show.
Since December 2020, Kudzai has worked as a trainee journalist at FUTURE, writing about fashion, entertainment and beauty content for My Imperfect Life.

Kudzai previously worked as a freelance fashion wardrobe stylist, directing magazine photoshoots and coordinating the fashion direction of recording artists.

A fully qualified Journalism and Media graduate from De Mont Fort University, Kudzai graduated in the summer of 2020.