Marriage or Mortgage couples: where are they now?
We're all wondering what happened to the cast of Marriage or Mortgage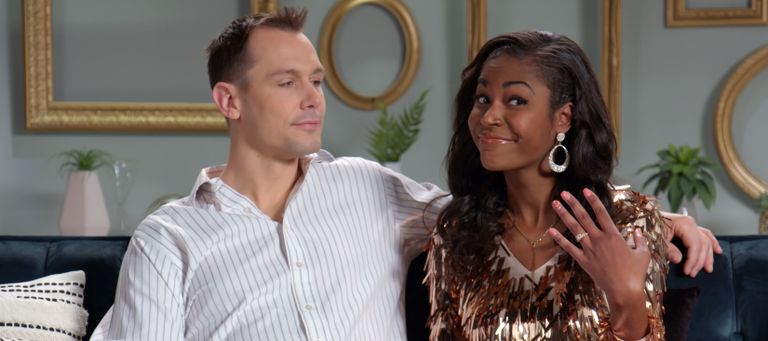 (Image credit: Netflix)
Since its release, Marriage or Mortgage has left nothing to the imagination, as it does just what it says on the tin: couples choose between their dream wedding and their dream home. Who would've thought but It has quickly become one of Netflix's most talked-about reality shows, alongside favorites like Bling Empire and Selling Sunset.
The series has gained its popularity as it sees the Marriage or Mortgage hosts, wedding planner Sarah Miller and real estate agent Nichole Holmes, compete for the couples' business. 
But as the show came to an end, the stars were ready to give fans all the behind-the-scenes access they craved. Holmes was one of the first as she revealed the harsh reality of her own personal life in a recent interview. People magazine spoke with the Nashville real estate agent about her conversation with Precious and the vulnerability she showed during the emotional episode.
During the interview, Holmes disclosed that during her first marriage, she had a miscarriage at about 12 weeks. Doctors told her she had a reproductive "abnormality" with only one working ovary and a misshapen uterus, among other things. She was given the go-ahead to try for a second pregnancy after a "laborious process" that involved surgery sadly, her marriage ended soon after.
Since Nichole's tell-all interview with People, we felt it was only right to see what the other cast members were up to. So, take a look below.
Where are all the Marriage or Mortgage couples now?
Evan and Liz
The series consists of ten episodes, each of which focuses on a different couple. The first episode follows Liz and Evan, a Nashville-based pair who met at a country music festival and share a love for country music shows.
After relocating to Nashville for work, they are faced with the decision to either move into a swanky new pad or have their dream wedding. When the pair was first filmed for the Netflix series, they were staying in Naples, Florida, where Evan had proposed. 
Evan was given 30 days to buy a house while they lived in a hotel because he had just gotten a job he couldn't refuse in downtown Nashville. The couple struggled to make a decision after seeing three homes and two wedding venues but after much consideration, Evan and Liz chose to have their dream wedding rather than commit to a home.  
Evan and Liz Zimmer tied the knot on May 25, 2020, despite several complications caused by the pandemic. According to Evan's LinkedIn profile, he is now the Director of Catering at the Grand Hyatt Nashville. He also has numerous photographs of the pair showing that they are still madly in love.
Denise and Nicholas
Denise and Nicholas Boehmke, a fun-loving duo, are seen in episode two, with Denise admitting she was the "class clown" in high school. 
Her partner Nicholas worked as a firefighter and personal trainer. They had been together for almost five years and had a public engagement in front of thousands of people at a sports game. 
Nicholas had a daughter from a previous relationship, and the pair were excited to have more kids, but they had to pick between a large wedding and a family home.
Denise and Nicholas announced at the end of their episode that they had not only bought their forever home on Oglethorpe Drive in Franklin, Tennessee, but they had also arranged their dream wedding. They eloped on a rainy day and exchanged vows in front of their loved ones.
Precious and Alex
Alex and Precious met on the college football field, and are the lucky couple of episode three. They had been together for nine years and claimed to "balance each other out."
Precious shared her excitement at the possibility of a wedding, but they both wanted a bigger house. Since they did not have a washing machine, Alex's mother had to do the laundry. 
In July 2020, Precious and Alex tied the knot at Nashville's Bridge Building. They held an intimate ceremony of 24 guests due to the coronavirus pandemic, but they still managed to cross off items like a sit-down dinner and Precious's much-discussed "ranch dressing fountain" from their wedding wish list. 
They planned to stay in their original apartment after their wedding and begin IVF procedures to help them have a baby. They are not pregnant at this time, although they seem to have moved into a bigger living space with a bigger kitchen, which Alex asked for.
Cindy and Karla
Cindy and Karla, who value each other for their empathy and concern for others, are the highlight of the fourth episode.
One preferred a neighborhood wedding celebration, while the other was more concerned about finding a new home. Cindy was a minister at an LGBTQ+ parish, while Karla was a medical imaging technician.
"I want our wedding to be an event that the community attends and celebrates," she said. 
Thanks to the COVID-19 pandemic, they had to reschedule their wedding several times. They did, though, actually tie the knot on October 17, 2020! Following their engagement, they now live in the same house in Gallatin, Tennessee, with their two dogs Bentley and Chloe. Cindy described the ceremony as one of the best days of her life.
Scott and Brittany
Scott had been "getting his moves on" to please the self-proclaimed princess Brittany when they met at a dance.
He was a member of the US Army, and his most recent assignment was to choose between having a forever home or organizing a lavish wedding before his deployment. Scott was keen to provide Brittany with everything she desired, but money was an issue.
Brittany and Scott bought a property three months after making their decision, and their dream house was finished six months later. It met all of their wants, including Brittany's need for marble flooring and a grand staircase. Brittany's parents' house in Nashville is just a few minutes away. 
Alex and Whitney
The next episode follows nurses Alex and Whitney, who are torn between raising a family and having a luxurious wedding.
They said their relationship progressed quickly, and "when you know, you know," and they proposed in an odd way. The proposal took place in a glass cabin in the mountains, with large letters spelling out "Marry Me" on the outside. 
Alex and Whitney had their dream wedding three months after making the announcement, on February 29, 2020, in front of a stunning custom-made, ring-shaped altar. They finally agreed to stay in their apartment until they had saved enough money to purchase a home of their own.
Hayley and Andrew
Hayley and Andrew, who are engaged, said their proposal was "the best of all time" and that their religious views have aided their relationship. They're committed members of their church and host weekly peer groups.
They'd been sharing Andrew's apartment and needed their own space without having to share it with another roommate. The two agreed to wait until they were married before having sex. 
Andrew and Hayley had all the luxury they wanted when they first bought their dream home, but they had to sleep in separate houses. Hayley would sleep at a friend's house down the road because they weren't yet married.
Andrew and Hayley have now married, but fans would be relieved to hear that they now live together in their dream home. 
Raven and Antonio
Raven and Antonio have been together for eight years and are searching for a bigger home in which to raise their two sons. "The boys are wild," Raven explained, "and we've been to the ER way too many times." They are now eager to take the next big step as a couple, having not had time to look at houses or plan a wedding. 
It's uncertain if they followed through with their plans to have their wedding. We saw them deciding to stay in their two-bedroom apartment, where their boys would share a room. Raven's social media accounts, however, show that she is no longer staying in the same apartment, meaning the pair have decided on a mortgage instead.
Braxton and Emily
Emily and Braxton's dream wedding took place at the White Dove Barn in Beechgrove, Tennessee, in July 2020, amid the chaos of the worldwide pandemic. Following their marriage, the two stayed with their parents in Franklin, Tennessee.
Sarah and Eli
Sarah and Eli were able to buy the home of their dreams at a cheaper price than they expected. They both appeared excited to start organizing the wedding once they could afford it. Eli's physiotherapy has progressed at an incredible rate since, with photos of him diving and skiing with his prosthetic leg on Instagram.
In recent months, though, Sarah and Eli seem to have grown apart. They're both noticeably absent from each other's social media feeds. Sarah announced that she would be relocating to Massachusetts in a video on her Facebook page. She also discussed having to put down a deposit on a new home, implying that she and Eli are no longer together.