These easy money-saving challenges could save you over £1000 in a year
Money-saving challenges everyone can try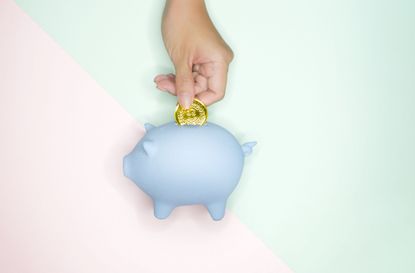 (Image credit: Getty/twomeows)
If one of your recurring New Year's resolutions includes saving some extra dollar, you've come to the right place.
There are some handy money-saving challenges doing the rounds on the internet right now. So whether you're saving towards a particular goal – wedding bells, anyone? – or just want a little bit of extra cash in your bank account, these might just be the gifts that keep on giving.
The 365 money-saving challenge
Want to save a handsome £1,500 in a year? 'Course you do.
The 365 money saving challenge, by Apartment Therapy, is pretty simple; if you increase the amount you add to your savings jar by £1 a day, for a whole week, then repeat, you'll be well on your way.
Let us break it down for you:
Start by putting away £1 every Sunday, followed by £2 on Mondays, £3 on Wednesdays and so on. You'll peak at £7 on a Saturday, before starting again at £1 the next Sunday.
It adds up to a saving of £28 per week, which will save £1,456 by the end of the year.
This might sound a little daunting, but when you consider that the largest daily amount (£7) is the cost of a few trips to Starbucks, it could be doable.
Sunday, £1
Monday, £2
Tuesday, £3
Wednesday, £4
Thursday, £5
Friday, £6
Saturday, £7
The 52 week money-saving challenge
This challenge may require more than putting away a few pennies but the result will be worth it as you'll end up with an annual saving of £1,378.
Here's how it works:
As the title suggests, the challenge lasts a full 52 weeks. You start by putting £1 in your savings on week one, then £2 on week two, £3 on week three and so on, continuing the pattern until you reach week 52, where you'll put away £52.
The 1p money-saving challenge
If your budget won't allow for the 365 challenge or the 52 week challenge, you could still save a pretty hefty £650 a year just using your pennies. Yes, really.
The 1p saving challenge is simple; start on the 1st January by putting away 1p, then increase the amount you add to your savings by just 1p a day.
1st January, 1p
2nd January, 2p
3rd January, 3p
Etc.
The most you'll ever have to put away in one day is £3.65 on the 31st December. But it all adds up, saving £667.95 over the year.
Winning!
The spare change money-saving challenge
Ever find yourself spending your spare change on something you don't actually want or necessarily need just to be rid of it? Well, this challenge will make sure every penny of your loose change goes straight into your savings.
Every time you break a note, save the change. Start with smaller coins like silvers or pennies and work your way up to as much as you deem feasible. And don't worry, we're aware that most of us don't actually carry cash anymore.
Apps like Moneybox can help you do a similar thing, online, as rounding up your purchase to the nearest pound and setting aside the spare change.
Sagal is a journalist, specialising in lifestyle, pop culture, fashion and beauty. She has written for a number of publications including Vogue, Glamour, Stylist, Evening Standard, Bustle, You Magazine, Dazed and Wonderland to name a few.