Why isn't Alexis Bledel in 'The Handmaid's Tale' season 5?
You won't see Alexis Bledel in the new season of 'The Handmaid's Tale'—here's why and what happens to her character Emily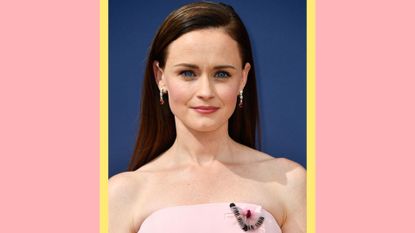 (Image credit: Frazer Harrison/Getty)
When The Handmaid's Tale season 5 returns this month, we'll finally get updates on characters like Elizabeth Moss's June Osborne, Yvonne Strahovski's Serena Joy Waterford and Samira Wiley's Moira Strand—but one notable member of the cast will be missing.
Alexis Bledel—who portrayed Emily Malek, a college professor turned handmaid turned Gilead rebel, in the show's first four seasons and was Emmy-nominated four times for her performance, winning the award in 2017—announced in May 2022 that she would be leaving the dystopian drama ahead of its fifth season.
"After much thought, I felt I had to step away from 'The Handmaid's Tale' at this time," Bledel said in a statement, per Variety. "I am forever grateful to Bruce Miller for writing such truthful and resonant scenes for Emily, and to Hulu, MGM, the cast and crew for their support."
But why did Bledel leave the show and how are they explaining Emily's absence in season five? Here's what we know so far.
Why did Alexis Bledel quit 'The Handmaid's Tale'?
Other than her previously released statement, Bledel hasn't officially commented on the specific reasons surrounding her departure from the series.
However, signs point to personal motivations as, just three months after her announcement, news hit that Bledel and her husband of eight years, Mad Men actor Vincent Kartheiser, were divorcing, per People. The couple met on the set of Mad Men, were married in 2014 and welcomed a child together in 2015.
"I love Alexis, I've known Alexis for years, back from our Mad Men days," Elisabeth Moss recently told Entertainment Tonight of her former co-star's departure. "We were very sad that she couldn't join us this year but I just think she's spectacular."
What happened to Emily on 'The Handmaid's Tale'?
*Spoiler alert!* We last saw Bledel's Emily—who displayed a healthy rebellious streak throughout the last four seasons, including running over a Guardian and poisoning a Wife—in the finale of The Handmaid's Tale season 4 banding together with June and other former handmaids as they finally gave Commander Fred Waterford (Joseph Fiennes) his comeuppance and beat him to death in No Man's Land, the free territory between Gilead and Canada.
However, as we quickly learn in the first episode of the show's fifth season (the first two eps of the season will drop on September 14), that act of revenge isn't enough for Emily. Per an emotional scene between June and Emily's wife Sylvia (Clea Duvall), Emily has returned to Gilead.
"She's not here...she went back to Gilead," Sylvia tells a shocked June, who came looking for Emily at the home in Canada that she shared with her wife and their young son, Oliver. "She went back to fight, I think, to find Aunt Lydia if she can. It's what she needed to do."
When June tells Sylvia that she will find Emily and fix the situation, Sylvia shuts her down. "She's gone! I'm never going to see her again, Oliver is never going to see her again...I don't need it to be someone's fault. Why does it matter whose fault it is? So I can hate the right person? So I can hate you? What good is that?"
"Oliver and I are going to be happy with the time we had with her," Sylvia continues. "She was gone, and then she was here. It's more time than I ever thought I'd get. We're lucky in a lot of ways."
"If you hear from her, will you tell me?" June asks, to which Sylvia replies no.
Of Emily's exit, Moss told Entertainment Tonight: "It wasn't the easiest thing in the world to handle, I'll be honest with you, because she's such a great, fantastic part of the show but I do think that it was handled in a really good way. Somebody has to go back and Emily's always been the one, even though she's kind of the quiet one sometimes, she's always been the one that is at the forefront of the resistance."
"She's always the one that makes moves: she's getting out of Gilead, she ran over that guy's head!" Moss continued. "She makes some wild choices, so I think the idea of her going back into Gilead is very realistic and it gave us the opportunity, too, which I really liked, to juxtapose that with June because June is constantly wrestling with whether or not to go back. It gave us the opportunity to show June what that looks like, to leave your family...I think we handled it the best way possible."
Whether Emily will be mentioned further throughout the season is to be seen—will she make it out of Gilead alive, again? Will we see Sylvia and Oliver again? And will June join Emily back in the Republic to enact more vengeance and save her daughter Hannah?
We've got plenty of room for such storylines, as it's been recently announced that both The Handmaid's Tale season 6 and a sequel series based on Margaret Atwood's literary follow-up, The Testaments, are in the works. Stay tuned!
The Handmaid's Tale season 5 is streaming on Hulu starting September 14.
Christina Izzo is the Deputy Editor of My Imperfect Life.
More generally, she is a writer-editor covering food and drink, travel, lifestyle and culture in New York City. She was previously the Features Editor at Rachael Ray In Season and Reveal, as well as the Food & Drink Editor and chief restaurant critic at Time Out New York.
When she's not doing all that, she can probably be found eating cheese somewhere.