Can you use vitamin C and retinol together?
Find out whether you can use vitamin C and retinol at the same time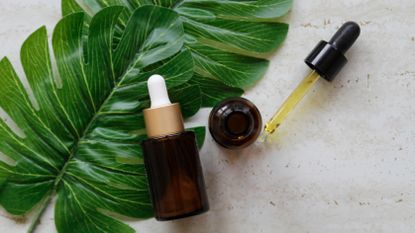 (Image credit: Isabel Pavia via Getty Images)
It's one of the most frequently asked skincare questions: can you use vitamin C and retinol together? Should you use them in the same serum or as two separate formulas? And which time of day is best? We don't blame you for finding this one a bit of a headache.
By now you probably know that these two ingredients are some of the big hitters of the skincare world. You probably already have one of the best vitamin C serums as part of your skincare routine, because vitamin C is a powerful antioxidant that protects your skin against free radicals and brightens your overall complexion, helping to reduce visible dark spots and hyperpigmentation.
Retinol, on the other hand, is one of the few skincare ingredients that is actually proven to visibly reduce fine lines and wrinkles. Yep, it's quite the miracle worker (check out the best retinol serums to try).
However, there is a lot of confusion surrounding these two ingredients and whether you can use them together, be that at the same time or simply on the same day. To get a definitive answer once and for all, we spoke to two industry experts.
Can vitamin C and retinol be used together?
The short answer is that yes, vitamin C and retinol can be used together. "Given the facts about these two ingredients, I'm baffled why this myth about them being incompatible persists," Paula Begoun, the "Cosmetics Cop" and founder of Paula's Choice, tells us. "Comparative research has shown that when used in the same formula, retinol and vitamin C have a beautiful synergy that actually boosts skin's environmental defenses.
"Other studies have proven the benefits of applying retinol and vitamin C at the same time for improving aging skin, including skin undergoing changes due to menopause."
In fact, both retinol and vitamin C are naturally found in younger and non-sun-damaged skin, in the form of retinyl palmitate and ascorbic acid. "They work to keep it healthy and renewed," Paula adds. "In fact, vitamin C is our skin's most abundant antioxidant!"
Some of the confusion about using these two ingredients together is also likely down to the fact that they are both are potent actives that have the potential to irritate—if you have sensitive skin, you may find that using one active at a time in the mornings and evenings suits you better. If you're using a new active for the first time, as well as mastering how to use vitamin C serum like La Roche-Posay Pure Vitamin C10 Serum properly, it's always worth incorporating it into your routine gradually to see how your skin reacts.
Paula's Choice C15 Vitamin C Super Booster, $49, Sephora (UK £46, Cult Beauty)
A 15% vitamin C formula that joins ferulic acid and vitamin E to help reduce the appearance of fine lines, dark spots and hyperpigmentation.
All that said, not every formula containing vitamin A can be used at any time of day—so it may be less of a headache to choose a formula containing both if you want to use these two ingredients at the same time.
"Vitamin C and retinol can be used together, but we wouldn't advise using them at the same time of day unless the product in question has been carefully formulated," explains Dan Isaacs, Director of Research at Medik8. "The vitamin A included in the formula would need to be one that is ok to use or stable in the day, such as retinyl retinoate, otherwise, you risk the product being ineffective.
"I'd seek out a formula that uses both and where a retinoid that is stable in sunlight has been utilized." The product's information page or enclosed leaflet will tell you when and how to use it, and if it can be used both during the day and at night. And if you opt for two separate formulas, many people like to use their vitamin C in the morning, to get the most benefits from its antioxidant protection, and retinol at night, to avoid stability issues.
Do you put vitamin C on before or after retinol?
Paula says that there is no hard or fast rule on the order you apply these two products because "it depends on the products you're using and the skin concerns you want to target. For example, higher concentrations of vitamin C and retinol are rarely found in the same product—and for some advanced skin concerns, higher concentrations of each are needed to obtain the best results and so separate products would be best."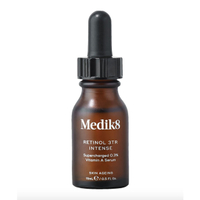 Medik8 Retinol 3TR Intense, $39 (UK £33, Cult Beauty)
Medik8's retinol serums are some of the best around, and this one is formulated with vitamin E for an added hit of antioxidant protection.
"As is true for almost any bio-active ingredient from peptides to antioxidants, they all break down in the presence of daylight, so it's important to apply a broad spectrum sunscreen rated SPF 30 or greater every morning," Paula advises. "Daily use of sunscreen is critical for skincare in general, because unprotected sun exposure destroys skin regardless of which anti-aging ingredients you use."
"It goes without saying that SPF should absolutely be worn every day if incorporating both vitamin C and A into your routine," Dan echoes. "That's why we created our CSA philosophy at Medik8—using vitamin C plus sunscreen in the morning, plus vitamin A at night is a fantastic simple way to ensure excellent skin health and to prevent the signs of skin aging."
Paula stresses that the last thing to remember when shopping for a vitamin C, retinol or serum that combines the two is to never buy a formula in clear or jar packaging. "Clear packaging exposes these delicate ingredients to light, causing them to break down prematurely," she explains.
"Jar packaging does the same, as well as exposing them to air, a combination which ensures you're getting an anti-aging product that becomes less effective with each use." So, look for opaque and airless or restrictive packaging and you'll be well on your way.
Lucy is a beauty journalist who has written for titles including Marie Claire, Cosmopolitan, OK!, woman&home and Women's Health, as well as regularly contributing to My Imperfect Life. Her work covers everything from skin and haircare tips to trying and testing the latest beauty launches, and interviewing celebrities and experts. A certified dog person, her other interests include mental wellbeing, books, piña coladas and not getting caught in the rain.