10 times the Kardashian family was *way* too TMI
We all know a little too much about the Kardashian family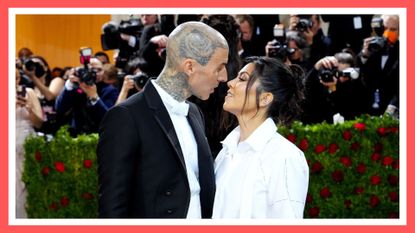 (Image credit: Jeff Kravitz/FilmMagic/Getty)
When you're reality TV superstars like the Kardashian family, it's a given that you'll be expected to share more of your life than the average person, but Kim, Khloé, Kourtney and the rest of the famous brood do more than their fair share of offering up too much information.
TMI moments stretch from this year's The Kardashians on Hulu—The Kardashians season 2 premiered on the streamer on September 22—all the way back to the O.G. series, Keeping Up With the Kardashians on E!. Add in social media posts, red-carpet appearances and late-night TV interviews, and we've all come to amass a hell of a lot of intel about the Kardashian crew, whether we've wanted to or not.
Here are just ten of the Kardashians' most TMI moments over the years.
10 times the Kardashian family was *way* too TMI
1. Kim's grandma-approved sex life
One of the most recent TMI reveals occurred in the October 13th episode of The Kardashians, during which Kim Kardashian told her 88-year-old grandmother MJ that she and then-boyfriend Pete Davidson recently had sex in front of a roaring fireplace at the Beverly Hills Hotel in honor of her grandma. Yes, really.
"We were sitting in front of the fireplace, just talking for hours, and I was like, 'My grandma told me that you really live life when you have sex in front of the fireplace,' and so we had sex in front of the fireplace in honor of you," Kim told MJ. "I know that's really creepy." We'll say!
2. Khloé's "wide vagina"
In season one of The Kardashians on Hulu, Khloé Kardashian complained about the lack of coverage in the bodysuits from sister Kim's clothing brand, SKIMS—specifically, the lack of vaginal coverage. "I'm wearing it right now, and it's amazing. But it's a sliver—it is supposed to just cover my clit?" she joked. Khloé then revealed that her sisters often make fun of her for "having a bigger vagina than most," and previously divulged that she has named her "camel toe" Camille. For her part, Kim had the SKIMS bodysuit redesigned to have a roomier crotch "just for" her sister.
3. Kris delivered Kylie's baby
"You know, she delivered my first child," Kylie said of her mother Kris during a joint appearance on The Late Late Show With James Corden in September. "Fully took my baby out of the vagina."
"I delivered Stormi," Kris concurred. "I had scrubs. I had gloves. I scrubbed up!...I pulled that baby out of my child."
4. Kim's "BDE" curiosity
Speaking of Kim Kardashian and Pete Davidson's sex lives, the former revealed in a June 2022 episode of The Kardashians what initially intrigued her about the Saturday Night Live star. "I wasn't even thinking, like, 'Oh, my God, I'm gonna be in a relationship with him. I was just thinking, like…I heard about this BDE, need to get out there," Kardashian said during the ep. (BDE, of course, means "Big Dick Energy.") "I was just basically DTF," she continued.
The star added: "When I turned 40, everyone told me it was the 'best sex of your life.' … And, so far [wink]."
5. Kim's "crappy" skincare regimen
From bloody vampire facials to fat transfers into her famous butt, Kim Kardashian is no stranger to trying wacky trends and treatments all in the name of beauty, but in a June 2022 interview with The New York Times, she revealed exactly the lengths she'd go to to look good. "If you told me that I literally had to eat poop every single day and I would look younger, I might," the media mogul said. "I just might."
"So many people want to act like they don't care about how they look," she said. "I'm not acting like it comes easier or it's all-natural. You just don't wake up and use whatever." Um, we certainly don't use poop if that's what you mean!
6. Khloé's preferred sexual position
On her now-defunct blog, Khloé With A K, the aforementioned sister revealed that not only does she consider bedroom activities to be exercise ("I had my team put together a list of sex positions that burn the most calories, because what's more fun than getting down???" she wrote), but she specified exactly which position is her favorite. Namely, doggy style.
"Doggy style sex is actually a really great workout for your abs and arms," Khloé wrote. "I'm not a missionary girl, and I don't belong in a missionary!!!"
7. Kim tried Kourtney's breast milk
She's put blood on her face before, so it's not that much of a shock that Kim would use breast milk as a form of skincare. What is shocking, however, is that it was Kourtney's breast milk, which the younger Kardashian employed in a 2013 episode of Kourtney and Kim Take Miami as a means of treating her psoriasis.
After reading that breast milk could help with dry patches on her skin, Kim and her BFF Jonathan Cheban stole some of Kourtney's own titty juice but were caught. Instead of being royally weirded out by the idea (guilty!), Kourtney personally helped her sister spray the milk on the skin condition. Talk about, uh, sisterly love?
8. Kris's spirited sex life with Corey
Sixty-six-year-old Kris Jenner has been known to publicly brag about her sex life with her boyfriend, 41-year-old Corey Gamble, over the years, at the chagrin of her cringing children. While on The Ellen Show this year, Ellen DeGeneres asked Jenner to "name three things Corey thinks you do well," to which the momager replied: "Oh he thinks I am a good golfer, he thinks I am a good mom, and he thinks I'm... I don't want to say the last one."
It's not the first time she's let TV viewers in on her intimate life with Gamble. Previously on Keeping Up With the Kardashians, Jenner relayed to daughter Kendall and Khloé that she and her BF were "having a little makeout session in the car" before lunch. "Is that too much? Is my shirt on right?" she goes on to ask her mortified children.
9. Kourtney and Travis's entire relationship
Newlyweds Kourtney Kardashian and Travis Barker have seemingly never been afraid of TMI, or PDA for that matter.
The very affectionate couple has overshared quite a bit about their relationship on social media, with the Blink-182 drummer posting photos of Kardashian's underwear and bare feet, and captions like "All day I dream about sex w/ you," and the Poosh founder sharing pics that featured vials of Barker's blood and vampire emojis.
That's not to mention all of the raunchy details they've spilled on the reality show, including that their fertility doctor told Kourt to drink Travis's semen "four times a week" to boost their chances of conceiving a baby. What?!
10. Kim's sex tape
The world was pretty much introduced to Kim Kardashian and her now-famous family thanks to the ultimate TMI event: a sex tape. In February 2007, just eight months before Keeping Up with the Kardashians premiered on E!, an intimate video featuring Kim and then-boyfriend Ray J from a 2003 vacation to Cabo San Lucas was leaked and made Kardashian a household name.
It's not the first time a sex tape has popped up in the family: Kris Jenner admitted in an episode of KUWTK that when she was married to Caitlyn Jenner, the spouses had made a sex tape, but erased it shortly after filming.
Thanks for the info, but no thanks!
Christina Izzo is the Deputy Editor of My Imperfect Life.
More generally, she is a writer-editor covering food and drink, travel, lifestyle and culture in New York City. She was previously the Features Editor at Rachael Ray In Season and Reveal, as well as the Food & Drink Editor and chief restaurant critic at Time Out New York.
When she's not doing all that, she can probably be found eating cheese somewhere.