'The Kardashians' season 2: everything to know about the 'insanity' coming to Hulu
'I wish we could have one boring day in this family,' Khloé says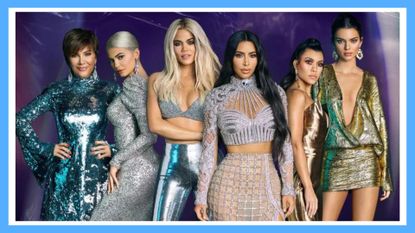 (Image credit: MILLER MOBLEY/E! ENTERTAINMENT)
The wait was short, and The Kardashians season 2 is now upon us.
When it was announced that Keeping Up with the Kardashians, the famous family's longtime E! reality series, was ending after 20 seasons, fans were worried: how would we all, you know, keep up with the Kardashians?
Luckily, the business brain that is Kris Jenner was on it with a brand-new show, The Kardashians, which premiered on Thursday, April 14. And already, the first season of the fam's next chapter is over as quickly as it started—all those Kourtney Kardashian and Travis Barker make-out sessions really do make time fly, huh?
But with that "to be continued" cliffhanger lingering over the end of season 1, fans are already clamoring to know: when will we get to see The Kardashians season 2? Here's everything we know so far.
Where to watch 'The Kardashians' season 2:
Like its predecessor, The Kardashians season 2 will be available to stream on Hulu and Disney+.
Watch 'The Kardashians' season 2 trailer:
"Season two is going to be insanity," Khloé says in a brand-new season trailer, which the streamers dropped on Monday, August 29. And based on the two-minute clip, it's a promise the family is going to keep—the new season will delve into plenty of drama, from that Khloé-Tristan paternity scandal to Kim's Variety interview backlash and the Marilyn dress controversy.
Another short teaser followed a week before the premiere, and not only did it give a glimpse at the fun moments, but the more serious ones, too. As the tagline says, "seasons change, but sisters are forever."
Kim reiterates the sentiment, as we see in one of her confessionals: "No matter how crazy things get sometimes, we're always going to be family."
When does 'The Kardashians' season 2 come out?
Fans will be happy to hear that the Kardashian crew will be back on screens Thursday, September 22. According to a Hulu press release from April 2022, "the family signed up for two seasons, with 40 episodes slated overall."
But this season is going to be one like we've never seen before, according to the women who lived through it. Ahead of the premiere, Kim sat down with Michael Strahan on Good Morning America to discuss episode 1. While she didn't name the events in question, she did hint that we'll venture into some deep territory.
"The one thing I'm really excited about, for the premiere episode is — we haven't done any promos on it. We're not going to," she said during a conversation with Tuesday. "It's, like, a really, seriously deep, vulnerable episode that we really haven't talked about."

The family is publicly pushing for more seasons—at The Kardashians premiere back in April, Kris Jenner joked to The Hollywood Reporter that she wanted "another 20" seasons of family-focused reality TV to round it off to 40 total, "a nice even number." Superstar daughter Kim Kardashian concurred: "I hope another 20, right? If we're going to do it, we're going to do it."
How many episodes in 'The Kardashians' are there overall?
Compared to Keeping Up with the Kardashians—whose episode count fluctuated per season, from as little as six to as many as 21—The Kardashians season one featured ten episodes, with each hovering around the 45-minute mark.
That gave plenty of room for the family's usual amount of spectacle, from the beginnings of Kim Kardashian and Pete Davidson's odd-couple romance to Kourtney Kardashian's IVF journey, from Kendall Jenner slicing a cucumber like an undercover alien to Khloé's baby-daddy drama with perpetual cheater Tristan Thompson.
We already know that there will likely be at least one wedding (Kourt and Travis have hosted three to date), a baby (will we ever find out Kylie Jenner's son's name?) and a Met Gala to cover in season two, but who knows what else these people will get up to?! Will Kete (Pim?) finally make an onscreen appearance? (There is a little post-credits cameo in the season one finale, so check that out!)
When was 'The Kardashians' filmed?
The first season of The Kardashians was filmed from September 2021 through January 2022, airing about four months later. Keeping this math in mind, we'll be able to surmise premiere dates going forward.
What happened in 'The Kardashians' season one finale?
At the end of the penultimate episode of The Kardashians season one, Kim gets word that Tristan Thompson, Khloé's off-again, on-again boyfriend and the father of her daughter True, is embroiled in a legal battle with a woman that he reportedly impregnated on the night of his 30th birthday—which Khloé hosted for him.
Unsurprisingly, the bulk of the season finale deals with the very public betrayal. "I find out what Tristan is doing with the rest of the world," Khloé says in a confessional. "A courtesy would be not doing it, but fine, if you do it, you're not even going to give me a heads-up before the rest of the world? It's just an additional slap in my face. It's humiliating." By the end of the episode, she's packing up his stuff from her home.
The finale does manage to sprinkle in some lighter moments, including a scene of Kendall emerging from a $23,000 hyperbaric chamber in her at-home wellness room ("For the past couple years I've been, like, really just loving health!"), Kim failing to get a usable Christmas card with her kids because North keeps giving the camera the middle finger, and Kris recording a cover of "Jingle Bells" while Kourtney and Travis play tonsil hockey in the corner...because of course they do.
'The Kardashians' season 2 episode 1
During the summer, fans were shocked to hear the news of Khloe Kardashian expecting another baby with Tristan Thompson after he had been unfaithful so many times. Their surrogate process began in November 2021, and by December 2021, the world knew of Tristan's latest infidelity, which lead to the birth of his son, Theo, with Marlee Nichols.
But now, Khloe is focusing on her own son and ready to bring some much-needed positivity back into her life, and we get an intro during episode 1.
"Ever since December, it's been this dark cloud looming over me. Every single day, I've been feeling depressed and sad, and now that my son is here, I get to move on, and I get to enjoy. It's almost like I get to close that chapter and be done with this trauma and put it behind me," she said.
Whatever's to come, we'll be standing by.
Christina Izzo is the Deputy Editor of My Imperfect Life.
More generally, she is a writer-editor covering food and drink, travel, lifestyle and culture in New York City. She was previously the Features Editor at Rachael Ray In Season and Reveal, as well as the Food & Drink Editor and chief restaurant critic at Time Out New York.
When she's not doing all that, she can probably be found eating cheese somewhere.