These 2023 sex trends will help you prioritize your pleasure in the new year
Want some feel-good inspiration in the coming months? The 2023 sex trends are hot stuff...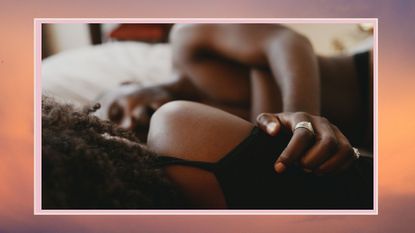 (Image credit: Getty Images)
Ready to get steamy? The top 2023 sex trends can provide plenty of inspiration if you're looking to get out of a rut in the bedroom this year. Because, for the best satisfaction between the sheets, it's important to keep switching things up so it stays fresh and exciting—whether you're having fun with a partner or are making time for solo play.
The best 2023 sex trends
Fortunately, intimacy in the new year will be all about prioritizing pleasure in a variety of feel-good, easily accessible ways. We've called on the leading experts in the field to share their best sex tips to guarantee a good time in the months ahead, and there's something to please everyone.
From focusing on an emotional connection before intercourse to another perspective on sex toys (that is just as exciting as the best rabbit vibrators) and sampling the variety of polyamory, the months ahead look like they will be seriously hot stuff. Without further ado...
1. Emotional connection
It may sound simple, but forging an emotional connection will make intercourse feel so much better—and it's set to be prioritized between sexual partners in 2023. "Research shows that Gen Z is no longer interested in hookup culture," says Limor Gottlieb, founder of Love Evolved, who is also a doctoral relationship researcher at Brunel University London. "Instead of casual sex, they want long-term relationships.
"Moreover, sex on the first date is now considered a dealbreaker according to 48% of Gen Zs. Especially in the United States, with sex being riskier than ever—due to new abortion regulations, reduced access to contraceptives, and increasing rates of sexually transmitted diseases (STDs)—people are more interested in building trust and being in love with someone before having sex. One way to develop this is to openly and honestly communicate any sexual desires and needs, as well as disclosing any medical conditions."
2. Safer sex
As mentioned, rates of STDs are on the rise—which leads us swiftly onto the trend for taking extra care with intercourse so you can have fun without fretting. The app iPlaySafe has seen a 500% increase in sexual health testing since 2020 as more people ensure they're not risking passing anything on to a new partner.
"We can expect more conversations around safe sex and contraception to stall its spread," notes Cecile Gasnault, brand director at Smile Makers. "On the latter point, we have seen a growing discourse on how the mental load around reproductive health falls mostly and unfairly on people with wombs, so we should also expect more conversation on the topic of equal contraception."
3. Sex toys 2.0
You may have thought you'd encountered the best sex toys—but the new generation of vibrators and the like are set to feel even better. "There will be greater personalization in pleasure," suggests Gasnault, highlighting Smile Makers' The Artist and The Poet toys which have been created to help achieve this. "Vibrators will prioritize clitoral stimulation—which our research has shown that 70% of women prefer—and they will also come with different sizes, shapes and mouthpieces to cater to the fact that clitorises come in different sizes, shapes and sensitivities."
What's more, next year will see a move away from toys predominantly for those with a womb. "While female-focused toys still hold the number one spot, we predict a rise in male sex toys on the market," says Will Ranscombe, co-founder and CEO of Love Not War. Additionally, you'll likely see devices become more prominent.
"Consumers are more open to speaking about and experimenting with sexual wellness products and with that, they're also keen to have said items more widely and easily available," he adds. "We believe this year mainstream retailers will start to openly display sex toys and other related products on their shelves."
4. Digital sex
The best app-controlled vibrators proved that you don't need to be in the same room as your partner to have a good time. Indeed, Gottlieb believes that having fun remotely is only going to grow in importance. "Long distance relationships are on the rise due to people being more open to meeting people from other places and traveling for love," she explains.
"This means that couples who are physically separated need to come up with creative ways to stay not only emotionally but also sexually connected to strengthen intimacy. Thanks to technology, good old phone sex can now be replaced with Facetime sex." It could additionally be worth exploring the different types of vibrators to see how the experience could be enhanced for you both when you're apart.
5. Relationship exploration
This trend could be helpful for partners wanting to give their sex life a boost. "We're likely to see more people experimenting with different styles of relationships such as consensual non-monogamy—like polyamory—as well as solo polyamory, whereby people choose to remain single while dating multiple people," says Gottlieb. "Sexual exploration and open communication are likely to be particularly popular among Gen Z who seem more comfortable staying single, focusing on themselves and opting out of sex entirely."
In addition to relationships, there is also likely to be more adventure in the bedroom. "The notion that sex is only penetrative is outdated, as is the idea that the focus should be on reaching an orgasm," notes Gottlieb. "It's about experiencing pleasure which can be achieved in many different ways. Couples will increasingly enjoy getting creative in the bedroom and getting to know each other's bodies more deeply. This could include sexual novelty through role play as well as sensory tools."
6. Sensory play
Talking of which, sensory arousal is also set to hot up in 2023. "The success of ASMR, soundscapes that transport us to other places and period dramas that take us to other times, suggest that people are using sensorial and intellectual experiences to find solace—a moment of escape to recharge in energy and optimism," notes Gasnault.
As such, igniting the senses during intercourse is set to be a newfound form of feel-good escapism. "Sex, at the end of the day, incorporates all of the senses, not just 'touch'," explains Gasnault, who adds that candles and massage oils will be increasingly used in sensory play—which also follows the trend for aromatherapy in wellness.
7. Lube
If you've never tried lube before, now could be the moment. "We predict a trend in 2023 for brands educating customers on lube and sexual wellness," suggests Nora Langknecht, certified sex educator at Fun Factory. "In decades past, people might have had two lube brands to choose from, but now all the possibilities might feel a little overwhelming."
Indeed, Langknecht notes that there are now lubes with a variety of ingredients to choose between, as well as different products for particular sex toys. "It's now okay to be something of a 'lube snob' and make informed decisions on what to put near or in your body," she adds. "Just because you can buy lube from most supermarkets or drugstores doesn't mean you necessarily should." So, do your research.
Lauren is a freelance writer and editor with more than six years of digital and magazine experience. Most recently, she has been the Acting Commissioning Editor of Women's Health—where she co-produced the Going For Goal podcast—and has previously also written news and features for titles including The Telegraph, Grazia, Stylist, Dazed, The Sun's Fabulous, Yahoo Style UK and Get The Gloss. She covers all aspects of lifestyle, specializing in health, beauty, and travel. Can't live without: oat milk lattes, new podcast episodes, long walks, and great skincare.