The best rabbit vibrators: our tried and tested picks
Hop straight to an incredible climax with the best rabbit vibrators on the market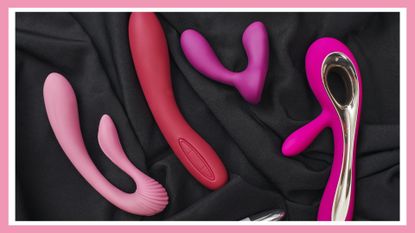 (Image credit: Getty)
Popularized by Sex and the City episodes and sex toys the world over, the best rabbit vibrators have been giving folks earth-shattering orgasms for more than three decades.
The rabbit's rise to popularity was thanks to its two-pronged approach—a longer arm for internal penetration and a smaller one for clitoral stimulation—which far outperformed previous models that predominantly focused on one area or the other.
With such acclaim, it's little wonder that every sex toy company on the planet seems to have had a go at making a bunny-shaped vibrator. In order to figure out which are the best rabbit vibrators around, we took inspiration from SATC's Charlotte York and canceled all our plans, snuggled up and did some…erm, long, hard, first-hand research, testing the products out for ourselves.
The result? While you can't go far wrong with a rabbit vibrator, two were stand-outs. The Coco de Mer Pleasure Number 2 is a powerful, high-end device that comes luxuriously packaged—but the best bunny overall has to be the Lovense Nora. One of the best sex toys we tested, not only is it app-controlled, but it's also got a multi-speed rotating head and a well-thought-out shaft design, all for an affordable price.
If you want to know more about the best rabbit vibrators you can buy—including budget options, ribbed choices and the best option for stimulating your G-spot—take a look at our round-up of the top tried-and-tested devices.
The best rabbit vibrators to add to your collection:
1. Lovense Nora
The best rabbit vibrator overall
Specifications
Power source: Rechargeable
Material: Silicone (main part) and medical grade ABS plastic (handle)
App-controlled: Yes
Waterproof: Yes
Reasons to buy
+
Flexible vibrating arm
+
Multi-speed rotating head
+
Well-functioning app
+
Pairs with male sex toy
+
Offers powerful vibrations
Reasons to avoid
-
Vibrations less powerful in shaft
-
Can be noisy
Nora is an old friend—she topped our guide to the best app-controlled vibrators, but is so good at what she does that we had to include her in this list of the best rabbit vibrators, too.
Of all the bunnies we've tried (and we've tried a lot), this one undoubtedly comes out on top. The combination of its waved shaft's multi-speed rotating head hitting our G-spot and the powerful vibrating smaller arm stimulating our clitoris is truly orgasmic. These features can be controlled separately, meaning you can have a totally bespoke experience that's so good, it'll have you screaming in pleasure.
As with all of Lovense's toys, the Nora can also be controlled through the Lovense app, either by the user or by someone else. This makes it ideal for those in long-distance relationships since your partner can be controlling your vibrator from anywhere else in the world. It can even be paired with male masturbator Max 2, so you and your partner (should they have a penis) can have the closest thing possible to physical sex without being in the same room or even the same country. A truly modern love story!
2. Coco de Mer Pleasure Number 2 – The Dual Vibrator
The best premium rabbit vibrator
Specifications
Power source: Rechargeable
Material: Body-safe silicone
App-controlled?: No
Waterproof: Yes
Reasons to buy
+
Beautiful design
+
Dual motors that vibrate independently
+
Powerful vibrations
+
Very flexible clitoral arm
+
Comes with leather travel case
Reasons to avoid
-
No further functions other than vibrations
Coco de Mer's Pleasure Number 2—The Dual Vibrator is very similar to the Lovense Nora, with its independently functioning dual motors, powerful vibrations and easy-to-use buttons. What it's missing, however, is the blissful rotating head on the larger arm.
But what the Dual Vibrator lacks in spinning heads, it makes up for with the flexibility of its smaller arm. It's so limp and malleable that when we first took it out of its packaging, we thought it might have gotten broken in transit. While such a description isn't usually associated positively with male appendages (real or not), the smaller arm's flaccidity means that anyone who uses it can find the perfect spot for it on their clit without much effort at all. Those who've previously used a vibrator with a rigid smaller arm that doesn't quite rest in the right place will appreciate how incredible this really is.
While people say size doesn't matter, we were initially a little worried when we noticed that the Dual Vibrator is on the slightly smaller side. Happily, in practice, this means it fits like a glove and comfortably stays put inside your vagina—making it a great hands-free vibrator.
One for the more bougie among us, Coco de Mer's vibrators are the most luxuriously packaged sex toys we've ever come across. Nestled inside a fancy leather travel case with a built-in drawstring bag, it makes using it feel like a special occasion. It's also the ideal vibe to take on your holidays, given that you can be sure it won't get broken or start buzzing in your suitcase. (No one wants to explain that to the customs officials!)
3. Ann Summers Moregasm+ Boost Rampant Rabbit
The best budget rabbit vibrator
Specifications
Power source: Rechargeable
Material: Body-safe silicone
App-controlled: No
Waterproof: Yes
Reasons to buy
+
Dual motors that vibrate independently
+
Boost button to help reach climax
+
Two prongs on the smaller arm
Reasons to avoid
-
No functions other than vibrations
-
Clitoral stimulation may be too direct for some
Given that Ann Summers is responsible for bringing rabbits to the UK market, we had to include one of their Rampant Rabbits. The Moregasm+ Boost is a 4.5-inch vibe with two independent motors, offering three speeds and four vibration patterns.
It has two features that make it extra special, though. The first is the two miniature rabbit ears that sit on the top of its small clitoral arm. These hug the clit, providing intense stimulation—which may be too much for some people, but is great if you can handle it and prefer more intensity generally. Then there's the boost button, which is where the Moregasm+ Boost gets its name. When you feel like you're on the brink of climax, boost yourself over the edge. The button activates a rumbly, pulsing vibration that lasts for 10 seconds.
If we had to pick a downside, it would be that the soft buttons on the base of the shaft are slightly tricky to locate and work while the vibrator is inside of you, which can be frustrating.
4. We-Vibe Nova 2 App Controlled Rechargeable Rabbit Vibrator
The best rabbit vibrator for G-spot stimulation
Specifications
Power source: Rechargeable
Material: Body-safe silicone
App-controlled?: Yes
Waterproof: Yes
Reasons to buy
+
App-controlled
+
Dual motors
+
Deep vibrations
Reasons to avoid
-
Clitoral vibrations not direct enough for everyone
-
App can be glitchy
If you're someone who likes to do a bit of manual thrusting with your rabbit vibrator, the slightly psychedelic-looking We-Vibe Nova 2 is a good option. The smaller arm is extremely curved and flexible, so no matter how enthusiastically you move it, it never loses contact with your clitoris. The internal arm is also well designed—its head is firm but cushioned and adjustable, meaning you can find that Goldilocks spot and let the Nova 2 do the rest.
We did find that if you don't hold onto its handle while gyrating (TMI?), it slips out more easily than other vibrators. If you keep a hand on the easy-to-hold silicone handle, though, the rabbit stays in its hutch, so to speak.
It's not only the Nova 2's shape that makes it feel so personalized. The user can control the shaft and clitoral arm independently, so you can have both vibrating simultaneously or one without the other, depending on preference. You can then cycle through the 10 vibration patterns using the arrow buttons on the handle, and increase or decrease the power of each one with the plus and minus buttons. Hold these two down at once to enable the genius "travel lock" too.
We-Vibe's products are all teledildonic (now there's a fun word!), which means you or a partner can also control the Nova 2 using the app We-Connect. You can use pre-made vibration settings to get you going or even create your own personalized patterns. Those looking for mind-blowingly powerful vibrations should look elsewhere though—in our opinion, the vibrations could be a little bit more intense on this rabbit vibrator—but if you just want a reliable dual vibrator that adapts to fit your body or one of the best vibrators for beginners, then this is the one.
5. Kandid Rabbit Vibrator Ribbed
The best ribbed rabbit vibrator
Specifications
Power source: Rechargeable
Material: Body-safe silicone
App-controlled?: No
Waterproof: Yes
Reasons to buy
+
Ribbed design for extra sensation
+
Extremely flexible
+
Affordable
Can we be candid for a moment? This vibrator blew our socks off. Or, it would've done if we'd been wearing socks. Its flexible shaft means it moves as your body moves, while the curved tip presses perfectly against the G-spot—and the ribbed design adds a delightful extra sensation.
The real star of the show, though, is the clitoral arm. The motor—one of two—is stored in its thicker bottom half, but it's topped with a slim antenna that nestles into the clitoral area and flutters about like an oversexed butterfly, leading to an intense orgasm. All this and for an affordable price? We're sold, which is why it's one of the best rabbit vibrator choices if you prefer a ribbed design.
6. LELO Soraya 2
The best-looking rabbit vibrator
Specifications
Power source: Rechargeable
Material: Body-safe silicone
App-controlled?: No
Waterproof: Yes
Reasons to buy
+
Beautiful design
+
Handle provides good control
Reasons to avoid
-
Pricey
-
Can't control the two arms separately
They say looks can be deceiving but, in the case of the Lelo Soraya 2, you get exactly what you see. Its sleek, futuristic design translates to a high-tech toy made predominantly of silky soft silicone.
The broad tip of its internal arm targets the G-spot, while the two-inch length and 27-degree angle of the clitoral arm mean it provides stimulation for the majority of people's bodies, no matter the distance between the clit and the vagina. Plus, its looped handle not only looks cool but also gives you better control over the device too which we loved.
The Soraya 2 is controlled via three buttons on its handle: pushing the middle button means you'll cycle through 12 vibration patterns, and each pattern can be made more or less powerful using the plus and minus buttons. They can be a little tricky to use at first since it's difficult to work out which button is which, but if you use it enough you'll soon get the hang of it. Trust us.
How to choose the best rabbit vibrators for you:
There are a few things to consider when it comes to buying a rabbit vibrator, and these are all things to bear in mind, whether it's your first or your 21st sex toy purchase.
Be sure to think about:
Form—While all rabbit vibrators have a similar form—a longer arm for vaginal penetration and a shorter arm that stimulates the clitoris—they vary in their length, girth, curvature and shape. You might find a small, smooth shaft and clit-hugging rabbit ears are what you need to reach orgasm, or perhaps you'll prefer something sizable and ribbed.
Functions—There's plenty to consider when it comes to a vibrator's functions. Firstly, think about the speeds and pulsation patterns on offer with different types of vibrators. These vary from device to device. Then think about how you want to control your rabbit vibrator—some have a remote, others are app-controlled, while many are manually altered via buttons on the device itself. Finally, there are the main arm's functions, which can include thrusting and rotating heads.
Design—Just as with a human sexual partner, you want to find your vibrator appealing! Their design can vary from sleek and modern to fun and brightly colored, while some are even unnervingly realistic (read: veiny). Pick the look that appeals to you, whatever that may be.
Victoria is a freelance journalist with eight years of experience, writing everything from reviews and news pieces to meaty features for various online and print titles — including easyJet Traveller and b.inspired. Her work covers travel, lifestyle, health, and fitness. In her spare time, Victoria performs improv comedy and she's currently training to be a PT.