Why 'Anatomy of a Scandal' made Sienna Miller reflect on *that* Jude Law nanny drama
The infidelity at the center of 'Anatomy of a Scandal' has fans talking about the Jude Law nanny affair again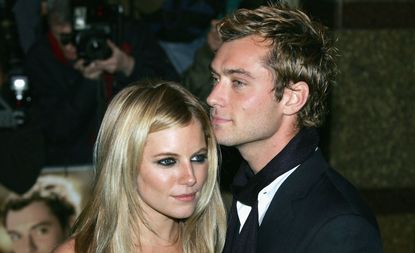 (Image credit: Gareth Cattermole/Getty)
If you're an actor, chances are that at some point in your career, art will reflect life— that is, eventually you'll end up acting in a drama that you've already lived through IRL. That must bring up certain feelings for the actor, but at least this time they're armed with the perfect, scripted come-backs.
Step forward, Ms. Sienna Miller! Miller is currently starring in the Netflix smash Anatomy of a Scandal as Sophie Whitehouse. Sophie's perfect world is blown apart when her husband of 12 years, the MP James Whitehouse (played by Rupert Friend), is revealed to not only have been having an affair with his office aide Olivia (very Matt Hancock circa. 2020), but he's also been accused of rape by her. (If you're wondering, "Is Anatomy of a Scandal a true story?" you're not the only one.)
Sienna-as-Sophie seems relatively unbothered when James first reveals his infidelity in episode one, calmly asking questions like, "Does she have a last name?" and "Is she new? And young?" In a delayed reaction later that evening, she Googles Olivia on her iPhone and throws up on it when her picture comes up. Good luck to the Genius Bar trying to fix that!
However, Miller has had her own experience of a partner cheating on her with someone who worked with the couple and has said she used this as inspiration for playing the role of Sophie.
What was the real-life Jude Law "Nannygate"?
Back in 2005, Sienna Miller and Jude Law were the UK's golden couple. The actors met and fell in love in 2003 on the set of Alfie, and became engaged soon afterward. But Miller's world was rocked in July 2005 when it was revealed that Law had been having an affair with the nanny, Daisy Wright, who looked after one of the children he shared with his ex-wife, Sadie Frost.
It was reported that one of Law's children had found him in bed with the nanny and told their mother, Sadie. Things got worse when Daisy's diary was made public and she gave an interview revealing that the infidelity had happened more than once. "Jude was a masterful lover who made my whole body tingle," she told The Sunday Mirror about their illicit relationship.
A humiliated Jude Law was forced to release a public apology to Miller and said: "I just want to say I am deeply ashamed and upset that I've hurt Sienna and the people most close to us. I want to publicly apologise to Sienna and our respective families for the pain that I have caused. There is no defence for my actions which I sincerely regret and I ask that you respect our privacy at this very difficult time."
The celebrity couple tried to work through the bombshell revelation, but it didn't last and they officially split for good in November the following year.
What does Sienna Miller say about it now?
Well, it's only natural that Miller would be reflecting on her own lived experience of a scandal as she filmed a fictional one. In an interview with Elle, she said: "It was familiar terrain, because I've experienced some of the things that she experienced. And the feelings were familiar."
"[But] her way of dealing with what's thrown at her is the absolute antithesis of what my way is. And so, in a kind of twisted, tourism sense, I just wanted to see how it would feel to react differently. I know that sounds weird because you'd think it would be deeply unpleasant to sit in that space."
If it sounds traumatic to relive past horrific experiences on-screen, then Miller should be applauded for choosing to focus on the positives. The actor—now 40—has even come to the point now where she says it's almost become like a form of therapy for her to work through it. In the same interview with Elle, she explained: "There is something cathartic, I suppose, about spending time in an ugly space that's familiar. And maybe reclaiming it? I don't know what the psychology of it is. But there is something where maybe you can substitute a memory with something else."
Speaking to Entertainment Tonight, Miller added: "I often find [that after] going to work and getting to cry or explore things psychologically, I go home a bit lighter. It's free therapy sometimes." Honestly, who couldn't do with a bit of free therapy? Bonus: you're also being paid to work through your issues, which is actually kind of ideal, now we think about it…
Check out Anatomy of a Scandal, now streaming on Netflix.
Laura is a freelance entertainment and lifestyle journalist who writes for The Guardian, The i newspaper, Metro, BBC Culture and Grazia. She's happiest travelling the world and discovering new trends and, within reason, is willing to give most things a try. From feasting on rancid camel milk cheese in Morocco to jumping into the shimmering aquamarine cenotes of the Yucatan; it's all out there to be explored, then written about. A firm believer of Nora Ephron's mantra: "everything is copy".