What is a libertine in 'Anatomy of a Scandal'?
Rupert Friend is one on 'Anatomy of a Scandal' but what is a libertine in Netflix's hot new miniseries? Here's what to know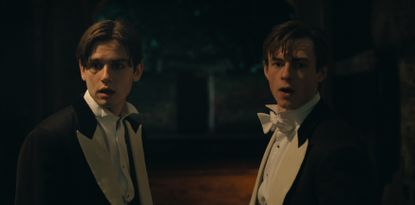 (Image credit: Netflix)
We all know that life away at university can get messy—drunken nights out, ill-advised hook-ups with dorm-mates and generally obnoxious behavior that you only get away with because you're 19.
But we can safely say that none of us have been part of elite group who hire out restaurants purely to smash them up, snort copious amounts of drugs, pour bottles of champagne away for the hell of it, abuse staff and potentially kill a member of their friend group…then go on to become prime minister, like a couple of characters in the new Netflix series Anatomy of a Scandal.
The series tells the tale of an over-privileged couple in London, where the MP husband, James Whitehouse (played by Rupert Friend), is accused of rape by the office aide with whom he was having an affair. (If you're wondering, "Is Anatomy of a Scandal a true story?" we've got all the tea for you.)
The revelation sends his wife, Sophie Whitehouse (Sienna Miller), spinning as their "perfect" world starts to collapse. But through a series of flashbacks to when the couple met at Oxford University, we begin to discover the true character of James— and much of it is linked to him being part of a secret group for posh boys to go on the rampage called the Libertines.
In the series, we see James—in full suit and tails, like all the rest of the group—take over a dining room, spraying their Bolly (a.k.a. Bollinger Champagne) over each other, lobbing bottles and glasses at the wall, even getting their, ahem, members out and pissing on the table. "In years to come, we'll be able to say we were rich enough to pour our Bolly away!" one of the moral-vacuum members boasts in one scene.
What is a libertine and was the group real?
First thing's first: what is a libertine? The Cambridge Dictionary defines it as "a person, usually a man, who has few moral principles and has sexual relationships with many people."
And was there an actual group of such libertines in the annals of UK university history? No—but there is a real-life, 200-year-old group that is all but identical to the Libertine and which served as a model for Sarah Vaughan, author of the book, Anatomy of a Scandal, on which the show is based.
And, yes, depressingly, two of the UK's Prime Ministers have previously been members.
What is the Bullingdon Club?
The Bullingdon Club was founded in 1780, mainly as a hunting and cricket club for rich and privileged men at Oxford University. But any notions for sports soon flew out the window when the members decided that it was actually more fun to cause chaos and destruction wherever they ended up, as part of some sort of huge power trip.
Over the years, the group smashed almost all the lights and windows in a church in Oxford, hired sex workers to perform on them during their raucous nights out, and destroyed numerous pubs, dining rooms and restaurants, leaving them covered in red wine and blood, then dismissively threw a wedge of cash in anyone's face who complained. In 2013, the group was even accused of burning a £50 note in front of a homeless man.
Many of these young men—who buy bespoke tailor-made tailcoats in dark navy blue, mustard waistcoats, and sky-blue bow ties for the dinners, said to cost £3,500 in 2007—have since gone on to run the country. Sigh.
What does "Omerta of the Libertine" mean?
Why do old, rich white guys love Latin so much? Who knows, but for a group bound in ridiculous tradition, pomp and circumstance, James and Prime Minister Tom Southern (played by Geoffrey Streatfield) certainly love quoting "Omertà of the Libertine" to each other.
"Omertà" actually means to keep a code of silence and never reveal the secrets of what goes on behind closed doors. Can't be held accountable for crimes if no one hears about them! *taps forehead*
Which two Prime Ministers were members of the Bullingdon Group?
Go on, guess. Full points if you said Boris Johnson and David Cameron; bonus points if you knew George Osborne, the former chancellor, was also a fully-paid up member.
There's a famous photo that exists of the Bullingdon class of '87, with Boris, David and George all smirking away on the steps of their college, although David worked hard to successfully get the copyright owners to withdraw permission to republish it, effectively banning it from publication.
Boris Johnson was reminded of his time in the group in a 2013 BBC documentary, Boris Johnson: The Irresistible Rise and said: "This is a truly shameful vignette of almost superhuman undergraduate arrogance, toffishness and twittishness. But at the time you felt it was wonderful to be going round swanking it up."
Is the Bullingdon Club still around today?
In 2018, Bullingdon Club members were banned from holding positions in the Oxford University Conservative Association. The association's president, Ben Etty, said the club's "values and activities had no place in the modern Conservative party."
But there are murmurs that the secretive group still has a presence in Oxford University today—but, funnily enough, almost no one is willing to risk their future on such an odious group of men and their drunken destruction anymore.
Want even more real-life scandal on screen? Check out shocking series like Impeachment: American Crime Story, Bad Vegan and Pam & Tommy. And see all of the libertine shenanigans on Anatomy of a Scandal, streaming now on Netflix.
Laura is a freelance entertainment and lifestyle journalist who writes for The Guardian, The i newspaper, Metro, BBC Culture and Grazia. She's happiest travelling the world and discovering new trends and, within reason, is willing to give most things a try. From feasting on rancid camel milk cheese in Morocco to jumping into the shimmering aquamarine cenotes of the Yucatan; it's all out there to be explored, then written about. A firm believer of Nora Ephron's mantra: "everything is copy".