Is 'Anatomy of a Scandal' a true story?
It's rife with drama and wrongdoings but is 'Anatomy of a Scandal' a true story? Here's what to know about the Netflix miniseries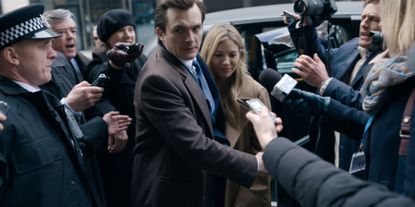 (Image credit: Netflix)
If you're a Netflix regular like us, then you've jumped from one small-screen scandal to another—jutting forward 110 years in the process.
As the last of us found out whether Anthony Bridgerton ended up with Kate Sharma, a brand new prestige TV thriller launched, knocking Bridgerton well off Netflix's Top 10 most-watched list across the globe.
That thriller is Anatomy of a Scandal. If you've not binged the whole series yet, well, what have you been doing?! Kidding. The psychological drama revolves around Sophie Whitehouse (played by Sienna Miller), the wife of a UK Member of Parliament who has her world turned upside down when husband James (Rupert Friend) reveals he's had an affair with his office aide, Olivia (Naomi Scott). Even worse, he's then accused of raping her.
The story follows the court case, led by the prosecutor (Michelle Dockery), cut with flashbacks of young James and Sophie at Oxford University as Sophie is forced to confront the fact that she really may not know her husband of 12 years at all.
Juicy stuff, eh, but is the story true? Here's what we know.
Is 'Anatomy of a Scandal' a true story
Technically, no. But Sarah Vaughan, the author of the 2018 book that the Netflix series was adapted from, has explained that it was inspired in part by two big UK news stories of the recent past:
1. The lying, cheating MP
While many people might think the opening storyline was lifted straight from the corridors of Westminster last year—when married MP Matt Hancock was revealed to be having an affair with his aide Gina Colangelo (we're still having difficulty erasing that grubby ass-grab of his caught on CCTV camera)—it's actually a different member of parliament Vaughan had in mind: the one and only Boris Johnson, Prime Minister of the UK.
IRL, Johnson is now on to his third wife, Carrie Johnson, who he was having an affair with at work while still married to his second wife, Marina Johnson. But he has previous crimes in this department: in 2004, he was sacked from the Conservative Party when he was revealed to have lied about having another married affair, with the journalist Petronella Wyatt.
Vaughan, who was a political journalist at the time, told The Guardian that Johnson confirmed the lie then brushed it off (sound familiar?) in a telephone call with her afterward: "It was the fact he had no compunction in lying that struck me. He confirmed the story was true and didn't seem to express any remorse. It was the first time I was aware of a public figure admitting to lying and not seeming to be bothered by it."
She adds that the character of James is obviously not all Johnson, though: "I obviously don't think he's guilty of any sort of sexual offence."
2. The victim-blaming circus around a rape survivor
The second story that Anatomy of a Scandal drew inspiration from is a rape court case from 2012 in the UK, involving the Welsh footballer Ched Evens. Evens was convicted of the rape of a 19-year-old girl in a hotel in Rhyl, and served just two and a half years in prison. When he was released in 2014, social media and other commentators were still victim-blaming the girl—in particular, Allison Pearson, a columnist from The Daily Telegraph, and this struck a nerve with Vaughan.
Vaughan said: "Allison Pearson wrote a column where she quoted girls from a local beautician saying that when this 19-year-old girl who was picked up in a pizza parlour went back to his Premier Inn, she wasn't expecting to have a game of Scrabble. And I just thought about how women judge each other."
In a further interview with Exploring Exeter, Vaughan added how the Ched Evans case had affected her: "I was upset by the way in which the alleged rape victim was depicted by commentators and started thinking about how horrific it must be to summon up the courage to come forward with a rape conviction and then have doubt cast on that in the papers and in court."
Vaughan took this theme and expanded it for her book, and we see it in the miniseries when Olivia is cross-examined on the stand by the ferocious defense lawyer, Angela (Josette Simon): "This wasn't the first time you had sex in the House of Commons, was it?...This is part of a pattern of reckless sex in the workplace…You didn't ever say the word 'no'. There was no journey from 'yes' to 'no' in that lift. It was from 'yes' to 'yes'." Olivia is left humiliated on the stand by the leading questioning.
Are there any other true events in the series?
Vaughan actually studied at Oxford University (reading English, FYI) so she's said she met her fair share of over-entitled characters like James there, which she took inspiration from as they "behaved as if, of course, they were going to get firsts, and that the world was theirs for the taking."
The rest of the story? Well, it all was pulled together in a dream, along with these hard-reality points. In the same interview with Exploring Exeter, she added: "The main plot points came to me in the dream, so I obviously merged concerns I'd had about power, perceptions of truth, privilege—all seen at Oxford and in Westminster—and consent."
Want to find out if even more of your favorite shows were inspired by real life? Check out if Money Heist, Firefly Lane and Cruel Summer were based on true stories.
Anatomy of a Scandal is streaming now on Netflix.
Laura is a freelance entertainment and lifestyle journalist who writes for The Guardian, The i newspaper, Metro, BBC Culture and Grazia. She's happiest travelling the world and discovering new trends and, within reason, is willing to give most things a try. From feasting on rancid camel milk cheese in Morocco to jumping into the shimmering aquamarine cenotes of the Yucatan; it's all out there to be explored, then written about. A firm believer of Nora Ephron's mantra: "everything is copy".