Are Isaac and Hannah still together from 'Too Hot to Handle' season 5?
Did Isaac and Hannah leave the retreat together in 'Too Hot to Handle,' and what's their relationship now? Here's everything we know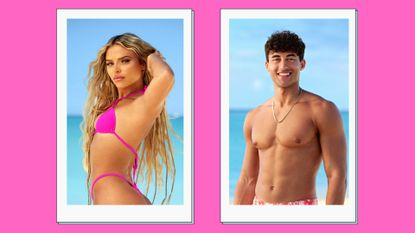 (Image credit: Netflix)
When it comes to love triangles, no one was more involved in them on Too Hot To Handle season 5 than Isaac and Hannah.
The idea of a no-sex retreat isn't appealing to all, which was the case for Hannah Brooke and Isaac Francis. Hannah was initially interested in Louis Russell at the beginning of the retreat, but after his head was turned towards Christine Obanor after a kiss on the beach, she decided that singlehood was a better option for her. After being solo for a bit, Hannah set her sights on Isaac who, like Louis, was a known player on the retreat. But at least she knew what she was signing herself up for this time. Believing in her skills of persuasion, she had no doubt she could turn Isaac's head towards her and only her—and boy was she right.
Isaac started his journey on the retreat by not caring about the rules and it's safe to say this is an attitude he carried right until the end. He initially coupled up with Courtney Randolph before new arrival Yazmin Marziali took him on a date and he used a temporary break in Lana's rules to steal a kiss from her, which also ended up stealing him away from Courtney.
However, when Yazmin decided she wanted to try and stick to Lana's rules, resident rule-breaker Isaac decided that he could be tempted away by Hannah. (He did give Yazmin the heads up before jumping into bed with the latter.) If that wasn't bad enough, Isaac and Hannah decided that they were not at all committed to the rules, which resulted in Lana having to take action.
So did Hannah and Isaac break one rule too many and be dumped from the retreat? And what is their relationship status now that THTH season 5 has wrapped? Here's everything we know.
What Happened To Isaac and Hannah On 'Too Hot To Handle'?
The whole point of Too Hot To Handle is to reform the contestants who typically just go for sexual connections when looking for a partner. The retreat is supposed to help them grow and try to have more substantial relationships. If they fail to do this, not only do they miss the point of the show but they also lose money from the prize fund. Repeated offenders can end up ruining the progress of the show and so often get dumped from the retreat.
This was the case for Isaac and Hannah who were kicked out of the Too Hot To Handle retreat a day before the final. Lana ended up booting them after giving them a warning, which didn't stop the couple from continuing to make plans to break the rules and so drastic actions were necessary. While the news came as a shock to the pair, it's understandable why Lana felt the need to make this decision.
But Isaac and Hannah didn't need to feel too bad about missing out on the money though, as Louis and Alex Snell were also disqualified from winning the show after they turned down Lana's offer of leaving without their partners and winning themselves $25,000 each.
Are Isaac and Hannah Still Together After 'Too Hot To Handle' Season 5?
Hannah and Isaac left Lana's retreat together, but nothing has been confirmed on whether or not their relationship has lasted outside the show. Isaac revealed to My Imperfect Life in a recent interview that he is still friends with Hannah but didn't confirm if they were currently dating.
While on the show the pair did admit that their relationship was based mostly on sexual chemistry rather than an emotional connection. They also never discussed how their relationship would work on the outside, so it might be a safe bet to guess that their romance started and ended on Too Hot to Handle.
All episodes of Too Hot to Handle season 5 are streaming on Netflix now.
Liv is a freelance journalist currently studying English at university. She loves covering everything from entertainment and politics to lifestyle and travel. As well as writing for My Imperfect Life, Liv has bylines in The Times, HuffPost, Den of Geek, Bustle The Metro and The Bookseller.