Are Lizzo and Chris Evans dating? A wishful relationship timeline
The singer just sang about him, but are Lizzo and Chris Evans dating in real life? What you need to know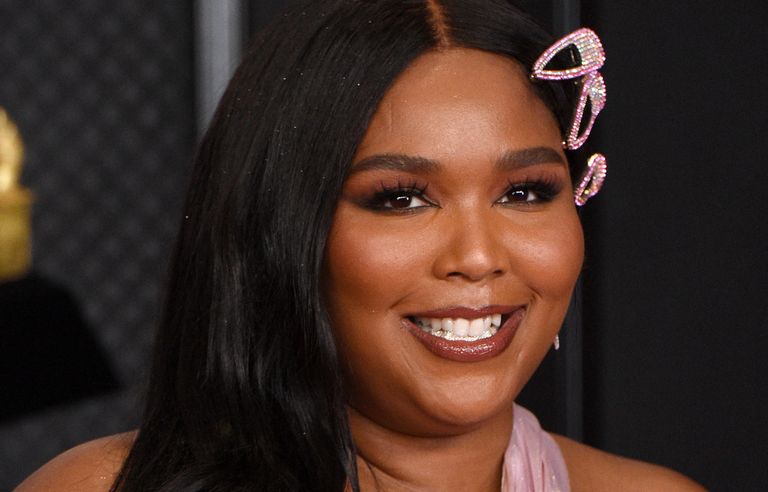 (Image credit: Kevin Mazur / Getty)
By Christina Izzo , Danielle Valente published
Like most things, it started with a drunk DM. And ever since, people have been left wondering, "Wait, are Lizzo and Chris Evans dating?"
The "Juice" singer and Captain America heartthrob have certainly leaned into the flirtation on social media, but is there something real going on between these two? And do those recent rumors of the two starring in a remake of The Bodyguard together mean that art is imitating life?
Let's dig into how all the rumors started and manifest wishful thinking into reality with a Lizzo and Chris Evans relationship timeline. *Fingers crossed*
---
---
Are Lizzo and Chris Evans dating? A DM deep dive
It started back in June 2019 with a Twitter exchange. After Lizzo posted a video of a little girl dancing to her hit song "Juice," Evans retweeted it with the caption: "This kid is cooler than I could ever hope to be." Lizzo responded understandably with a "Wow marry me" message complete with a wobbly face emoji. The love foundation was laid.

Fast-forward to April 2021, when Lizzo did what many of us wish we can do—get a little tipsy and slide into Chris Evans' DMs on Instagram. According to her viral TikTok about the encounter, the flute-wielding singer sent the 40-year-old Knives Out star a series of emojis, including a puff of smoke, an athlete and a basketball, i.e. the emoticon version of shooting one's shot.
Evans responded with an Insta follow and a message of his own: "No shame in a drunk DM 😘 God knows I've done worse of this app lol🤦‍♂️." The Internet rightly exploded at the mere thought of a union between these two national treasures, and rumors began spiraling—some planted by Lizzo herself.
Is Lizzo married?
In that initial TikTok about Evans, Lizzo can be seen mouthing along to audio that says: "I know I'm not going to be able to marry him and honestly it hurts me to the core because damn papi, he a rare breed. No comparing."
Alas, despite her and the world's wishes, Lizzo is not currently married to Chris Evans or any other member of the Marvel Universe, for that matter. Publicly, the singer is single. In her "Truth Hurts" music, the 33-year-old musician famously marries herself, to which we say: MOOD.
Lizzo previously said in an interview with People: "I'm a very, very single bitch. But even if I were in a relationship, I'm a single-minded individual, and I really like my freedom. I think there's a lot of people that need to be in relationships and need to be in love. I want it sometimes, but I don't need it."
Is Lizzo actually pregnant?
In July 2021, the singer threw another log on the "Are Lizzo and Chris Evans dating" fire with yet another TikTok in counter to a fan comment, which read: "Lizzo baby...We know you're pregnant and we know it's Chris Evans' now spill the tea."
Always a jokester, the "Cuz I Love You" crooner responded, saying in a video: "This is something that I've been really trying to keep personal and private between me and the father of my child, but since we're airing out all the rumors today, I've been sucking in." The camera pulls back to reveal Lizzo lovingly rubbing her belly while the Captain America: The First Avenger theme song plays in the background.
"We're gonna have a little America!" she exclaims at the end.
Ever game, Evans also responded to that TikTok, DMing Lizzo: "Hi! Just heard about our little bundle of joy my mother will be so happy lol." In a follow-up, he sent: "Just promise me no gender reveal parties lol."
The singer, and the entire planet, were screaming.
Posting his response to TikTok on August 1, Lizzo captioned the video: "OMG YALL — HE SAW THE BABY BUMP! WE DID IT! NOW YALL GOTTA NAME LIL MERICA!!!!! WHAT YALL BOUTA NAME MY BABY ?!"
See the Chris Evans and Lizzo baby
This being the Internet, of course fans began speculating what the sadly fictional child would look like, with one social media user even taking it upon herself to digitally sketch this Hollywood heir.
TikTok user @maryscartoons shared a video of her working on the drawing, with the caption: "Mixing Lizzo and Chris Evans to see what their kid would look like." The resulting daughter is a stunner, so much so that Lizzo dueted the TikTok with the caption: "WAIT A DAMN MIN."
Are Lizzo and Chris Evans remaking 'The Bodyguard'?
News broke that The Bodyguard, the beloved1992 movie starring Kevin Costner and an at-the-peak-of-her-stardom Whitney Houston, was getting a remake from Tony nominee Matthew López. Of course, immediately fans started dream-casting the movie, which follows a global pop diva and the security detail assigned to keep her safe in the wake of disturbing threats.
And it wasn't just fans—Lizzo, too, pondered the possibilities of who would play the roles. The singer posted yet again to TikTok, first a reaction to the remake news, and then one to fans' suggestions of her and Evans playing the pop diva and the titular bodyguard. We'd watch it!
Selena Gomez and Chris Evans
In October 2021, fans thought love was officially in the air. Selena Gomez, Chris Evans and plenty of dating rumors piqued our interest, though they weren't true. Throughout this whole ordeal, however, we couldn't help but ask: "What about Lizzo?!"
Lizzo sings about Chris Evans
Just when things got quiet between our favorite fictional couple, Lizzo decided to bring the baby rumors back to life while on stage. As you might've guessed, the crowd went wild.
During her show at Art Basel in Miami on December 4, the "Truth Hurts" singer had a crack at Erykah Badu's "Tyrone," with a couple of adjustments here and there. That's where her favorite fella came into play.
"Maybe I should call Chris Evans," she sang. "Maybe Captain America can put another bun up in my oven."
Definitely not the correct lyrics, but everyone was all for it!
Watch: @lizzo reworks lyrics to @fatbellybella's "Tyrone" to shout out @ChrisEvans and @Drake, at her #AmexUnstaged concert in Miami 😍 pic.twitter.com/wf2qGBzHSaDecember 5, 2021
See more
But, wait! What's this? Another celeb mention in "Tyrone"?!
As the song continued, Lizzo also decided to throw in another beloved celeb into the mix to shake things up.
"Or maybe I should call Drake," she suggested.
There's no word on whether or not these two have a fictional kiddo...yet.
Alas, whether anything concrete will actually happen between Lizzo and Chris Evans is still to be seen, but we're totally here for any and all romance rumors between these two.
Christina Izzo is the Deputy Editor of My Imperfect Life.
More generally, she is a writer-editor covering food and drink, travel, lifestyle and culture in New York City. She was previously the Features Editor at Rachael Ray In Season and Reveal, as well as the Food & Drink Editor and chief restaurant critic at Time Out New York.
When she's not doing all that, she can probably be found eating cheese somewhere.