B_ND vs Proworks: which fabric resistance band is better?
Which of these similar resistance bands is worth buying?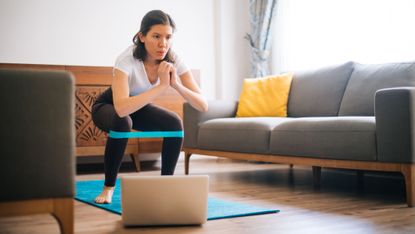 (Image credit: Getty Images)
It might be a compact piece of equipment, but don't underestimate the humble resistance band – it can make a huge difference to your workout. The resistance it creates forces your muscle fibres to contract, helping you build muscle and even strengthen bones while still being gentle on joints. Plus, its simple design makes it extremely versatile so you can use bands for a huge range of exercises (your body will thank you). With so many benefits, it's little wonder these small but mighty fitness accessories have become so popular in recent years. A cursory glance at any of Instagram's fitness feeds will pay testament to that.
While there are copious ways in which you can incorporate resistance bands into your workout, one of the most popular uses is to exercise the lower body, particularly the glutes (we're all just trying to get that peachy behind). Short, looped, fabric resistance bands have become known as booty bands for that particular reason.
B_ND, a company run by fitness tycoon Grace Beverley (you may know her as Grace Fit UK), has been revered for its high-quality short resistance bands, while the ProWorks Glute Band is a similar product for less. We've pitted the two against each other in the categories that matter to see which resistance band is more irresistible.
Form
Designed with lower body and booty exercises in mind, both products are small looped resistance bands made from strong and durable fabric (they need to be to work your glutes, the biggest muscles in your body). The material for the ProWorks bands is a mix of cotton, polyester and latex, while anyone with a latex allergy will be pleased to know that the B_ND product is made from polyester, custom cotton and rubber blend.
In terms of tension levels, B_ND bands come in light, medium, heavy, extra heavy and extra extra heavy (we've never been brave enough to try the latter). ProWorks categorises them differently, offering small (high resistance), medium (intermediate resistance) and large (low resistance).
Winner: It's a tie. If you're looking at them in their basic form, they're a very similar product.
Functionality
Thanks to their robust material and width, neither of these resistance bands rolls up into a vein squishing, wire-like loop, as can sometimes happen with latex bands (we speak from painful experience). They also generally stay in place, though the B_ND band can ride up while the ProWorks one has better grip thanks to its 'non-slip technology', which is essentially internal loops of latex that help it cling to your skin or sports clothes.
Winner: ProWorks Glute Band – it's better at staying in place.
Comfort
Although practically speaking very helpful, the inner loops of latex in the ProWorks band make it slightly less comfortable on the skin, while the B_ND resistance bands rarely pinch. B_ND's thicker fabric also feels softer and more gentle on our thighs.
Winner: B_ND short resistance band – our skin is safe with this one.
Design
In terms of aesthetics, the ProWorks band comes in black and pink. It's not earth-shatteringly interesting but not ugly either. B_ND's products, however, come in an array of cool colours and millennial-pleasing patterns, from warm pink or neon green to tropical leaves and peach emojis. We tried the neon green band and were not disappointed with its vivid hue.
Winner: B_ ND short resistance band – we look so much cooler when we work out now.
Extras
The B_ND resistance band comes in a cute cotton carry bag made of natural fibres, while the ProWorks band is unsheathed.
Both products come with a workout guide, but for the ProWorks band this consists of a small pamphlet with eight exercise suggestions and diagrams. B_ND sends you a much more comprehensive 45-page "Resistance Band 101" digital e-book as soon as you make your purchase. It covers the science behind resistance training, moves to do with and without your band, and some recommended resistance circuits.
Winner: B_ND short resistance band – it just keeps on giving.
Price
Here's the kicker. A B_ND short resistance band will set you back £14 for one, while a ProWorks band costs half that. We suspect B_ND's higher price point might be partly down to its high quality and partly down to brand owner Grace Beverley's cult following.
Winner: ProWorks Glute Band – how can you resist spending about 50% less?
What's the verdict?
The B_ND resistance band certainly feels like a more premium product, with its fun aesthetics, bonus details like its cotton pouch, and the name behind the brand too. However, the ProWorks resistance band gives you a very similar base product for half the price. If you're less bothered about having a cool piece of equipment and more interested in a no-frills band that just gets the job done, then the ProWorks Glute Band is the one to buy.
Those who are unsure about what to do with their new resistance band may want to consider investing in a B_ND one, however, since a host of easy-to-follow exercise ideas are included in the £14 price tag.
Victoria is a freelance journalist with eight years of experience, writing everything from reviews and news pieces to meaty features for various online and print titles — including easyJet Traveller and b.inspired. Her work covers travel, lifestyle, health, and fitness. In her spare time, Victoria performs improv comedy and she's currently training to be a PT.