Proworks Glute Band review: a budget pick for building booty
The Proworks Glute Band is a supportive fabric resistance band that can withstand serious squats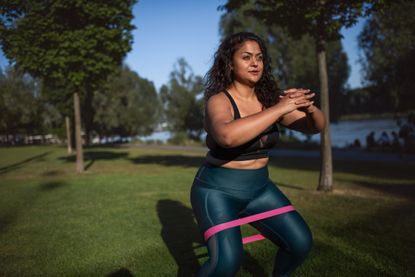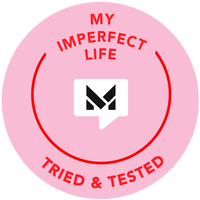 (Image credit: Getty)
My Imperfect Life Verdict
This band is an affordable choice for those looking to build their booty muscles who find rubber resistance bands uncomfortable
Reasons to buy
+

Comfortable

+

Non-slip

+

Inexpensive
Reasons to avoid
-

Only comes in two colors

-

Tension levels tougher than expected
As you may have gathered from the name, the Proworks Glute Band is all about growing your booty to Kardashian-level proportions—without any pricey procedures.
Of course, like many of the best resistance bands for women, this small fabric band can be used to work out the rest of the lower body, too, whether as a strength-training aid or as the best resistance bands for yoga. It's ideal for sculpting hamstrings, quads, calves and your core.

The Proworks band comes in three different tension levels and has "non-slip technology" that prevents it from frustratingly sliding up your thighs, as so many other resistance bands do.
---
---
Proworks Glute Band: everything you need to know
Price of the Proworks Glute Band
The Proworks Glute Band is reasonably priced, starting from £6.95 ($9.55) for a single Glute Band or £9.95 ($13.67) for a set of two bands on Amazon.
Form of the Proworks Glute Band
As far as resistance bands go, you can't go too far wrong with your form. Is it stretchy? Yes. Does it have some tension? Yes. Then it's probably going to do the job.
But, as your glutes are the body's biggest muscles, resistance bands for working your butt and lower body tend to last better if they're made from strong material and are designed as small loops. The Proworks Glute Band, a robust looped band made from a mix of cotton, polyester and latex, ticks both those boxes.
You can choose between three different sizes, which correspond with tension level: small offers high resistance, medium gives you, well, medium resistance, and large provides low resistance.
Functionality of the Proworks Glute Band
The great thing about this resistance band is that it actually stays in place rather than sliding up and down your legs like a pair of old tights. That might not sound groundbreaking, but when you've used bands before that require readjustment every few seconds, it makes a huge difference.

The solution seems to be a combination of the Proworks Glute Band's strong and sturdy material and its so-called "non-slip technology", which is basically just two internal loops of latex that help it cling to your skin or gym leggings.
We tested out the medium resistance band. We usually opt for medium with our booty bands so we were expecting a similar level of tension with this one. However, as we struggled to haul it over our thighs (like trying to pull on skinny jeans after over-indulging on holiday) we realized that the Proworks version of medium is more like heavy.
If you're a resistance band beginner, we'd suggest ordering it in large for lighter resistance.
Comfort of the Proworks Glute Band
The Proworks Glute Band gets high marks for comfort. Its width and fairly thick material mean pressure is distributed well so it doesn't roll up into dental floss or dig into the skin. The inner latex rings pinch occasionally, but it's nothing we can't handle.
Design of the Proworks Glute Band
While resistance bands and similar activewear accessories have never been known for their aesthetics, there are some pretty sexy-looking ones on the market these days: neon green ones, pastel-hued ones, even ones covered in emojis.

The Proworks Glute Band isn't quite up there with such design-forward products, but it's certainly not ugly. You can buy it in black or pale pink—simple but elegant.
Extras of the Proworks Glute Band
This resistance band comes with a small booklet of eight moves you can try—including clams, wide stance squats and lying kickbacks—complete with diagrams.
It's useful to get you started, but not extensive enough to be your only guide. Luckily, we've got you covered with our guide to resistance bands exercises to try.
Value of the Proworks Glute Band
When you can buy a set of several rubber resistance bands for roughly the same price as this one, you might be tempted to call the Proworks Glute Band expensive.
However, we think it's really good value—it's a good-quality fabric band that doesn't slip around or dig in. Similar products on the market cost double the price!
Proworks Glute Band—should you buy it?
It's sturdy enough to be effective but still comfortable, even on bare skin
It doesn't curl up infuriatingly or move around on your legs
It seems durable—while we haven't had the product for long, so far it's shown no sign of fraying or losing its resistance
Not the most exciting design, but it's quite cute
There are similar products on the market, but the Proworks Glute Band has everything going for it at a good price—you get a simple, lower-body-focused resistance band that does everything you'd need it to. We happily recommend it!
Victoria is a freelance journalist with eight years of experience, writing everything from reviews and news pieces to meaty features for various online and print titles — including easyJet Traveller and b.inspired. Her work covers travel, lifestyle, health, and fitness. In her spare time, Victoria performs improv comedy and she's currently training to be a PT.