The best armchairs for small spaces—modern, stylish picks for all budgets
Our guide to the best armchairs for small spaces includes both neutral and colorful options that should suit bedrooms, living rooms or offices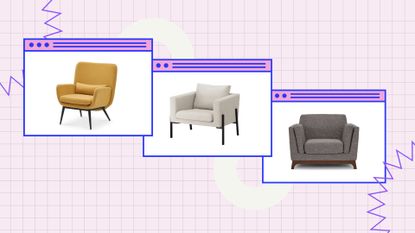 (Image credit: Future)
Let's face it, decorating a room that's short on space can be tough. But of all the design woes presented by restricted square footage, being strategic with seating is absolutely vital—which is why we've rounded up some of the best armchairs for small spaces below.
Choosing the right seating is one of the best small room ideas, as it can really transform even the tightest of areas. Plus, if you're planning on having guests over, being the "hostess with the mostest" means ensuring that no one has to balance a plate of food on their lap, or sip wine cross-legged on the floor.
In our opinion, placing an accent armchair in your living room (or subbing the sofa entirely with a duo of matching armchairs) can be a super savvy move. But that's not the only place an armchair can shine. Maybe you're the proud owner of a bedroom or office nook that you don't know what to do with—why not fill that void with a comfy seat?
If you're unsure which one is right for your home, you're in luck, as we've pored over the web to bring you 10 small-footprint armchair options across a range of budgets and styles. Just lean back, put your feet up (literally), light one of the best scented candles and peruse the options at your leisure.
10 best armchairs—as chosen by our expert
1. ROVE CONCEPTS Atticus Chair
Specifications
RRP: $1,374.00
Material: Leather, velvet, or felt
Lovers of mid-century modern furniture are sure to swoon for the ultra-chic Atticus Chair from Rove Concepts. With a curved low-slung silhouette that comes finished in walnut or a natural shell veneer, this museum-worthy swivel chair confidently commands attention—whether it's placed in a bedroom corner or smack-dab in the center of the living room. Get it upholstered in leather, velvet or felt, depending on your own personal decor style.
2. ARTICLE Ceni Chair
Specifications
RRP: $699
Material: Polyester with solid wood legs
Article is one of the most popular nix-the-middle-man furniture retailers out there, selling a smashing collection of pieces for the entire house. The brand's sleek Ceni track arm accent chair is a certifiable hit, coming in six different hues of sturdy fabrics.
Its cushioned seats, backrest and armrests are all removable, too, so you can adjust as needed while sitting pretty on a solid walnut base.
3. ANTHROPOLOGIE Jen Hewett Blockprinted Caned Armchair
Specifications
RRP: $898
Material: Cotton and line upholstery with foam and fiber fill
Anthropologie collaborated with textile designer Jen Hewett to produce a pair of plush armchairs that features the California artist's whimsical hand-carved block prints. Choose between a monochromatic floral pattern and a sunny abstract motif, which adorn comfy linen and cotton cushions framed by natural caning. These would look totally chic in a modern, Scandi-esque home, or in a stylish orangery for the summer.
4. IKEA Koarp
Specifications
RRP: $199
Material: Polyester and solid wood legs
IKEA do some of the best desk chairs and storage items around, but did you know they also do super chic living room items? Despite being the most affordable option on this list, IKEA's Koarp armchair impresses with its durability and comfort. Suspended on metal legs, it has a minimalist versatile silhouette that aligns with any interior design mood board—but particularly slick, modern spaces.
The Koarp was built with several thoughtful features too, like a hidden storage pocket on the outside of the backrest for stashing magazines, and a removable cover that's machine washable.
5. CB2 Gwyneth Ivory Boucle Chair
Specifications
RRP: $899
Material: Poly blend boucle-like fabric
CB2 teamed up with goop (yes, that goop) to design a limited capsule described by founder Gwyneth Paltrow herself as a collection of "chic furniture that's to be lived in and loved." We especially adore this swivel armchair, which is crafted of ivory bouclé-like fabric, a low-key, cozy look that's bang on-trend right now. It's certainly a luxe pick that will elevate your reading nook or sleeping quarters, but the price is such that you might be interested in saving up for it.
6. CASTLERY Cammy Armchair
Specifications
RRP: $549
Material: Velvet
Founded in 2013, Castlery continues to rank among the top of our favorite e-commerce design shops, and for good reason.
The brand's fun and fabulous Cammy armchair boasts a solid wood frame with angled legs, plus a supportive, slightly reclined high backrest that will keep your seating posture in check. It's upholstered in a sumptuous velvet fabric dyed in a trio of colors: "canary yellow," "dusty rose," and "fumo gray". With a striking, slightly industrial design, it'll be a great fit for homes that lean into mid-century design over minimalist or country-inspired looks.
7. MICHAEL AMINI 53'' Wide Chair And A Half
Specifications
RRP: $1,570
Material: Polyester blend with foam fill
Those tasked with furnishing cramped rooms will vastly appreciate the extra storage built into Michael Amini's incredibly handy and space-saving chair-and-a-half.
Upholstered in a creamy neutral color, this modern pick has a series of hidden cubbies built into both sides of its washed oak frame. LED lighting was also included to illuminate books, plants, or whatever you decide to tuck inside. Plus, the chair itself is chic and spacious—but perhaps not the most stylish on our list of the best armchairs for small spaces.
8. INDUSTRY WEST Aesop Armchair
Specifications
RRP: $515
Material: Solid wood frame, upholstered seat
Modeled after the traditional Danish cord chair, Industry West's solid ash-wood Aesop chair marries an eccentrical, intricately woven backrest with a soft upholstered seat cushion. This is one of the more unusual chairs on our list of the best armchairs for small spaces, so one for only the bravest of interior designers!
With its small footprint, this unique armchair can also serve as a seat at the dining room table when you need a spare (or, snag an Aesop bench for the ultimate pairing).
9. ABC HOME Geo Armchair
Specifications
RRP: $2,980
Material: 55% viscose, 45% cotton Italian velvet
Seeking a retro-inspired accent piece handmade with top-notch materials? The splurge-worthy Geo armchair from ABC Home is constructed in Italy with insanely soft, rounded velvet cushions (sans toxic flame retardants), wood from sustainably managed forests, and an uber-stylish satin brass leg finish.
Choose from five colorways including yellow, violet, and black. This is certainly a stand-out piece, and could easily become the focal point in your living space—so pair other items with it wisely!
10. TACCHINI Victoria Blue Armchair By David/Nicolas
Dreamed up by Lebanese design studio David/Nicolas in 2021, we haven't been able to get this ultra-high-end modular Tacchini piece out of our heads ever since.
Debuted as part of a striking collection, the bubblicious armchair can be found amongst similar chaise longues and ottomans. All pieces are defined by exaggerated padding, vibrant upholstery, and cylindrical tube frames, finished in polished chrome or matte black.
Paul Jebara is a New York City-based freelance writer and photographer. He covers travel, architecture, design, and style for a number of publications including Condé Nast Traveler, Architectural Digest, Men's Journal, and more. When he's not chasing the sun year-round, he loves to binge true crime documentaries, hit up the farmers' market, study the cosmos, and (try to) learn new languages