The 11 best Christmas movies from the '90s to rewatch now
Add these best Christmas movies from the '90s to your holiday watch list for a hit of nostalgia!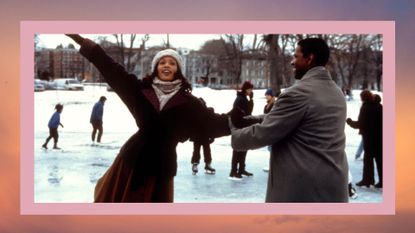 (Image credit: AA Film Archive / Alamy Stock Photo)
Watching the best Christmas movies from the '90s is hands down the best way to get yourself feeling more festive. As much as we enjoy the slew of holiday content on Netflix (thank you, Vanessa Hudgens), we're not afraid to admit that they just don't make them like they used to.
The '90s may be known as the golden era of hip-hop and supermodels, but it was also the decade where festive films thrived, producing some of the best Christmas movies of all time. From Home Alone to The Santa Clause, there was something cozy and comforting about them which meant you instantly felt the festive magic. And while it's no secret that Christmas may not always feel as special to you now as it did when you were a kid, putting on the right movie can change that.
So, if you need a little help getting into spirit and you have already made your way through the best Christmas movies on Netflix, and the best Christmas movies on Disney Plus, then we've got the perfect watchlist for you. It's time to delve into the Christmas classics of the '90s—here are our top picks...
The best Christmas movies from the '90s
1. 'Home Alone' (1990)
Arguably the most iconic Christmas movie of all time, Home Alone is a '90s classic we simply can't skip when December rolls around. Most of us grew up with Kevin McCallister (played by Macaulay Culkin) thanks to the franchise—which starts with little Kevin accidentally being left at home when his giant family goes away for the holidays. If you're signed up for the subscription service, it's also one of the best Christmas movies on Hulu too.
2. 'The Preacher's Wife' (1996)
This movie is worth watching for its all-star cast alone. Whitney Houston and Denzel Washington both shine in this, plus it includes music from Hans Zimmer. What more could you possibly want? The plot focuses on Henry Biggs (played by Courtney B. Vance), the pastor of a struggling Baptist church in a poor part of New York City. As well as work stress, he is also facing trouble in his marriage with his wife, choir singer Julia Biggs (played by Houston). But everything turns around when a guardian angel (in the form of Denzel Washington) enters his life.
3. 'The Santa Clause' (1994)
Nothing beats the original The Santa Clause movie starring Tim Allen as our festive hero. His character, Scott Calvin, is thrown into a whole new world when he helps Santa Claus with a Christmas crisis that results in him being next in line to the Santa throne. He then finds himself having to live a double life, keeping his identity as the new Santa a secret, unbeknown to his suspicious ex-wife.
4. 'Home Alone 2: Lost in New York' (1992)
Kevin is back once again but this time, he's separated from his family at the airport when he accidentally boards a flight to New York, instead of the flight heading to Miami with his parents and siblings on board. As it's not his first rodeo, he well and truly lives his best life in a luxury hotel suite—before bumping into two of his old enemies from the first movie, who are planning on robbing a toy store.
5. 'The Nightmare Before Christmas' (1993)
With voiceovers from Tim Burton, Danny Elfman and Schitt's Creek's queen Catherine O'Hara, The Nightmare Before Christmas is an animation that follows Jack Skellington, a creature from Halloween Town, who is instantly enchanted by the magic of Christmas Town when he finds himself transported there. However, his obsession with Christmas takes a dark turn when he abducts Santa Claus! This film crosses the line between Halloween and Christmas, so it's one of our top picks of the best Halloween movies too.
6. 'Miracle on 34th Street' (1994)
We love little Susan! If you haven't watched Miracle on 34th Street, then have you really ever watched a Christmas movie? The film follows Susan, a young girl, and her mother, who try and prevent a older gentleman from being institutionalized for mental health problems, by proving he is in fact Santa Claus as he says he is.
7. 'Jingle All The Way' (1996)
Starring Arnold Schwarzenegger, this family comedy will have you laughing all the way! The Terminator star plays Howard Langston, a haggard salesman who promises his son a Turbo Man toy for Christmas. However, he lives to regret his words as getting his hands on the toy proves more difficult than he had expected.
8. 'Jack Frost' (1998)
A heartfelt story about grief, this Christmas movie feels slightly therapeutic—and we love that. Singer Jack Frost (played by Michael Keaton) dies suddenly, leaving his young son Charlie gut-wrenched and unable to process his grief. That's until his dad returns as a snowman to be by his son's side, changing Charlie's life forever. You're going to need some tissues for this one!
9. 'Sleepless in Seattle' (1993)
Yes, this is a Christmas movie, we won't hear otherwise! After realizing his dad Sam has still not come to terms with his wife Maggie's death, eight-year-old Jonah forces him to call a national radio talk show, with the hopes of finding him a companion—and it actually works. Starring Meg Ryan and Tom Hanks, this festive classic is just the kind of feel-good movie we want to curl up on the sofa for.
10. 'The Muppets Christmas Carol' (1992)
It wouldn't be Christmas without a viewing of The Muppets Christmas Carol. While we love the original A Christmas Carol (and the Jim Carey remake), the Muppets version is unbeatable for how fun, festive and sentimental it is. Starring Michael Caine as Ebenezer Scrooge—and of course, Kermit as Bob Cratchit, Miss Piggy as Mrs Cratchit, and The Great Gonzo as narrator Charles Dickens—it's a classic tale of realizing the true meaning of life at Christmas time.
11. 'While You Were Sleeping' (1995)
Okay, so it's not strictly a Christmas film, but much of the plot of this heartbreaking romantic comedy, featuring Sandra Bullock and Bill Pullman, is set during the Christmas period—so we're saying that it counts as one of the best Christmas movies from the '90s! When Lucy saves fellow commuter Peter (who she is secretly in love with) from being pushed into an oncoming train and he is put into a coma, she becomes embroiled in his life without him even knowing...
Sagal is a journalist, specialising in lifestyle, pop culture, fashion and beauty. She has written for a number of publications including Vogue, Glamour, Stylist, Evening Standard, Bustle, You Magazine, Dazed and Wonderland to name a few.