Our ultimate ranking of the best Christmas movies of all time
'Tis the season for a movie marathon! Here are the best Christmas movies of all time, ranked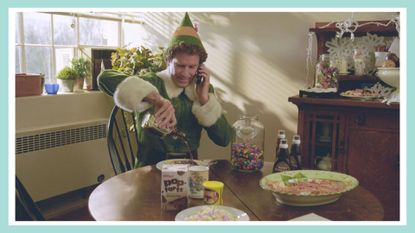 (Image credit: Alan Markfield)
We've ranked the best Christmas movies of all time, because the festive season is now right around the corner, and it's time to start thinking about what to watch as we settle in for cozy winter evenings.
Whether you're in the mood for a lovey-dovey seasonal rom-com (the best Christmas movies on Netflix should have you covered for that), a tried-and-true family classic, an "is it really a Christmas movie?" action flick, or even a holiday horror favorite, our festive ranking has something for every streaming appetite.
So deck the halls, get wrapping your best Christmas gifts, pop the corn, sit back and enjoy the movie(s)!
Our picks for the best Christmas movies of all time:
Below, we have rated My Imperfect Life's pick of the best Christmas movies, from our No.21 pick all the way down to our No.1 pick—our absolute favorite of all time. While our 21st pick is technically last on our list, rest assured that we adore all of the festive flicks on this last (almost) equally. So do you agree with our ranking—or have we missed off anything vital that's a must-watch for you during the Christmas season?
21. 'The Santa Clause'
You'd think any movie that starts with—warning: nearly 30-year-old spoiler ahead—Santa accidentally dying by way of falling off a roof would be a horror movie, but in this case, it's a family-friendly '90s movie starring Tim Allen. When Allen's Scott Calvin must then take over as Jolly Old Saint Nicholas, hijinks—of the surprisingly clever, often charming sort—ensue.
20. 'Die Hard'
Whether or not it actually is a Christmas movie is an annual dinner-table debate, but we've accepted the beloved Bruce Willis-led vehicle—about an NYC police officer who tries to save his wife and other hostages from German terrorists during an L.A. Christmas party—as a holiday tradition all the same. It's also one of the best Christmas movies on Disney Plus, if you're searching for festive(ish) flicks on the streaming service.
19. 'The Holiday'
If Jude Law in those dapper eyeglasses doing Mr. Napkin Head wasn't a Christmas gift enough, this 2006 crowd-pleaser about two heartbroken women who swap homes for the holidays has also got Kate Winslet (better than any rom-com deserves), a super-stylish Cameron Diaz, the always-welcome Jack Black, the legendary Eli Wallach and a precocious pair of British children. Happy Christmas, indeed! We can hear the unforgettable soundtrack already...
18. 'The Muppet Christmas Carol'
We've got to admit, we wouldn't immediately think to put Charles Dickens, Michael Caine and Kermit the Frog together under one roof but this 1992 favorite does it and does it well, so it had to be on our list of the very best Christmas movies. There are many film adaptations of Dickens' enduring novella out there, but any version that features Miss Piggy as Mrs. Cratchitt is a winner in our book.
17. 'While You Were Sleeping'
The Christmas season is a lovely but often melancholic time, and no rom-com captures that feeling quite as well as this 1995 Sandra Bullock movie. When lonely Chicago transit worker Lucy saves her crush (Peter Gallagher) from an oncoming train and he falls into a coma, she's mistaken by hospital workers—and his family—as his fiancée. Hilarious antics and heartfelt holiday moments ensue.
16. 'Little Women'
It might be controversial, but we're adopting the latest film adaptation of the classic Louisa May Alcott novel as a true Christmas movie. (The 1994 Winona Ryder version also suffices.) Set during the holiday season, the cozy flick tells the story of the four March sisters (Saoirse Ronan, Florence Pugh, Emma Watson and Eliza Scanlen) and is packed with enough familial love and youthful light to warm even the coldest winter night. Add this to your list of Christmas movies on Hulu to watch this December.
15. 'Dr. Seuss' How the Grinch Stole Christmas'
We're equally fond of the 1966 cartoon original and the Jim Carrey-led live-action remake from 2000—after all, the only thing more animated than Carrey's face is animation itself. The story of how an antisocial green grump descends upon Whoville and in the midst of all the mischief learns the true meaning of Christmas will have any holiday grinch's heart swelling three sizes, or more.
14. 'Gremlins'
If you thought scary movies were relegated to Halloween, you're wrong. Christmas has its fair share of thrillers and chillers, and this 1984 horror-comedy is one of the best. When Billy is gifted a small, furry creature with a specific set of care instructions—don't get it wet, keep it away from light, and whatever you do, never, ever feed it after midnight—he couldn't possibly know all of the holiday havoc his new pet would inflict on the whole town.
13. 'Rudolph the Red-Nosed Reindeer'
A Christmas classic for the underdog in all of us, this 1964 stop-motion stunner—about the famous misfit reindeer, Hermey (a former Santa's elf who wants to become a dentist) and the joys of being different—is the longest-running Christmas TV special of all time. And with a movie this sweet and sentimental, it's not hard to see why.
12. 'Love Actually'
It's the movie equivalent of a Christmas tree overloaded with presents beneath its bough. The 2001 Richard Curtis-directed rom-com features a treasure trove of British talent—Hugh Grant, Emma Thompson, Alan Rickman, Kiera Knightley, Colin Firth—whose characters weave and wind around each other in cleverly sweet and silly ways. Add to that our second-favorite rendition of "All I Want For Christmas Is You" and one of the most romantic instances of cue cards ever, and you've got a holiday all-timer. One of the best Christmas movies without a doubt.
11. 'Carol'
If you want your yuletide celebration with a side of period-piece romantic drama, this 2015 Todd Hayne masterpiece is the Christmas movie for you. Set in 1950s New York, the film centers on the illicit affair between Therese, a department store shopgirl (Rooney Mara), and Carol, a wealthy but unhappy suburban housewife (Cate Blanchett). If the promise of Oscar-worthy acting and heartwrenching romance isn't enough, the gorgeous outerwear alone is reason enough for a watch.
10. 'The Nightmare Before Christmas'
Whether it's really a Christmas movie or a Halloween movie doesn't matter—the animated adventures of Jack Skellington, the pumpkin king of Halloweentown, as he accidentally stumbles and subsequently wreaks havoc on Christmas Town are so darkly entertaining and beautifully wrought that we'll watch the 1993 Tim Burton classic any time of year.
9. 'The Shop Around the Corner'
We all know and love You've Got Mail, but you wouldn't have that Meg Ryan and Tom Hanks favorite with this Margaret Sullavan and Jimmy Stewart classic. The 1940 Ernst Lubitsch comedy swaps out that New York bookstore for a Budapest leather goods shop, but the conceit is the same: two rivals unknowingly become romantic pen-pals over the Christmas season. The holiday charm is off the charts with this one.
8. 'The Polar Express'
It doesn't get much more magical than The Polar Express at Christmastime—who else dreamed of being picked up by the mysterious nighttime Christmas train and being whisked off to the North Pole, hot chocolate in hand? Starring Tom Hanks and Josh Hutcherson, this fantastical flick sees its main protagonist, Chris, a young boy, discover the magic of believing, just as his belief in Santa is starting to slip away...
7. 'Miracle on 34th Street'
You can't go wrong with either the 1947 original starring Edmund Gwenn and Natalie Wood or the 1994 remake with Richard Attenborough and Mara Wilson—both versions of the yuletide staple, about a department store Santa who might just actually be the real Kris Kringle, are equal parts moving and merry.
6. 'A Charlie Brown Christmas'
"Christmas time is here. Happiness and cheer. Fun for all that children call their favorite time of the year." Is it even the holiday season if you don't hear that iconic soundtrack playing at least once in your home? Technically a TV special, this 1965 animated gem from the Peanuts gang is a welcome reminder that the true beauty of Christmas is in the simple joys, like the spare but charming branches of Charlie's famous tree.
5. 'Elf'
Does anyone on the planet have more Christmas spirit than Will Ferrell's Buddy the Elf? Not likely. Singing carols, throwing snowballs, curling ribbons, slurping syrup-laced spaghetti—watching Buddy spread Christmas cheer and sing loud for all to hear brings out the kid in all of us. One of the best Christmas movies made in recent times, we reckon!
4. 'A Christmas Story'
In the states, TBS plays A Christmas Story for 24 hours straight every Christmas, and we honestly can't blame them. Sweet nostalgia is baked into nearly every scene of this 1983 Bob Clark classic, when your biggest wish was a Red Ryder air rifle, your biggest problem was getting your tongue stuck on a frozen flagpole, and the height of interior design was a kitschy, fishnet-clad leg lamp set right in the middle of the living room. If you want nostalgia, this is one of the best Christmas movies for you.
2-3. 'Home Alone' and 'Home Alone 2: Lost in New York'
Okay, yes, the McCallisters probably should never go on a family vacation ever again, but we're thankful they did at least twice since we got two of the most beloved Christmas movies of all time out of that travel chaos. These Home Alone classics take the number 3 and 2 spot on our list.
The slapstick Home Alone duology (we don't recognize any other sequels, sorry not sorry) starring a precocious Macaulay Culkin as Kevin McCallister and Joe Pesci and Daniel Stern as the Wet Bandits are the stuff of both childhood dreams (toy stores, movie marathons, whole cheese pizzas to yourself) and nightmares (home burglary, Buzz's girlfriend, a certain Cheeto-colored ex-president), but through it all, it's a holly, jolly good time.
1. 'It's a Wonderful Life'
It's simply not Christmas without this one, eh? It's no surprise that one of the greatest movies of all time is the best holiday movie ever made, and for good reason. The story of a despondent George Bailey (Jimmy Stewart), and the guardian angel Clarence (Henry Travers) who reminds him of his lifetime of good deeds and what the world would look like without him, is a heartwarming tale brimming with humanity, family and generosity; all of the things that the best holidays are made of.
Christina Izzo is the Deputy Editor of My Imperfect Life.
More generally, she is a writer-editor covering food and drink, travel, lifestyle and culture in New York City. She was previously the Features Editor at Rachael Ray In Season and Reveal, as well as the Food & Drink Editor and chief restaurant critic at Time Out New York.
When she's not doing all that, she can probably be found eating cheese somewhere.