The best 'Gilmore Girls' Christmas episodes, ranked
Put a pot of coffee on and settle in for a marathon of 'Gilmore Girls' Christmas episodes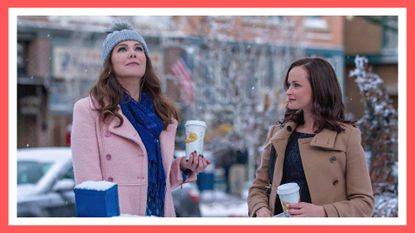 (Image credit: Saeed Adyani/Netflix)
To paraphrase Lorelai Gilmore, we smell snow—which means it's time to binge Gilmore Girls' Christmas episodes.
Sure, with its foliage-filled New England setting and copious amounts of sweaters, you might think of Gilmore Girls as a "fall show." (We are thankful for those famous Gilmore Girls Thanksgiving episodes.) But true-blue fans know that winter is the season of Lorelai Gilmore (played by Lauren Graham)—the java-chugging inn owner allegedly can even smell snow before it begins falling. "Everything's magical when it snows," she says in the series.
And what wintry event is more magical than Christmas? From makeshift ice rinks to mistletoe kisses, Gilmore Girls' Christmas episodes are packed with festive fun. Here are all of the holiday editions of the mother-daughter dramedy, ranked. (And while you're at it, check out the best Friends Christmas episodes and New Girl Christmas episodes!)
The best 'Gilmore Girls' Christmas episodes:
8. 'Santa's Secret Stuff' (Season 7, Episode 11)
We don't want to be a Scrooge but we're not going to lie to you: sometimes we pretend like Gilmore Girls' season 7—the only one not helmed by creator Amy Sherman-Palladino and writer-director Dan Palladino—doesn't exist. That's because there are bad vibes throughout: Lorelai and Luke aren't together (Scott Patterson), Lorelai and Christopher (David Sutcliffe) are, and the dialogue is largely missing that signature caffeine-addled Gilmore zip.
So it wasn't hard to pick the show's final Christmas episode as our least favorite, but we are choosing to focus on the good, namely the reveal of several Gilmore gals' holiday traditions, including hanging mistletoe from the ceiling fan, leaving chewing gum out for Santa and adding red and green M&Ms to your morning cereal.
7. 'Just Like Gwen and Gavin' (Season 6 Episode 12)
The show's season-six Christmas episode gives us the annual Stars Hollow Winter Carnival (run by Kirk and featuring pet Paul Anka as "The Amazing Doggy Swami") and plenty of romantic drama for our titular ladies. The biggie: Lorelai finally finds out about and meets Luke's daughter April (Vanessa Marano) for the first time, causing some not-so-jolly friction between them and the couple deciding to postpone their wedding. Meanwhile, Rory (Alexis Bledel) is inundated with gifts—a.k.a. endless cups of coffee—from a guilty Logan (Matt Czuchry) to get back in her good graces.
6. 'In the Clamor and the Clangor' (Season 4, Episode 11)
It's not a particularly Christmas-forward episode, save for the loud AF church bells that inspired its title, but there are some key Gilmore moments included. Lane's years-long covert rock 'n roll lifestyle comes to a dramatic end when Mrs. Kim finds out she snuck out to perform a gig at NYC's iconic CBGB club with her band Hep Alien, ordering her to move out as a result. And tensions build between Lorelai and Luke when she finds out that he has moved to Litchfield with his girlfriend Nicole—why do you care so much, Ms. Gilmore, hmm?—but they reconcile over a shared purpose of breaking those damn bells.
5. 'Women of Questionable Morals' (Season 5, Episode 11)
Two words: ice rink. Yes, Luke surprised Lorelai with a bespoke ice-skating rink right on her front lawn to make the uncharacteristically grumpy Gilmore girl feel the holiday magic yet again. (We're going to ignore that this is the episode that directly led to the downfall of their relationship, okay? Thanks.) Other Christmas miracles include Kirk (Sean Gunn) dressing up as a woman of the night during a Revolutionary War reenactment, and our estranged Gilmore grandparents, Richard (Edward Herrmann) and Emily (Kelly Bishop), adorably reconciling after finding a stray pup in the snow.
4. 'That'll Do, Pig' (Season 3, Episode 10)
This season-three favorite gifts us many moments to remember, including the return of the O.G. Lorelai, Richard's mother (Marion Ross), much to the hilarious chagrin of Emily Gilmore—taking an hour to eat a green bean? Just call her Petty LaBelle!—as well as the delicious love triangle between Rory, boyfriend Jess Mariano (Milo Ventimiglia), and her ex Dean Forester (Jared Padalecki), which comes to a head at yet another Winter Carnival. The drama is as steamy as the hot chocolate.
3. 'Winter' (A Year in the Life, Episode 1)
Sure, the strength of this Gilmore Girls episode is largely due to the fact that it's simply a joy to be with our Stars Hollow family again after all these years. The first "season" of the Netflix revival picks up a decade after the show's original run and, though there are certainly wistful moments throughout (including the loss of Richard Gilmore just a few months prior, prompted by the real-life passing of beloved cast member Edward Herrmann), it's simply such a joy just to see our Gilmore girls, coffee cups in hand, gabbing incessantly around the snowy streets of the town.
2. 'Forgiveness and Stuff' (Season 1, Episode 10)
A serious chill between the three generations of Gilmore women melts when Richard has a heart attack during the elder Gilmores' annual Christmas party. Most of the holiday episode takes place in the hospital, which you'd think would be seriously depressing for "the most wonderful time of the year," but it elicits several heartwarming scenes, including a wordless acknowledgment between a teary-eyed Lorelai and her bedridden dad, and Luke showing up as moral support, which does not go unnoticed by Emily. ("You're idiots, the both of you," she hilariously tells Luke when he proclaims that he and Lorelai are just friends. Preach!)
1. 'The Bracebridge Dinner' (Season 2, Episode 10)
Snowmen contests, sleigh rides, silly costumes—this all-timer Gilmore Girls episode encompasses all of the impossibly whimsical charms of Stars Hollow during the wintertime. All of your favorite townsfolk, as well as Richard and Emily and even Paris Geller (Liza Weil), are invited to a historically themed feast that Lorelai and Sookie (Melissa McCarthy) host at the Independence Inn, which basically becomes an "out-of-control, over-the-top slumber party," per Lor.
It's a true Christmas treat to watch Lorelai and Rory's various social circles lovingly and laughably overlap, from super-strict Mrs. Kim to bawdy Ms. Patty, from the wealthy Gilmores to the weirdo that is Kirk. The episode's less a plot driver (okay, Jess does punch Dean, but Dean sucks so *shrugs*) and more of a mood piece, and that mood is pure, perfect, small-town cheer.
All of the Gilmore Girls Christmas episodes are available for streaming on Netflix.
Christina Izzo is the Deputy Editor of My Imperfect Life.
More generally, she is a writer-editor covering food and drink, travel, lifestyle and culture in New York City. She was previously the Features Editor at Rachael Ray In Season and Reveal, as well as the Food & Drink Editor and chief restaurant critic at Time Out New York.
When she's not doing all that, she can probably be found eating cheese somewhere.