All the Friends Christmas episodes to make your way through (again) this festive period
The Friends Christmas episodes we can't get enough of, no matter how many times we've watched them...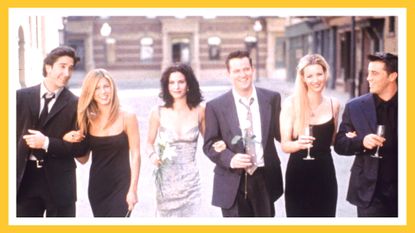 (Image credit: MARKA / Alamy Stock Photo)
How many Friends Christmas episodes have you made your way through so far this year? We'll be the first to admit that we've already started our annual watch, straight after completing the Friends Halloween episodes and Friends Thanksgiving episodes, and frankly, it's like they get better and better each year.
While not everything on the hit sitcom has aged well, the festive episodes have been the ultimate treat every Christmas for the past two decades (as well as the best Christmas movies on Netflix), and this year is no different. We've been making our way through all the greats: from Season 6's 'The One With the Routine', where Ross and Monica reenact a childhood dance routine on TV show Dick Clark's Rockin' New Year's Eve (arguably one of the best episodes ever made) to 'The One With All the Candy' in season 7, when Ross gets Phoebe the bike she never had. There really is no show that does Christmas, or the holidays, quite like Friends. It's why there are now so many Friends ornaments for Christmas available, too!
So to celebrate that, and officially mark the countdown to December 25th (we can't wait to get into our advent calendars), we've listed all of our favorite Friends festive instalments in no particular order because frankly, it's just too hard to pick. Happy watching!
---
The best Friends Christmas episodes to watch during the holiday season
'The One Where Rachel Quits' (Season 3, Episode 10)
In this episode, Rachel quits her waitressing job at Central Perk after Gunther tells her she has to retrain, even though she's been working there for a while. After quitting, she then freaks out about unemployment and how she'll ever get another job again with her very limited resume. Meanwhile, Ross accidentally breaks a little Girl Scout's and end up helping her sell cookies door to door so she can win a trip to space camp. Elsewhere, Joey has a job selling Christmas trees which upsets Phoebe, but the gang ultimately band together to buy all the dying trees to cheer her up. One of the best moments of all the Friends Christmas episodes!
'The One With the Holiday Armadillo' (Season 7, Episode 10)
Ross is desperate to get his son Ben excited about Hanukkah when all he seems to care about is Santa Claus and Christmas. When the custom shop runs out of Santa suits, he decides to use the opportunity to teach Ben about the Festival of Lights instead by...dressing up as an armadillo. Sure! Meanwhile, Chandler makes a fool of himself at a fancy restaurant with Monica, as he repeatedly tried (and fails) to bribe the waiter when they are refused a table. Oh, and Phoebe is on a mission to put Rachel off living with Joey to come back and live with her. One of the funniest Friends Christmas episodes, we'd say.
'The One With the Inappropriate Sister' (Season 5, Episode 10)
Things get pretty weird for the gang in this episode when Rachel's boyfriend Danny's sister comes to town, and it comes very clear that the two are a little too close. This is also one of the episodes where Joey, Chandler and Ross are all living together while Ross is 'on sabbatical', following the breakdown of his marriage to Emily. He uses his time off to help Joey write a script instead of goofing off, which frustrates Chandler who thinks Ross is being way too overbearing. Fireball, anyone?
'The One With Christmas in Tulsa' (Season 9, Episode 10)
Christmas starts of disappointingly for everyone this episode, with Chandler announcing that he has to be in Tulsa over Christmas, instead of spending it at home with his buddies and wife Monica. After that, this episode is all about the throwbacks. The gang reminisces on the good 'ol days, with flashbacks from past hilarities and emotional moments shown throughout. However, the highlight comes at the end when Chandler, fed up, quits his job and makes it home in time to celebrate with everyone—of all the Friends Christmas episodes, this one is very wholesome.
'The One With All the Candy' (Season 7, Episode 9)
This episode will make you feel all the festive warmth. When Phoebe reveals that she never had a bike as a kid and therefore doesn't know how to ride one, Ross takes it upon himself to surprise her with one and teach her himself. Adorable, we know! The rest of the episode basically consists of Monica (or Candy Lady) frantically making Christmas candy for the neighbours, who aren't exactly appreciative...
'The One With Ross's Step Forward' (Season 8, Episode 11)
Ross is completely freaking out in this episode because his girlfriend Mona wants to do a joint Christmas card despite them still not being that serious. And like whenever Ross freaks out, it's pretty hilarious. While there are big highlights in this Friends Christmas episode, it does mark the beginning of that dreaded storyline. The one we wish we never had to endure and frankly still feels wrong when we say it out loud—you guessed it, the Rachel and Joey relationship storyline...
---
Wondering what to watch after your Friends binge? These Christmas movies on Hulu are a great place to start, and these nostalgic Christmas movies on Disney Plus which give you that warm and fuzzy feeling.
Sagal is a journalist, specialising in lifestyle, pop culture, fashion and beauty. She has written for a number of publications including Vogue, Glamour, Stylist, Evening Standard, Bustle, You Magazine, Dazed and Wonderland to name a few.