The creepiest scary movies on Netflix that'll make you jump
Ghost stories, psychological thrillers—the best scary movies on Netflix offer screams in spades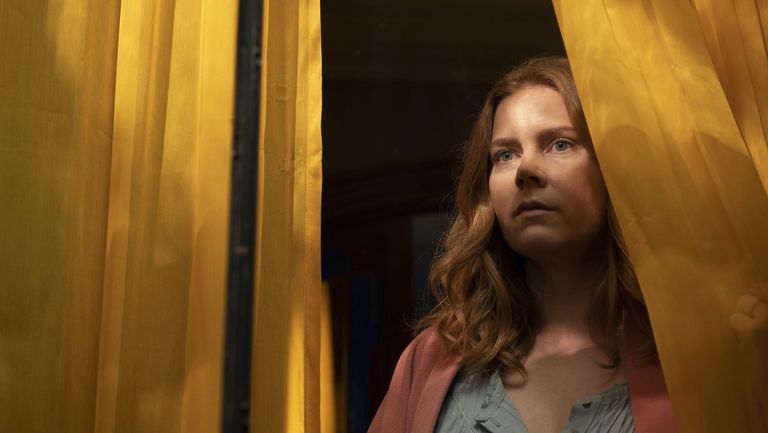 (Image credit: Melinda Sue Gordon/Netflix)
Be warned: this list will likely force you to sleep with the lights on. A marathon of scary movies on Netflix is guaranteed to send a shiver down your spine and elicit a scream or two. 
If you're down for a bit of a fright on movie night, we've rounded up our go-to classics, Netflix originals, and book adaptations that will make you keep one eye open while you snooze. Proceed with the horrifying binge sesh...if you dare.
Best scary movies on Netflix to add to your watch list
1. Woman in the Window
Based on the highly controversial New York Times bestseller by A.J. Finn, this popular thriller has finally received the TV treatment, much to fans' delight.

In this suspenseful tale, we follow an agoraphobic New Yorker (played by Amy Adams) who is confined to her apartment. She becomes overly involved in her neighbor's lives, but what happens when she witness a heinous crime—and is made to feel like she is wrong?

This Netflix original is arguably one of the most highly anticipated releases since Bridgerton—though, obviously very different subject matter.
2. The Conjuring 
The Perron family calls on paranormal investigators after moving into their new home. The farmhouse's paranormal activity starts out innocently enough, but then supernatural events turn wicked—quickly—when the family learns more about their new abode's frightening history. (Psst: the follow-up flicks are also available on Netflix!)
3. Insidious 
Moving into a new home is supposed to be an exciting experience, but these parents know it to be anything but. Upon settling into their new home, the son of Josh and Renai (Patrick Wilson and Rose Byrne) falls into a comatose state and supernatural experiences begin. 
Everything you need to know about Netflix's new murder show, Who Killed Sara?
4. Case 39
Emily Jenkins (Renée Zellweger) is a social worker who's encountered every situation imaginable—almost. When she is tasked to help 10-year-old Lilith (Jodelle Ferland), she ultimately has to separate the child from her cruel parents.

While attempting to find a foster family for the little girl, a frightening force overcomes Lilith and makes things next to impossible for Emily.
5. 1922
Anytime Stephen King enters the equation, you're bound to encounter something horrifying (in a good way). A father-son duo (Thomas Jane and Dylan Schmid) decides to conspire against the matriarch of the family and kill her for financial gain in this novella-turned-film. 
6. The Blair Witch Project
This '90s phenomenon had horror fans completely hooked. In a faux student film, videographers in training head into the woods to uncover if a witch really haunts the land. Be prepared for some frightening footage! 
7. Winchester
Based on the real-life story of Sarah Winchester (played here by Helen Mirren), the heir to the Winchester Repeating Arms Company, this story follows a tortured woman who was harassed by the souls who lost their lives at the hands of a Winchester rifle.

In order to avoid their spirits, she built a massive California home in attempts to confuse them and throw them off course...but will her unfinished staircases and doors that lead to nowhere actually work?
8. Things Heard & Seen
This Amanda Seyfried-led Netflix original is garnering much attention, and you'll definitely want to see what the hype is about for yourself. A woman and her husband take off from New York City and opt for small-town living...but it comes with some sinister consequences.
Want even more thrills? Watch Cruel Summer from anywhere in the world
9. Monster House 
For the fraidy cats among us, the animated flick Monster House offers a tame horror story for those who are not terribly inclined to go all out on the scare charts. Something is very wrong next door, but will these kids attempt to find out what?