Fear Street on Netflix: if you like Stranger Things, you'll love R.L. Stine's book-turned-movie series
Love chills and thrills? Here's what to know about Fear Street on Netflix, a new horror movie trilogy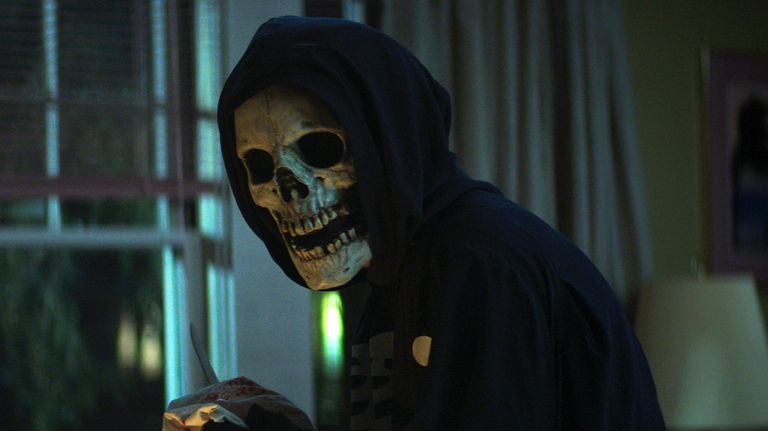 (Image credit: Courtesy: Netflix)
When does Fear Street on Netflix come out? Let's just say, you might feel inclined to sleep with the lights on this weekend. Your childhood nightmares, courtesy of horror author R.L. Stine, are about to reemerge.
The TV adaptation of his popular series is guaranteed to make you feel nostalgic for those elementary school book fairs. Don't you get goosebumps thinking about stocking up on all of those spooky reads? (See what we did there?)
Here's everything to know about the Fear Street on Netflix horror trilogy. Prepare to be scared!
When does Fear Street on Netflix come out?
The Fear Street horror movie trilogy kicked off with Part 1 set in 1994, followed by a step back even further in time to 1978 in Part 2. Then, Part 3 concludes in 1666. The films will be released over three Fridays beginning Friday, July 2nd, so prepare for a few horror-filled nights in.
"I was looking for buoyancy and fun in my next project, and Fear Street was perfect," writer Leigh Janiak stated in a Netflix press release. "I think a lot of people who grew up with these books feel the same way."
Fun or frightening—you'll have to be the judge.
What is Fear Street about?
The films focus on a town that's been plagued by wicked forces for centuries. Teens of Shadyside have been attempting to uncover the mystery behind the gory slayings for years, but that might not necessarily be in their best interests.
Is Fear Street good for kids?
Despite what the film adaptation might suggest, this isn't the best show for the kiddos. The R rating means the movies are more suitable for the teens in your brood who can handle a few screams and mature content.
What is different about Netflix's Fear Street?
Now that the stories are being retold and presented in a different light than the original books, diversity and representation are key components to the film adaptations.
"The project started to come together around this idea of the systemic oppression that permeates culture and tells certain people that you're "other" and you are never going to win," Janiak said. "And I think that's a common thing to feel growing up, especially for anyone who's been born into a world they feel like they can't escape."
She added: "Up until very recently, straight white people were the only characters who ever lived at the end. So it was important to me and my writers that Fear Street was led by people who society has, again, traditionally called an 'other,' and that's kind of where this idea of having our main characters be queer came from."
Fear Street movie cast: Who's in the trilogy?
The film trilogy stars Kiana Maderia, Olivia Scott Welch, Benjamin Flores Jr., and Ashely Zuckerman, to name a few.
Fear Street books in order
Ready to add a spooky flair to your summer reading? Here are the Fear Street books in order (warning: there are a lot):
The New Girl
The Surprise Party
The Overnight
Missing
The Wrong Number
The Sleepwalker
Haunted
Halloween Party
The Stepsister
Ski Weekend
The Fire Game
Lights Out
The Secret Bedroom
The Knife
The Prom Queen
First Date
The Best Friend
The Cheater
Sunburn
The New Boy
The Dare
Bad Dreams
Double Date
The Thrill Club
One Evil Summer
The Mind Reader
Wrong Number 2
Truth or Dare
Dead End
Final Grade
Switched
College Weekend
The Stepsister 2
What Holly Heard
The Face
Secret Admirer
The Perfect Date
The Confession
The Boy Next Door
Night Games
Runaway
Killer's Kiss
All-Night Party
The Rich Girl
Cat
Who Killed the Homecoming Queen?
Into the Dark
Best Friend 2
Trapped


Watch the Fear Street on Netflix teaser
So, will we be seeing you in Shadyside this July? Be sure to watch your back!
Danielle is a writer for My Imperfect Life, where she particularly enjoys covering lifestyle and entertainment news. She was previously the editor of Time Out New York Kids and a news editor at Elite Daily. When she's not working, you can find her reading a good book and enjoying a cup of coffee. Follow her @dvwrites.