Jazmine Sullivan's HERstory performance is the perfect Super Bowl warm-up
Jazmine Sullivan's HERstory performance has blown fans away and rightly so. Here's how you can watch it...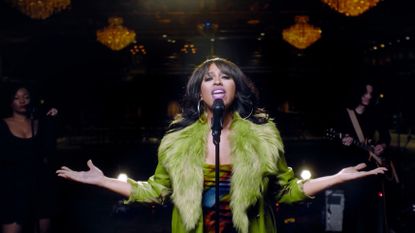 (Image credit: Photo by Theo Wargo/Pandora Media/Getty Images)
Have you been dying to watch Jazmine Sullivan's HERstory HBO Max special? Well, same! The virtual concert, which took place during this year's Sundance Film Festival on 29 January, proved once again that Ms. Sullivan has come to step on all of our necks throughout 2021—starting with her performance of the national anthem at the Super Bowl this year.
Fresh from a six-year hiatus, Jazmine kicked off the year with the release of her highly anticipated comeback EP, Heaux Tales on 8 January, reclaiming her status as the Queen of R&B. She has since had us all shook with jaw-dropping live performances of her new hits, including her latest HERstory show, which was part of HBO Max's third annual 'Our Stories to Tell' series.
Jazmine Sullivan's Heaux tales
Not only is she a sensational vocalist and an impeccable songwriter but the storytelling of Heaux Tales is something every woman can resonate with. The 14-track project takes you on a journey of womanhood, from feeling sexually liberated and romantically selfish to finding a lover so good you become self-sacrificing, it's both freeing and fatal. But overall, it depicts—with the help of poetic interludes by friends and family including fellow R&B artist Ari Lennox—the many experiences that shape the road to loving yourself and owning who you are.
Speaking to British Vogue, Jazmine said of Heaux Tales: "This project is really just about life as a woman and finding yourself, trying to love yourself and owning your power. The fact that I got to include my friends and family in this – their experiences, knowledge and vulnerability – that's what makes it so beautiful to me."
Beautiful is definitely what it is. It's a masterpiece, and it comes to life with every live performance we've seen so far. Last month, Jazmine blew us away with her Tiny Desk Home Concert, where she was joined by H.E.R for a stunning performance of their hit song from the project Girl Like Me. And now, the HERstory show has had a similar effect, with fans gushing over the phenomenal 30-minute set—where Jazmine performs everything from her new material to old favourites like Bust Your Windows and Lions, Tigers, and Bears.
2021 is Jazmine Sullivan's year. That HERStory performance on HBOmax is perfect. Excuse me 😭😍February 1, 2021
See more
Where to watch Jazmine Sullivan's HERstory
If you have yet to watch the show, it is currently still available to watch on HBO Max for US audiences.
If you're outside of the US, you can watch the entire show for free on YouTube.
I just finished watching the "HERstory" with Jazmine Sullivan on HBOMax and THAT WOMAN IS IT 🗣THE RANGE, THE PRESENCE, THE BEAUTY... NOBODY SEEING HER 😭Keep bringing me the live series plzzz 🥺🥺🥺February 4, 2021
See more
Sagal is a journalist, specialising in lifestyle, pop culture, fashion and beauty. She has written for a number of publications including Vogue, Glamour, Stylist, Evening Standard, Bustle, You Magazine, Dazed and Wonderland to name a few.