The best TikTok songs actually worth adding to your playlist
One particular song has been trending for weeks now...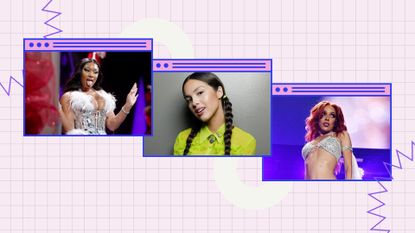 (Image credit: L-R: Tasos Katopodis/Getty Images for iHeartRadio; Randy Holmes/ABC via Getty Images; Kevin Mazur/Getty Images for iHeartRadio)
We love TikTok songs. In fact, we can't get enough of them. Soundtracks to viral memes and dance videos on social media have taken over the music industry, so much so that the biggest artists in the world are now creating songs specifically in hope that it'll be a TikTok hit. Honestly, we're not mad at it. If anything, we encourage it!
Back in lockdown, TikTok hits like The Weeknd's 'Blinding Lights' or Megan Thee Stallion and Beyonce's 'Savage' remix kept us all going as small beacons of light in an otherwise dark time. We learned the choreography, practiced it with our families and shared extremely embarrassing, though joyous, videos of ourselves for the world to see. Did we care? Nope. It was all in the name of fun. Something we could all connect with and enjoy together, and frankly, we haven't stopped since.
The world may be (slowly) on the mend, which means we haven't been spending as much time at home as we did in 2020, but our love for TikTok songs has only grown. Despite fighting every urge, all those months of perfecting the 'Corvette Corvette' dance in our mirror has transpired to it actually becoming one of our go-to moves on the dance floor at real-life parties, now that we have those back. Plus, 2021 has brought a whole new slew of viral songs to add to our roster, including a social media phenomenon that currently lives rent-free in our heads. You know the one: "And I love you more than my life"...
Yep, as we said. Rent-free. Even Bella Hadid is a fan...
---
---
Here are all the TikTok songs occupying our brain space...
The best TikTok songs to add to your playlist
Isii Nafta (Love You More Than My Life) - Nimco Happy
THIS SONG >>>>>>"AND I LOVE YOU MORE THAN MY LIFEANA HIBBAK YA HABIBI" 🥺🥺🥺 pic.twitter.com/7R8r3pzdRLOctober 14, 2021
See more
The song that has taken over social media for the past few weeks after becoming an unexpected hit on TikTok is by a Somali woman in Kenya, who until recently had no idea that a clip of her performing it had gone viral. Not only does it mix four languages: Somali, Swahili, Arabic and English, but it's an absolute banger. Give it all the Grammys!
So Pretty - Reyanna Maria ft Tyga
You're lying if you say you haven't practiced your glow-up transformation to this song like everyone else on TikTok—turns out it's a lot harder than it looks! Luckily, the lyrics are enough of an incentive to keep trying again. *Adds to playlist*
Dangerous - Kardinal Offishall ft Akon
Yes, we know the song came out in 2008 but once TikTok resurrects a classic, it's here to stay! The song has been a popular sound on the app all year, with TikTokers getting creative with their dances to it.
Drivers License - Olivia Rodrigo
The song of the year. Do we need to say anything else?
Lotus Flower Bomb - Wale feat. Miguel
Another classic from the archives, this song was originally released in 2011 but has been doing the rounds on TikTok this year and we've fallen in love with it all over again.
Telepatía - Kali Uchis
We love Kali Uchis and this song is everything. Although it will now always remind us of TikTok...
Buss It - Erica Banks
We've all seen the Buss It Challenge. You might even have given it a go. But whether you've perfected it or not, there's no denying how catchy this song is!
Day 'n' Nite - Kid Cudi
The TikTok remix to this Kid Cudi classic has been going viral all year and while it soundtracks some great videos, consider this your reminder that it is and never will be as good as the original. In fact, the man himself agrees, tweeting about his disapproval of the new version back in March 2021. "I don't fuck w what they did to my song on tik tok takin out the lyrics," he said at the time. "We live in a strange time." He later called it "wack".
34 + 35 - Ariana Grande
Our queen of pop Ariana Grande never disappoints when it comes to her music (or anything else she does for that matter) and the TikTok dance to this particular song is one of our favorites from the past 12 months.
Streets - Doja Cat
The famous silhouette challenge birthed by this song and in the video, which features the fine specimen that is Kofi Siriboe (seriously, how does he look like that?), Doja pays homage to the TikTok trend that got her song to the top of the charts.
Savage Remix - Megan Thee Stallion ft. Beyonce
Megan Thee Stallion and Beyonce's Savage remix was undoubtedly the collaboration of the year in 2020. Not only did the song and its accompanying TikTok dance routine get us through lockdown 1.0 but it earned the Houston natives a well-deserved Grammy earlier this year.
Dirty Laundry - Blackbear
Okay, we'll admit it: we've had the 15 seconds of this song relevant to the TikTok dance on repeat for hours on end. But once you eventually gave the rest of the track a listen, we were impressed!
Whatever You Like - T.I.
Another noughties Hip Hop classic resurrected by TikTok, we've definitely fallen in love with IT's 'Whatever You Like' just as we did back in 2008.
Foot Fungus - Ski Mask The Slump God
Ski Mask The Slump God may have dropped this back in 2018 but the teens of TikTok only got their hands on it this year, making viral choreography to it and honestly, we're glad they did because otherwise we probably wouldn't even have discovered this banger!
Sagal is a journalist, specialising in lifestyle, pop culture, fashion and beauty. She has written for a number of publications including Vogue, Glamour, Stylist, Evening Standard, Bustle, You Magazine, Dazed and Wonderland to name a few.