My love letter to the Black cinema characters that changed me
One writer looks at the Black cinema characters that shaped her into the woman she is today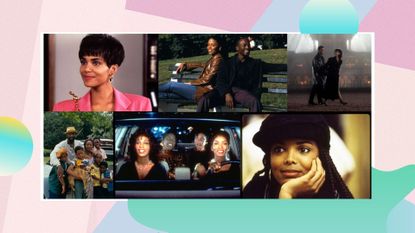 (Image credit: Alamy / Getty Images)
As a fan and lover of black cinema, I often stop to think about how each piece of art from that category impacted my life in some way. From the themes, plots, characters, language, clothing, and many faces and names that have come my way. I am forever grateful for the many characters that I've met and which I've modeled my life and personality after.
Growing up as an only child in the 90s, TV became my favorite outlet, and the films and characters became secret best friends of mine, best friends I could turn to at all hours of the day, who helped raised me while teaching me valuable lessons about life, family, relationships, sex, being a woman, and being black! I often ask myself where I would be without best friends like Justice and Lucky, Peaches and Shame, Natalie, Bobby and Waymon, Marcus and Angela, Nina and Darius, Stella, Monica, and her basketball, Bernadette, Robin, Gloria, and Savannah?!
---
---
Natalie from Strictly Business
As far back as I can remember the Movie ''Strictly Business'' and its infectious soundtrack were a staple in my household. Originally hitting theatres in 1991 and starring Tommy Davidson, Joseph C Phillips, and Halle Berry. Halle stars as ''Natalie'', the young, hip, club and party promoter who steals the heart of strait-laced Waymon. There was something about Natalie that had a 6-year-old me in a trance. I was blown away by her beauty and her confidence, Natalie was the it girl who ran the NYC party scene and that's what I wanted to be—that's what I wanted to do! This character followed me to adulthood even when I navigated the NYC party scene while becoming a party promoter myself. Working in an industry dominated by men, Natalie was always with me and stays with me until this day. I loved how Waymon was infatuated with Natalie, I loved the way he looked at her and he was determined to get do anything to be the perfect man for her. I wanted that, every piece of that!
Justice from Poetic Justice
From Brooklyn to South Central LA the many black movies and black characters became my safe zone and safety net for me. Though I was a little black girl from Brooklyn NY, there was something about Justice that connected me to her. Directed by the great John Singleton ''Poetic Justice'' became a staple in 1993 for the black community in the Los Angeles area. Not only gifting the folks of LA with this amazing project, but Singleton was also able to open up and share Justice with many of us that were not from the west coast.
I loved everything about her! From how she would channel her emotions by penning them down, to standing firm in what she wanted and inspiring me and the other many little black girls by wearing the stylish and unforgettable box braids. Singleton gave people a look at the current state of Los Angeles in the 1990s and it was honest, brutal, ugly but it was the truth.
Marcus, Angela, and Jacqueline from Boomerang
Marcus, Angela, and Jacqueline may sound like unfamiliar names but those of us part of the culture know exactly whose name belongs to who! Even though ''Boomerang'' was originally released in 1992, 30 years later it's ranked and on the top 5 classic black movies list. Starring Eddie Murphy, Halle Berry, Robin Givens, and a slew of legendary black actors and comics. This movie was phenomenal. After first watching the movie, I remember wanting to not only be like Jacqueline but wanting to be Angela and Marcus! All three of them were captivating, strong, black, beautiful, and powerful and I wanted all of that. From the way, Jacqueline would cut men down with her words, from how big Angela's heart was, and to how smooth Marcus was with the ladies and his words. Also, can we talk about Marcus' apartment! I wanted it all! I remember watching Boomerang over and over just so I could remember and embody all three of the sexiest black characters I have ever seen.
Nina and Darius from Love Jones
''Say, baby... can I be Your slave? I've got to admit girl you're the sh*t girl... and I'm digging you''- the seductive words that 11-year-old me waited for and when I say I waited…. I am still waiting 25 years later!
Released in 1997 and starting Nia Long and Larenz Tate, ''Love Jones'' is still the go-to love guide for us all when it comes to dating and relationships. The relationship between Nina and Darius was intriguing, beautiful but also very complicated. Growing up I got most of my love stories from movies, books, and television, and seeing a modern couple who looked like me gave me hope when it came to finding love. Love Jones is the movie I grab when I am in love, when I have a crush, and even when I'm heartbroken. I am still inspired by the love story and heartbreak from this movie, it's something I will never forget.
Andre and Sidney from Brown Sugar
''When was the first time you fell in love with hip hop?'' The question heard around the world and honestly the question I now use for ice breakers and awkward first dates. ''Brown Sugar '' was released in 2002 and it became the love letter to Hip Hop that everyone needed. We all wanted it but no one was brave enough to admit it.
Andre and Sidney embodied friendship goals that everyone envied. As a lover of hip hop, I saw myself in Sidney: I love the music, I was living in a brownstone in NYC and becoming a well-known journalist in the music industry. When ''Love Jones'' originally came out I was too young to understand how complex the relationships were but when ''Brown Sugar'' came out and I was in Highschool I felt like I had seen myself and the relationship I strive for on-screen.
You couldn't tell me I was not going to be a hip-hop journalist, living in a brownstone in NYC and marrying my best friend.
Troy Carmichael from Crooklyn
Troy Carmichael had one of the best summers as a child in Brooklyn, NY in 1973 and I was envious. ''Crooklyn'' originally came out in 1994 and came from the creative legend himself, our Brooklyn four father, Spike Lee. Though ''Crooklyn'' was set in the 70s, a little black girl from Brooklyn in the 90s related to the movie, it was like I was looking in a mirror: I was Troy and Troy was me. New York Summers is one of the best summers, it's something that you cannot explain to anyone but yet the memories never leave your soul. It's filled with laughter, black joy, black pain, first loves, first kisses, hot summer breezes, adventures that you will never forget. I always felt that but seeing it on screen in movies like ''Do the Right Thing'' and ''Crooklyn'' made me forever grateful to Spike Lee!
Savannah, Robin, Bernadine and Gloria from Waiting to Exhale
Savannah, Robin, Bernadine, and Gloria! If you have no idea who these four women are let me introduce you. Debuting in late 1995, ''Waiting to Exhale'' became the go-to movie for not only black women but all women. If you were a child in the 90s you remember your mother, aunties, and grandmothers feeling every emotion and seeing themselves in each of these women on screen. As our elders connected to the movie, we peeked around the corner to catch a glimpse of Savannah falling in love with herself and getting rid of the men who didn't matter. We smiled from ear to ear watching Gloria find someone for the first time that genuinely liked her for her. We cried watching Robin navigate and date and find the guy that was just right for her. And we cheered on and memorized every heartbreaking word Bernie screamed as she was releasing hurt from her divorce. As children, we had no idea the range of emotions these four women were going through but as we got older we related to every tear, scream, and heartbreak.
I am grateful for the four teachers that I still go to whenever I need a pick me up or whenever I get heartbroken.
Before typing this I always knew the movies I liked and the ones that meant something but now I realize these characters meant more to me than I would ever know. They shaped me into the woman I am today, they helped me navigate adulthood, helped with relationships, sex, friendships, and family and for that, I will always pay homage.
Thank you to the black creators who wrote every word on those scripts, who came up with the ideas of every character. Without you and your genius, I do not know who I would be today. Thank you!
Nakia Monet aka Key Key Boom Boom is a force to be reckoned with when it comes to entertainment journalism and TV production. Putting in work and shuffling out creative ideas for documentaries, scripted and unscripted shows at companies such as E!, BET, TMZ, and MTV.
Nakia is not only an on-air host but she has contributed articles to companies like Buzzfeed, Black Hollywood Live, EUR Web, and Afterbuzz TV.
The NYC native found her love of art while growing up in Boston. Receiving a BA in Broadcasting from Pine Manor College Key Key knew exactly where she needed to be to make it happen, Los Angeles.
Since moving to The City of Angels Nakia has been on countless red carpets, worked with a slew of network executives, celebs and interviewed some of the hottest names out like: Keanu Reeves, Jane Fonda, Cynthia Erivo. Tiffany Haddish, Jamie Foxx, and more.
When she's not being a workaholic and a pop culture junkie, Nakia likes to indulge in bottomless mimosa brunches, hit the pool in her bikini, talk about all things dating on her podcast, watch murder documentaries and chillax.