Powerful Black History Month movies to watch this February and beyond
These Black History Month movies will not only educate but inspire you...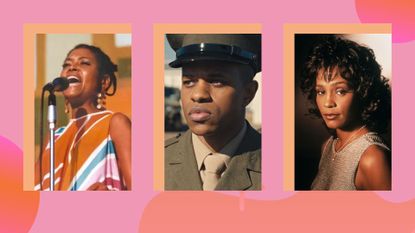 (Image credit: Searchlight Pictures; A24; 20th Century Fox/Getty Images)
Black History Month is here and while there are plenty of ways to celebrate it (including educating yourself with these Black History Month facts), watching movies that tell true stories of Black culture, history, and identity is a good place to start.
This doesn't just mean movies about the hardships of the Black experience, from slavery to the civil rights movement—though these are vital, no matter how difficult they may be to watch—but rather films that represent Black culture through love and joy, while acknowledging the truth about Black history in America and beyond.
Here, we've compiled a list of some of the most powerful Black History Month movies to date. From cinematic celebrations of Black heroes and notable milestones throughout time, to hard-hitting films exploring the complexities of race, racism, and inequality, these are the movies you need to add to your watch list immediately...
Black History Month movies to add to your watch list:
'Malcolm X' (1992)
Spike Lee's beautiful tribute to Malcolm X, the human rights activist and civil rights icon, is one of the Oscar-winning filmmaker's finest works. It stars Denzel Washington in the titular role and chronicles the highs and lows of Malcolm's life whilst highlighting his immeasurable contributions to the civil rights movement and empowerment of Black people. From his imprisonment in the 1950s to becoming a leader in the Nation of Islam and, later, his tragic assassination, Lee revisits the foundation of Malcolm X's legacy and the way he instilled racial pride in the Black community.
'Hidden Figures' (2016)
Featuring an all-star cast including Taraji P. Henson, Janelle Monae and Octavia Spencer, Hidden Figures tells the inspiring real-life story of three Black women at NASA—Katherine Johnson, Dorothy Vaughan and Mary Jackson—all of whom contributed to one of the greatest human achievements in history: the launch of astronaut John Glenn into space.
'Selma' (2014)
Ava Duvernay's Selma not only featured a star-studded cast (she had everyone from from Oprah to Tessa Thompson and Common involved) but it tells the important story of the racial struggles that continued to prevail in America even after the Civil Rights Act of 1964 legally desegregated the South. It tells the story of the fight for justice in 1965 Alabama, where despite violent opposition, Dr. Martin Luther King Jr. (played by David Oyelowo) and his followers pressed forward on a march from Selma to Montgomery. Their efforts led to President Lyndon Johnson signing the Voting Rights Act of 1965.
'The Inspection' (2022)
The history of Black America is an intersectional one, one intrinsically interwoven with the women's rights and gay rights movements in this country. The Inspection is a deeply moving adaptation of director Elegance Bratton's own story as a young, gay Black man (played by Jeremy Pope) who, facing homelessness and rejection from his religious mother (Gabrielle Union), decides to join the Marines and fight for his own future.
'Judas and the Black Messiah' (2021)
Also known as the movie that earned Daniel Kaluuya his first Oscar, Judas and the Black Messiah tells the story of Black Panther chairman Fred Hampton and how a man named William O'Neal infiltrated the Illinois chapter of the Black Panther Party to gather intelligence against him after making a deal with the FBI. The true story not only includes some seriously good acting from the entire cast (including LaKeith Stanfield, Dominique Fishback and Jesse Plemons, among others), but will no doubt teach you a thing or two!
'Maya Angelou: And Still I Rise' (2016)
This documentary tells the story of the mighty Maya Angelou, the world-renowned poet, writer, actor and activist. Angelou's life intersected some of the most significant moments in the recent history of not only African Americans but the US as a whole.
'Do The Right Thing' (1989)
Another classic Spike Lee feature, Do The Right Thing tells the story of racial tension in a Brooklyn neighborhood. It stems from a disagreement between Italia pizzeria owner Sal and local "Buggin' Out," when Buggin notices that there are no Black actors on the restaurant's Italians-only Wall of Fame. He feels that since the restaurant is in a Black neighborhood, there should be Black representation. Naturally, things escalate but the movie as a whole (and its core message) portrays a realistic view of African American life in New York City.
'Summer of Soul' (2021)
Step back into 1969 with Summer of Soul (...Or, When the Revolution Could Not Be Televised), the 2021 Oscar-winning documentary directed by Ahmir "Questlove" Thompson centered on the Harlem Cultural Festival, a summer concert series in New York City that featured a truly iconic musical lineup including Stevie Wonder, Nina Simone, Gladys Knight & the Pips, Sly and the Family Stone, Mavis Staples and more. With a mix of talking-head interviews and professional footage straight from the fest, this one will have you grooving in your seat.
'13th' (2016)
The Netflix documentary is a powerful and educational watch, dissecting the history of racial inequality in the US. It focuses on the fact that the nation's prisons are disproportionately filled with African-Americans and features several activists, academics, representatives from both major US political parties, and public figures including Angela Davis, Bryan Stevenson, Michelle Alexander, Jelani Cobb, Van Jones, Cory Booker and Henry Louis Gates Jr., among others.
'I Am Not Your Negro' (2016)
Based on James Baldwin's unfinished 1979 manuscript, Remember This House, the documentary explores the work of civil rights leaders Medgar Evers, Malcolm X, and Martin Luther King Jr., all told through Baldwin's own experiences and personal observations.
'Waiting to Exhale' (1995)
Waiting to Exhale is the ultimate feel-good movie, showcasing the beautiful friendship between four Black women as they each navigate through careers, family and romance. The legendary cast includes Whitney Houston, Angela Bassett, Lela Rochon and Loretta Devine—playing four of the Black cinema characters that shaped us—and you can expect them to tackle all the love-life drama, from "other woman" status to heartbreak and divorce, the excitement of new love and the power of friendship in all of it.
'Sylvie's Love' (2020)
Starring Tessa Thompson and Nnamdi Asomugha as leads (with a supporting role feature from Bridgerton's very own Regé-Jean Page), Sylvie's Love is a romantic drama about—you guessed it—a young woman named Sylvie (Thomspon), who has a summer romance with a saxophonist (Asomugha) who takes a job at her father's record store in Harlem. When they reconnect years later, they discover that their feelings for each other have not faded with the years.
'One Night in Miami...' (2020)
Set in Miami, Florida, on the night of February 25, 1964, Regina King's directorial debut One Night in Miami... sees Cassius Clay join fellow cultural icons Jim Brown, Sam Cooke and Malcolm X as they discuss the responsibility of being successful Black men during the civil rights movement in America.
'The Photograph' (2020)
We love anything starring Issa Rae (check out our love letter to Insecure and its portrayal of Black womanhood) and The Photograph not only features the boss babe but also is a beautiful representation of Black love. Mae Morton (Rae) and Michael Block (played by LaKeith Stanfield) fall for one another as Mae sets out to investigate a photo she found of her estranged mother while cleaning out her things.
Sagal is a journalist, specialising in lifestyle, pop culture, fashion and beauty. She has written for a number of publications including Vogue, Glamour, Stylist, Evening Standard, Bustle, You Magazine, Dazed and Wonderland to name a few.
With contributions from