Candle-making supplies to stock up on — indulge your crafty side
Making your own has never been easier (or more fun) with the best candle-making supplies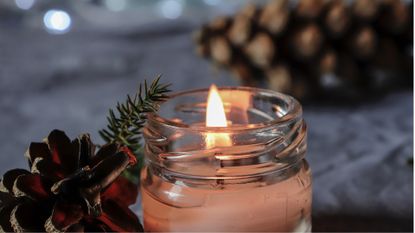 (Image credit: Getty)
Want to know where to shop the best candle-making supplies? We've got it covered.
Now that winter is here and we're all spending most of our time at home, our attention has quickly turned to making our spaces as warm and cozy as possible. Of course, a great way to do that is by lighting some of the best scented candles around.
Whether you're looking to set the mood during a relaxing bath or want a lovely ambience (and scent!) while making your way through everything coming to Netflix, there are many reasons why candles uplift our moods and make us feel more at ease. But instead of buying some, why not trying making your own?
Not only will DIY-ing your home decor save you money, but if you have any spare time on your hands, making candles can be one of most fun things to do and even a therapeutic activity to enjoy. To help you get started, we've found some of the best candle-making supplies to shop on Amazon.
It's time to get crafty!
Candle Making Kit by Legacy Naturals
It comes with step-by-step instructions
This useful kit is super easy to use. Not only does it come with soy wax, a jug, a thermometer, tin containers, candle wicks and craft supplies, but you also get selected scents and a fool-proof step-by-step instructions guide.
YAMYO Candle Making Kit
Simple tools to help you start with the basics
This simple kit makes the entire process a lot less complex and almost has a five-star average rating. It includes one candle pouring pot, fifty candle wicks and candle wick stickers, as well as two three-hole candle wick holders.
Zwanzer Candle Making Kit for Adults
Scents provided include lavender and sweet orange
This popular kit includes four dye blocks, one soy wax, a thermometer, a heat-proof container, four round candle tins with covers, candle wicks and wick stickers, a stirring stick, four bow-tie clips, warning labels and an instructions manual. You also get four different scents to use: lavender, sandalwood, sweet orange and sage.
Jul Whisper Candle Making Kit Supplies
Everything you need to make six large candles
This beginner's set gives you everything you need for six large candles. It comes with 100-percent natural soy wax, six candle tin with lids, an ounce of color dye, a 1.2 liter wax melting pot, a digital thermometer, cotton wicks, a stir spoon and fragrance scents. Each scent represents an emotion or atmosphere: White rose for love and inspiration; lemon and sage for energy, and lavender for calm and relaxation.
Scented Candle Making Kit by Lunar Oceans
Scents include lavender and pomegranate-hibiscus
Not only does this come in lovely white-and-gold packaging, but it also contains all the best tools you need to create a candle, whether you're pro or a newbie. This includes six gold tins, two delicious fragrance oils (lavender and pomegranate-hibiscus), six candle wicks and wick stickers, a melting jug, a thermometer, a whisk and an easy instructions manual.
INVICTASCENT Microwave Candle Making Kit
This set is perfect for beginners
This kit has an impressive five-star rating on Amazon, which only means one thing: it has to be great. It includes everything you need to make your candles, such as candle glasses, soy wax, candle wicks, wick stickers, a 500ml wax melting jug and a mixing stirrer. You'll also get two fragrance oils: lime-basil and mandarin.
Popolic Candle Making Kit
This DIY set has a five-star rating
The DIY kit is a huge hit on Amazon, having received top ratings. The set includes natural soy wax, candle wicks and wicks stickers, a three-hole candle holder and a stirring spoon. It comes with a pure fragrance—there's no unhealthy minerals added to their wax!
TOFU Scented Candle Making Kit
It comes with color blocks and cute little candle tins
Get your creative juices flowing with this fun candle making kit that comes complete with 100-percent beeswax, cotton wicks, a pouring pot, cute tea light tins, larger 4.4oz tins, color blocks and essential oils for fragrance. You also get a step-by-step manual to guide you through the whole process.
Sagal is a journalist, specialising in lifestyle, pop culture, fashion and beauty. She has written for a number of publications including Vogue, Glamour, Stylist, Evening Standard, Bustle, You Magazine, Dazed and Wonderland to name a few.