Who is in the cast of 'Ginny & Georgia' season 2?
Our titular duo is back, but who is joining them in the cast of 'Ginny & Georgia' this season?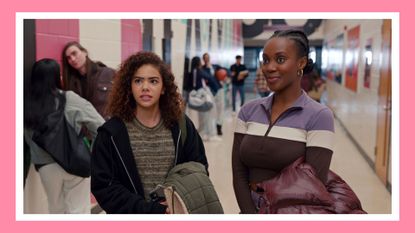 (Image credit: Netflix)
The wait for season two is officially over, which means it's time to get to know the cast of Ginny & Georgia!
The Netflix dramedy centers around single mom Georgia (Brianne Howey), her teenage daughter Ginny (Antonia Gentry) and young son Austin (Diesel La Torraca) who move to the idyllic New England town of Wellsbury for a fresh start that brings them drama, love triangles and Georgia's past coming back to haunt her.
The season one Ginny & Georgia ending left us with Georgia's fiancé and husband-to-be number three Paul (Scott Porter) being re-elected as mayor, while Ginny and Austin ride off into the dark on the motorcycle of their brooding neighbor and Ginny's love interest Marcus (Felix Mallard) after they learn about their mother's murderous and deceitful past.
This doesn't even begin to cover the stuff going on in Ginny's social life, which is pretty much in pieces after her friends learn that she cheated on her now ex-boyfriend Hunter (Mason Temple) with Marcus, who is also the twin brother of her best friend Maxine (Sara Waisglass). Max describes it as the worst betrayal since Jordyn and Kylie. (And that's saying something!)
So as we get ready to head back to Wellsbury for Ginny & Georgia season 2, we thought it high time to refresh your memory on all the members of the Ginny & Georgia cast. Let's get to know them!
*Warning: spoilers for Ginny & Georgia season 1 ahead*
Meet the cast of 'Ginny & Georgia' season 2:
1. Brianne Howey as Georgia Miller
Brianne Howey portrays the cunning Georgia Miller, who is living her dream life as "Mayoress" at the end of season one. The actress reportedly looked to other iconic fictional heroines such as Lorelai Gilmore and Cersei Lannister to find inspiration for the character. When discussing Georgia in season one, Howey told TV Line: "It's really fun to get to sort of straddle the lines between scary and charming."
Howey is a New York University graduate with a theatre degree from the Tisch School of the Arts. She got her first role in 2010 on the hit show 90210 and since then has been involved in series like Fox's The Exorcist, Hulu's Dollface and the CW's Batwoman.
2. Nikki Roumel as Teenage Georgia
Ginny & Georgia features a lot of flashbacks and a key player in the flashbacks is, of course, teenage Georgia, who is played by Nikki Roumel. Her past TV credits include an episode of Designated Survivor.
3. Antonia Gentry as Ginny Miller
Twenty-three-year-old Antonia Gentry plays Georgia's teenage daughter Ginny, who does not like to be called Virginia under any circumstances. No stranger to being the new kid in town after moving frequently for the better part of a decade, Ginny was not excited to move to Wellsbury where not only would she be the new girl but also one of only six Black kids in her whole school. But that's all before she meets Maxine and Marcus, her neighbors across the street.
When we see her in season two, the guilt of knowing that Georgia poisoned her late husband Kenny is eating Ginny up. Alongside her fractured relationship with her friends and love interest Marcus, Ginny is isolated and ends up relapsing to engage in self-harm before she confides in someone close to her.
Ginny & Georgia is Antonia's first leading role, but she has had the acting bug since she was a kid. She attended Davidson Fine Arts high school and Emory University in Georgia. It was while she was studying at Emory that she became a leader in the Rathskellar Comedy Improv troupe.
Her previous acting credits include the Ben Shelton teen movie Candy Jar and an episode of Netflix's Raising Dion.
4. Diesel La Torraca as Austin Miller
Ginny's younger brother Austin is played by Diesel La Torraca. Austin has a wild imagination and wants to live a carefree life without bullies but, alas, being the new kid is hard. After finding out that his mother never sent his dad any of his letters and that the responses he got were forged by Georgia, he decides to run away with his sister at the end of season one.
When he returns in season two, things are very different for Austin, as he starts to make friends and embarks on a relationship with a father he doesn't remember.
Diesel has had roles in Abe Forsythe's horror comedy film Little Monsters, NBC's La Brea and the Australian drama Lambs of God.
5. Sara Waisglass as Maxine "Max" Baker
Drama Queen Max Baker is played by Degrassi alumni Sara Waisglass. When we catch up with Max in season two, she is heartbroken from her break-up with ex Sophie (Humberly Gonzalez) and the betrayal of her twin brother Marcus and best friend Ginny's secret romance. Deciding the silent treatment is the best course of action, she isolates Ginny and Abby (Katie Douglas), who knew about the romance but kept it hidden.
Aside from playing the dramatic Max, Toronto-born Sara's most well-known role was Frankie Hollingsworth in Degrassi: The Next Generation and Degrassi: Next Class. The role earned her a nomination for a Young Entertainers Award in 2016.
Waisglass began her acting career at seven years old as Jordy Cooper in Shaftesbury's Overruled, where she spent three seasons. She then went on to act alongside John Malkovich and Romain Duris in Afterwards, as well as Robert Pattinson and Dane DeHaan in Life.
6. Felix Mallard as Marcus Baker
Ginny can't stay away from the elusive Marcus Baker, played by Felix Mallard. Whether it's the hair, his beauty or just that his elusiveness seems really cool when you're a teenager, the two high schoolers can't get enough of each other. Their relationship moves in waves—Marcus climbs through her window in the middle of the night but then ends up denying the importance of their relationship to everyone at the end of season one. By season two, their complicated relationship is still complicated but both of them have bigger inner demons to fight.
Australian-born Felix is best known for his roles in CBS' Happy Together, Netflix's Locke & Key and NBC's Zoey's Extraordinary Playlist, as well as Brett Haley's film All the Bright Places.
7. Scott Porter as Mayor Paul Randolph
Mayor Paul Randolph is played by TV regular Scott Porter. Mayor Paul is on the high of re-election and bagging a fiancé when we see him in season two. With the sincere effort to blend their families, Paul ends up learning a lot about Georgia that he never expected to.
Ginny & Georgia is not Scott's first small-town role. He has also played Southern lawyer George Tucker in the CW's Hart of Dixie and one of his best-known roles was as quarterback Jason Street in NBC's Friday Night Lights. He played the role of law firm investigator Blake Calamar in CBS' legal drama The Good Wife and currently voices The Flash in the DC Universe/HBO Max series Harley Quinn.
8. Raymond Ablack as Joe
Actor Raymond Ablack stars as local restaurateur Joe.
His history with Georgia is unlike the rest of Wellsbury residents as, upon recognizing a significant pair of aviators at the end of season one, Joe realizes that Georgia is the teenage girl that he shared a sandwich with 16 years ago. His teenage crush on Georgia didn't resolve itself with distance or time as, after seeing her again, he only ended up crushing harder. But in season two he decided to make an effort to date more.
Toronto-born Raymond's past acting credits also include Degrassi: The Next Generation, in which he played Sav Bhandari for five seasons and over 100 episodes. Since then, he's also starred in Orphan Black, Freeform's Shadowhunters, Narcos and Netflix's Maid.
9. Dan Beirne as Nick
Paul's campaign manager Nick is played by Dan Beirne. Not a huge fan of Georgia ever since he saw evidence of her embezzlement, his mistrust of her runs into season two. But Nick may be a key player this season as his new boyfriend Jesse is actually private investigator Gabriel Cordova, who is set on getting Georgia sent to prison for her crimes.
Dan has starred in episodes of FX's Mrs. America, You're the Worst, the second season of Fargo, and in Matthew Rankin's 2019 film The Twentieth Century.
10. Nathan Mitchell as Zion Miller
Georgia's first love and Ginny's dad Zion is played by Nathan Mitchell. Almost breaking up Paul and Georgia with his return last season, the photographer has decided to stick around Wellsbury in season two, but for Ginny—of course, it couldn't possibly be for Georgia, the only woman he's ever loved.
Nathan is best known for his role as Earving/Black Noir in Amazon Prime Video's The Boys, as well as for The CW's Arrow, iZombie and the WB/the CW's Supernatural.
11. Mason Temple as Hunter Chen
Fellow Canadian actor Mason Temple plays Hunter Chen, Ginny's AP English classmate and boyfriend—well until he finds out about Marcus and Ginny. Their breakup in season one was messy, to say the least, and how he and Ginny approach things will be interesting to watch come the sophomore season.
Temple studied theatre and acting in local productions in Vancouver. Without any major credits to his name, he decided to submit a self-audition tape to the Ginny & Georgia casting agent in Los Angeles and ended up bagging the role of Hunter.
12. Katie Douglas as Abby
One-fourth of "MANG" (a friendship acronym of Max, Abby, Norah and Ginny's names), Abby is suffering from being in the wrong place at the wrong time after it's discovered that she caught Ginny and Marcus in an embrace and didn't tell Max. Now also isolated by Max, season two sees Abby suffering from a lack of friends, her ongoing body image issues and her parents' divorce.
Abby actress Katie Douglas has been acting since she was a kid, starring in Canadian TV shows Spooksville, Mary Kills People and Raising Expectations, as well as Pretty Hard Cases.
13. Chelsea Clark as Norah
Another Degrassi alumni, Chelsea Clark plays another member of MANG, peacekeeper Norah, who is trying to keep the group together in season two.
Before Ginny & Georgia, Chelsea featured as Esme Song in Degrassi: Next Class. However, the actress took a keen interest in music at a young age and was heavy into musical theater, performing in Legally Blonde, A Christmas Carol and Aladdin, as well as local operas such as Carmen, Tosca and La Boheme.
14. Jennifer Robertson as Ellen Baker
Canadian actor-comedian Jennifer Robertson plays Ellen Baker in Ginny & Georgia. As Max and Marcus's mom and Georgia's now ex-confidante, Ellen just tries her best. When season two begins, Ellen and Georgia are both missing each other's company over a bottle of wine but it may be hard to mend their broken relationship.
Jennifer is best known for her role in the Emmy-winning sitcom Schitt's Creek, which earned her a Screen Actors Guild Award nomination for Best Ensemble in a Comedy Series. But if like us, you're an avid TV watcher, you may know her as Illeana in the Disney Channel fantasy film Twitches.
15. Alex Mallari Jr. as PI Gabriel Cordova/"Jesse"
Alex Mallari Jr. plays PI Gabriel Cordova, or Jesse if you're Nick. He's been hired by the ex-wife of Georgia's deceased second husband Kenny to investigate Georgia's suspected involvement in her late spouse's untimely death. If you thought he caused havoc for Georgia in season one, Gabriel is sticking around to make things worse in season two, as he dates Nick to provide an alibi for hanging around. Poor Nick!
Before Ginny & Georgia, Alex starred in the Netflix film The Adam Project and in Syfy's Dark Matter and Freeform's Shadowhunters.
16. Sabrina Grdevich as Cynthia Fuller
Losing out on the mayoral election is the last thing on Cynthia's mind this season, as her husband's worsening condition takes priority.
Actress Sabrina Grdevich has starred in Canadian shows Slings & Arrows, Intelligence and Kim's Convenience. She's also voiced Sailor Pluto in Sailor Moon.
17. Tameka Griffiths as Bracia
Tameka Griffiths plays Bracia, the character fans are just itching to see more of this season. In the wake of the MANG split, Ginny has more time to spend on her friendship with Bracia, who is set to lead the next school musical.
Griffiths has also featured in the DC Universe/HBO Max's Titans and Netflix's Grand Army.
18. Humberly Gonzalez as Sophie Sanchez
Sophie broke Max's heart at the end of season one and while Max is heartbroken, Sophie is thriving, as she goes on dates and posts some serious thirst traps in the second season.
Actress Humberly Gonzalez's other acting credits include Utopia Falls, the CW's In the Dark and the 2022 Netflix film Slumberland.
19. Rebecca Ablack as Padma
Rebecca Ablack plays Marcus' former friend-with-benefits before she gets a job working at Joe's restaurant and focuses on her music.
if you're wondering if Rebecca and the actor who plays Joe are related, then let us help clear up any confusion: Raymond Ablack is Rebecca's brother!
Rebecca Ablack has also appeared in the Netflix films Let It Snow and Luckiest Girl Alive.
20. Colton Gobbo as Jordan
Playing Norah's boyfriend, Colton Gobbo portrays Jordan in Ginny & Georgia.
He has appeared in episodes of BBC America's Orphan Black and DC Universe/HBO Max's Titans. He currently also stars in the Canadian sitcom Son of a Critch.
21. Tyssen Smith as Brodie
Tyssen Smith portrays Brodie, the guy whose basement everyone loves to hang out in and smoke weed.
Tyssen has appeared in USA's Dare Me and the Canadian horror anthology series Creeped Out.
22. Damian Romeo as Matt Press
Playing the show's hot jerk, Damian Romeo is Matt Press in the show. Friends of Jordan, Brodie and Hunter, Press for some reason always seems to save his insults for Abby.
Before playing Press, Damian was in Syfy's The Expanse.
Ginny & Georgia season 2 is now streaming on Netflix.
Liv is a freelance journalist currently studying English at university. She loves covering everything from entertainment and politics to lifestyle and travel. As well as writing for My Imperfect Life, Liv has bylines in The Times, HuffPost, Den of Geek, Bustle The Metro and The Bookseller.