9 Christmas makeup on TikTok videos to inspire your festive look
Christmas makeup on TikTok is incredibly creative, so if you're looking for ideas for the festive season, you've come to the right place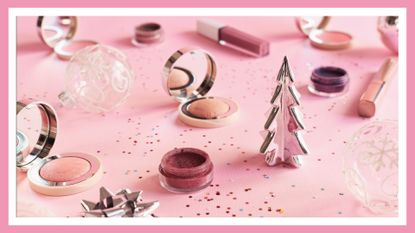 (Image credit: Future/Getty Images)
It's (almost) the most wonderful time of the year (according to the song, anyway), so it's no great surprise videos of Christmas makeup on TikTok have started popping up on our FYP again.
It's no secret that a lot of us see Christmas as a chance to go big on our make-up looks and crack out the glitter—many of us will be unpacking a load of goodies from the best beauty advent calendars after all! But the TikTok Christmas makeup trend we saw in 2021—and predict will happen again in 2022—is a whole other level of creativity. As is the standard for TikTok, these popular Christmas looks are seriously creative, and take inspiration from some of the world's favorite holiday movies and festive fairy tales.
Keep scrolling for some of our favorite looks, from the wonderful to the wacky, to inspire your holiday look. Just ensure you've first created a base for many of these creations with one of the best foundations—or it likely won't look as good as the videos!
Christmas makeup on TikTok—the most-viewed looks
1. The reindeer
For the really brave ones out there, transforming into an adorable reindeer could be the perfect plan for Christmas day! Or, if you're heading to a Christmas party, this would be a makeup look that the entire room would be talking about.
2. The Grinch
Next up, we have everyone's favorite grump, The Grinch who, somewhat paradoxically, is still a symbol of the holidays. This TikToker brilliantly recreated the look of Jim Carrey's Grinch—furry green hands and all. Reckon you could recreate it?
3. Christmas lights
What's more festive than Christmas lights? Christmas lights all over your face, we guess! This Christmas makeup on TikTok is a little bit less intense, but still super unique—and we'd guess that it's a lot easier to try out than full character makeup.
4. Candy cane
Next up, how cool is this candy cane inspired look? Nothing is more festive than a red and white color scheme, and once again, this look is a bit less intense than the first two Christmas makeup on TikTok videos, whilst still being really unique and interesting. If you want, you could even just take inspiration from this video and create a candy-cane eyeshadow look instead.
5. Scary Nutcracker
This Christmas makeup on TikTok look is inspired by one of the most popular holiday fairytales/ballets, The Nutcracker—and we won't lie, the talent is real, but we find this one a little scary! Would you attempt it?
6. Christmas tree brows
Another slightly more low-key (but still different!) makeup look, this TikToker has given herself Christmas tree brows for the holiday, by separating her real brows in half by brushing them up and down, and fluffing them up with some expert techniques and some green eyeshadow. Your loved ones would certainly be surprised if you arrived like this!
7. 'I'm Cold' makeup
This option is much more of a traditional Christmas makeup look, and picks up on a TikTok trend inspired by the chilly, flushed look many of us get when out and about in cold-temperatures. We're very much getting 'clean girl aesthetic' vibes.
Nicknamed the (fitting) 'I'm Cold' makeup look by this creator, it essentially involves a lot of blush, some highlighter, and some shimmery silver eyeshadow. We're absolutely giving this one a try!
8. Festive glittery glamour
This TikTok is all you'll need if you're after an uber-glamorous look for your Christmas parties. This creator fully leans into the glamour of Christmas for this look, with thick, dark brows, super glittery eyes, a deep red/pink lip, and statement flicked liquid eyeliner. We LOVE. Just make sure you've got your best eyeshadow palette on hand for this one.
9. Subtle gift-wrap eyeliner
Finally, this is a super cute and subtle look for those who are nervous about full glam, but want something fun. It's not easy, but this TikToker has created an adorable gift-wrap ribbon in place of eyeshadow—and with a steady enough hand, it could easily be replicated (with a bit of practice, of course...)
---
So, whether you're planning on attempting something similar for Christmas day, or you draw the line at a little glitter eyeshadow, either way, we're all feeling way more festive after watching these.
Lucy is a beauty journalist who has written for titles including Marie Claire, Cosmopolitan, OK!, woman&home and Women's Health, as well as regularly contributing to My Imperfect Life. Her work covers everything from skin and haircare tips to trying and testing the latest beauty launches, and interviewing celebrities and experts. A certified dog person, her other interests include mental wellbeing, books, piña coladas and not getting caught in the rain.