The best liquid eyeliners for fierce flicks, bold wings and sultry cat-eyes
The best liquid eyeliners for creating flicks, wings, cat-eyes and everything in between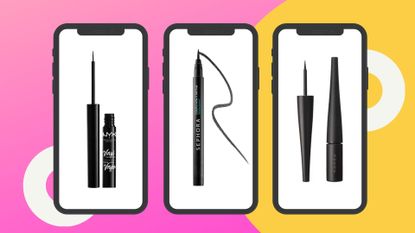 (Image credit: Future)
The best liquid eyeliners should provide a good amount of pigment, a consistent flow of formula and have a sturdy enough tip to allow for precision in application. And while there's a smorgasbord of choices out there that can leave you at a loss as to what to showcase on your peepers, choosing what's right for you starts with deciding what type of liner to go before looking at all the added extras that come with the different options on the market.
Some of the best eyeliners come with pencil or gel formulas, but if you're looking for a clean bold line of color, then liquid is the way to go.
We love Sephora's Colorful Wink-It Felt Liner for an overall go-to that will let you create different colorful eyeliner looks while fulfilling everything else you might be looking for. When it comes to a budget option, look no further than cult brand NYX for a stellar contender that will give you a pigmented formula with easy application. And of course, make-up icon Bobbi Brown will always be up there among our favorites with its staple liner pen that ticks all the boxes.
How we tested the best liquid eyeliners
When testing the best liquid eyeliners, our tester used each product for several days in a row and assessed the following:
How easy it was to apply
How precise the nib was
How saturated the nib was
What the flow of formula was like
How strong the pigment was
How quickly the formula dried
Whether it faded, flaked, smudged or transferred on first application and throughout wear
The best liquid eyeliners as reviewed by our in-house beauty expert
1. Sephora Colorful Wink-It Felt Liner (US only)
The best liquid eyeliner overall
Specifications
RRP: $14 (US only)
Colors available: Black, Brown, Blue, Green
Waterproof?: Yes
Mini version available?: No
Reasons to buy
+
Versatile, comfortable and easy-to-use felt nib
+
Balanced product flow and nib saturation
+
Strong pigment that is buildable for an even bolder look
+
Dries quickly without flaking
+
No fading or smudging, even after a long day
Reasons to avoid
-
It's not available globally
If there's one brand that is internationally renowned for delivering quality make-up for everything from the glam vibe to the clean girl aesthetic, it has to be Sephora. For any UK dwellers who are as obsessed with beauty as we are, the Sephora pit-stop is arguably the most important slot in their holiday itineraries, while for those to whom the monochrome shopfront has become part of the mundane, the idea of "moving to a place that doesn't have a Sephora for literally 2,700 miles" rightly leaves them as horrified as it does Alexis Rose.
So of course it had to take the top spot with its Wink-It Felt Liner that ticks every single box when it comes to a stellar liquid eyeliner. First up is the soft, versatile and easy to use felt nib that not only sports a sharp precise point for sleek flicks and experimental eyeliner hacks, but also comes with a thicker base to fill in bolder wings. And then comes the robust formula that combines a strong pigment with a balanced texture that neither drips nor flakes.
The nib comes with a satisfying level of saturation and a steady flow throughout use—no sign of drying out even after two years (sinful, we know!) of regular use without the need for any TikTok setting spray hacks. And when it comes to staying power, look no further for a resilient fighter that will shun even the idea of fading or smudging. Unfortunately for anyone who lives in a country without a Sephora, it could be a challenge to get hold of—but we'd say it's enough of a reason to book a vacation...
2. Bobbi Brown Ink Liner
The best liquid eyeliner for most people
Specifications
RRP: $35/£25
Colors available: Black
Waterproof?: No
Mini version available?: No
Reasons to buy
+
Sharp, precise nib
+
Deep black pigment
+
Buildable
+
Resilient stay
Reasons to avoid
-
Formula is slightly thin
For anyone not lucky enough to live in a Sephora-graced territory, the Bobbi Brown Ink Liner is a close runner-up to our top pick—plus, they make one of our best eyeliners for beginners. While the nib is slightly thicker than our champion liner, it does have a slightly sturdier tip, making for fiercely sharp flicks. However the felt nib is a bit tougher, meaning that filling in bolder wings can take a little longer.
A lovely deep black colour holds up the strong formula, which makes it to the end of the day without smudging, fading or transferring, even on oilier eyelids. And while we could do with a slightly thicker fluid to make an impact when wearing over eyeshadow, it does build easily to give you that more impactful look.
3. Suqqu Colour Ink Liquid Eyeliner
The best premium liquid eyeliner
Specifications
RRP: $26/£25
Colors available: Black, brown, red, navy blue
Waterproof?: Yes
Mini version available?: No
Reasons to buy
+
Silky but pigmented formula
+
Applies smoothly
+
Strong staying power
With a nib that borders between the traditional and the more convenient felt tip liner, this luxury offering gives you the best of both worlds with a wet but pigmented formula that's disturbingly easy to glide onto the lash line and leaves a confident stroke in its wake.
It's surprisingly resilient, leaving no room for flaking, cracking or smudging, which makes it ideal for creating a bold look, whether you go for a simple wing or put it over the best eyeshadow palettes. We'd advise that beginners stay away from this one, though, as the formula is so sturdy you'll have to crack out the bi-phase remover to correct any mistakes.
NYX Professional Makeup Vinyl Liquid Liner
The best drugstore liquid eyeliner
Specifications
RRP: $12.50/£7
Colors available: Black
Waterproof?: Yes
Mini version available?: No
Reasons to buy
+
Fine brush allows for more control over look
+
Wet and pigmented formula
+
Lasts well throughout the day most of the time
Reasons to avoid
-
The fluid formula doesn't always allow for a sharp finish
-
Can flake off—especially if you're prone to oily lids
A classic brush meets a satisfyingly wet formula with this one that glides on smoothly and leaves an attention-grabbing high-gloss shine in its wake. Its flexible and ultra-fine nib means that you can get right into the lash line for an intensely dramatic look (complete with the TikTok blush hack to contour your face) and gives the scope to create different looks with precision.
The liquidity of the formula does mean that you may not always get a super sharp finish, as it can edge towards a slightly brushed/bleeded effect, but it does make for a striking pigmented finish.
Eyeko Black Magic Liquid Eyeliner
The best liquid eyeliner pen for versatility
Specifications
RRP: $22/£16
Colors available: Black, brown
Waterproof?: No
Mini version available?: Yes
Reasons to buy
+
Sharp but flexible nib
+
Good saturation
+
Dries quickly
+
Stays put for hours
With a flexible nib that has a super sharp tip but malleable base, this offering allows you to create any sort of wing—from a fine cat-eye line to a sharp flick to a bold wing. It also boasts a good amount of saturation meaning, while you do need to have a steady hand to apply, you can create your look quickly and complete it with the most popular Mac lipstick shades for an easy and simple look.
The formula is slightly thin but it dries within seconds without any sign of bleeding, smudging or transferring, so you can build up the colour quickly and easily. Just be sure to get your look right in the first place as there's no wiping off and correcting with this steadfast formula!
Kevyn Aucoin The Precision Liquid Liner
The best waterproof liquid eyeliner
Specifications
RRP: $34/£27
Colors available: Black
Waterproof?: Yes
Mini version available?: No
Reasons to buy
+
Precise nib
+
Saturated brush with pigmented formula
+
Good hold that doesn't fade
Reasons to avoid
-
Unglamorous packaging
-
Fine nib means thicker wings can take longer to create
While the packaging may trigger flashbacks of a 90s living room decor colour scheme, don't be put off, as this was such a worthy contender it managed to edge its way into our holy grail stash as one of the best liquid eyeliners. With a painfully precise but soft and comfortable nib that is forever saturated in the bold formula, you can create everything from simple outlines to sharp flicks without having to take the time to build up the formula. That gives you lots more time to experiments with other make-up techniques, from discovering eyeshadows for dark skin to identifying your new staple lipstick.
If you're aiming to go for chunkier wings, it might take a little longer than some others to fill in, but the confident nib does allow for the utmost control so that even beginners can try their hand at a number of looks. And the crowd-pleasing fluid goes the distance, with no fading, flaking or bleeding sight.
KVD Vegan Beauty Tattoo Liner
The best liquid eyeliner pen for precision
Specifications
RRP: $13/£18
Colors available: Black, brown
Waterproof?: Yes
Mini version available?: Yes
Reasons to buy
+
Short and sharp nib for precise looks
+
Good control over application
+
Well saturated
+
Stays well without transferring or smudging
Reasons to avoid
-
Thin formula
-
Not great for thick wings
There are many great pens out there that we love—some in this round-up too—but if it's just a simple and well-performing liquid liner pen you want, this is a great contender. While it ticks all the necessary boxes of a well-saturated nib and a long-lasting formula, what stands out about this liquid liner pen is the short and sharp nib.
Like something you would write in your journal with (though there's no need for any guided journaling ideas here), the sturdy nib allows for the utmost control over your look, making this a brilliant for simple lines and short, pointed flicks. It's not one for if you're after thick wings unless you want to spend a good old while filling those babies in, and while the formula is on the thinner side, layer another dab or two over the top and you'll be left with a striking, pigmented look.
Illamasqua Precision Gel Liner
The best liquid eyeliner for beginners
Specifications
RRP: $28/£21
Colors available: Black, brown, purple
Waterproof?: Yes
Mini version available?: Yes
Reasons to buy
+
Stays put and doesn't transfer - even with oilier skin types
+
Multi-tasking formula that can create liquid or pencil looks
+
Greater control over amount of product you use
+
Easy to draw on liner with brush
+
Corrects seamlessly if you make mistakes
Reasons to avoid
-
Can fade slightly after long day
-
Tricky to create sharp flicks
-
Brush has to be purchased separately
For those who haven't explored it before, dabbling in liquid eyeliner can leave you looking more Pirates of the Caribbean than The Little Mermaid. Some of the best eyeliners for beginners come in the form of a gel pot liner, which will give you the chance to perfect your technique without poking at your eyes worse than Jenna Rink. The softer, stretchy formula is more forgiving than a traditional or felt version, allowing you to easily wipe and correct without giving yourself panda eyes, and the use of an eyeliner brush gives you more control over how much product you use and how you draw on your look.
We also love how the texture of the gel allows you to create both a sleek liquid liner look and a softer pencil eyeliner effect. However, if it's sharp flicks you're looking for, that could be more tricky to create with this type of product, so maybe an idea to start out with this and then build up to a felt or traditional liner.
Marc Jacobs Highliner Liquid-Gel Eyeliner
The best colored liquid eyeliner
Specifications
RRP: $21.96/£24
Colors available: Black, dark brown, blue, dark purple, deep raspberry, vivid pink, metallic dark grey, icy silver, bronzed copper, rose gold, metallic
Waterproof?: Yes
Mini version available?: No
Reasons to buy
+
Long nib which allows to get further into eye without catching lashes
+
Good control
+
Lasts all day without smudging—even when wiped
Reasons to avoid
-
Quite thin formula so not super bold, especially on darker skin tones
There are colored liners, and then there are COLORED liners—and this one is definitely worth the caps, perfect for your greatest colorful eyeliner dreams. Not only does its shade choice give the United Colours of Benetton a run for its money, but it gives you a quality product at the same time. We love the unusually long nib that is great for those who are lucky enough to boast long lashes that can sometimes get in the way of liner application. It gets right into the corners without leaving any mess on the lids and creates a smooth, sleek line.
Despite sporting a longer nib, it doesn't compromise on the amount of control you have over application and has a balanced formula that is wet enough to create bold wings, but refined enough for the neater flicks of any white eyeliner looks you want to try. Our only grumble is that the formula is slightly on the thin side, making it challenging to create an impact—especially on darker skin tones—but it is buildable if you want a bolder look.
How to choose the best liquid eyeliner for you
It's fair to say that liquid eyeliner can come in many different forms, and whether it's a traditional brush nib, a convenient felt pen tip or a modern gel pot you opt for, it's important to choose the best one for your needs, just like you need to figure out how to choose moisturizer for your skin type or the perfect foundation shade.
If it's a bold and resilient outline you're looking for or you're feeling thick, long wings in the style of Amy Winehouse, then the traditional brush nib is your best bet, as they tend to boast quite a wet formula with a thicker tip that makes filling in more comfortable. But for sharp, precise winged eyeliner hacks, a liquid eyeliner pen is really the only way to go, as they generally come with a fine, pointed tip for a more meticulous look. When it comes to gel pot liners, not only are they brilliant for beginners as they generally come with a more forgiving formula, they also make for a softer, smokey look.
It also helps to take the quality of the formula into consideration, with celebrity make-up artist and Suqqu spokesperson Morag Ross advising, "With liquid eyeliner, you really want to look out for staying power, making sure there is no flaking throughout the day, and ensuring that you have control over whatever product you are using.
How to apply liquid eyeliner
"My top tip for liquid eyeliner application is to start in the middle of the eye and work out to the flick, and then go back into the inner corner to connect it together. I find that I get a stronger, more fluid line this way." explains Morag. "It's also good to have damp Q-tips to hand to tidy up the eyeliner. Even make-up artists often won't do a perfectly straight line on first attempt, so this winged eyeliner hack means we always have these within reach!
"Put a tiny dot of concealer under the outer corner of the eye," she adds. "This not only helps to clean up the flick and ensure it looks perfect, but also helps to brighten the eyes."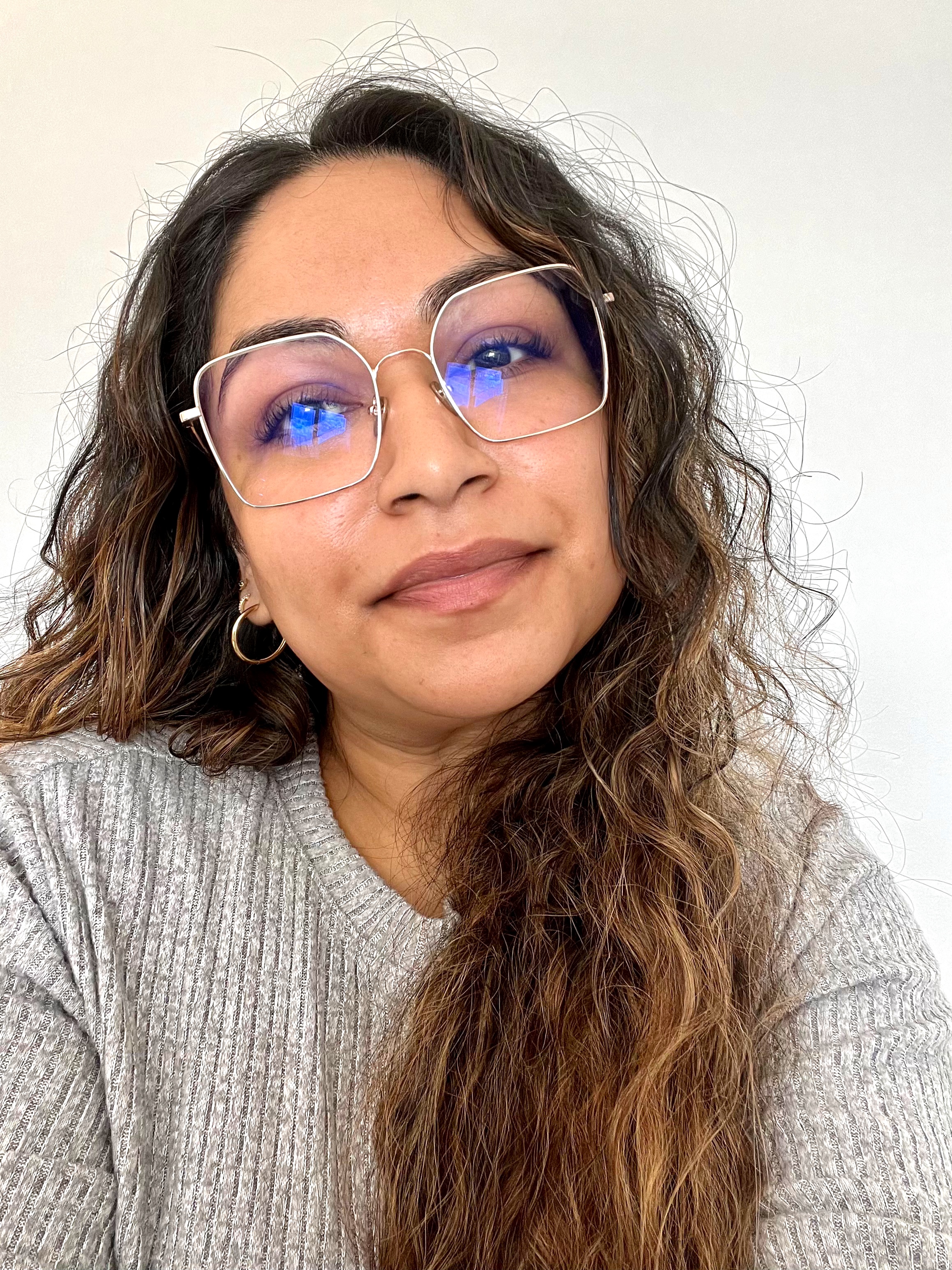 Deputy Editor at My Imperfect Life
Aleesha is Deputy Editor and Beauty & Fashion Editor for My Imperfect Life, where she heads up the beauty, fashion and eCommerce pages. Previously she was Shopping Writer at woman&home and gained an AOP awards nomination after working on their news team. She earned an MA in Magazine Journalism from City, University of London in 2017 and has since worked with a number of brands including, Women's Health, Stylist and Goodto. When she's not testing all the new beauty & lifestyle products on the market, Aleesha spends her time soaking up the newest bestsellers and Netflix releases, watching everything Marvel, learning about different wines, attempting new languages and traveling as much as she can.