The best coffee table books—whether you love travel, design or Frida Kahlo
These coffee table books will add a touch of sophistication to your living space, and transport you to an exciting new world...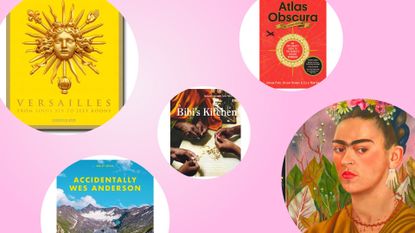 (Image credit: Amazon)
Frankly, there's nothing sadder than a bare coffee table—or worse, one littered with old magazines, soon-empty tubes of hand lotion, and mismatched coasters. No matter what is currently taking up precious real estate on your living room's most convenient tabletop, now's the time for it to be cleared up and kitted out with a stack of awe-inspiring coffee table books. (Plus, when you don't have enough floor space for traditional bookcases, coffee table books are one of the chicest small room ideas around.)
Coffee table books—good coffee table books, that is—serve as the ultimate manifestation of style-meets-substance literature: hefty, attractive hardcovers that pack eye-grabbing photography with insightful nuggets of information from respected sources. A brilliant coffee table is one that's timeless, ready to be perused by new houseguests, or for you to flip through once more, at a whim.
Asking yourself, 'what should I read next?' Amidst the vast array of coffee table books out there, we've narrowed down a handpicked selection that will wow you in ways your next paperback page-turner or hundredth self-care book cannot. Not only do they look good on your table, but they'll also provide a fascinating pore-over, too. For aesthetes, foodies, travel junkies, and everyone in between, here are some of the best coffee table books to get your hands on.
10 coffee table books we absolutely love:
1. Kiss & Fly: A Travel Story
Next-gen publisher Studio 96 takes the pandemic-born term "armchair travel" to new heights with Kiss & Fly, the world's first augmented reality coffee table book.
With a title that pays homage to the emotional act of dropping loved ones off at the airport, this experiential book brims with immersive photography of nine fabulous global destinations, from Greece to India, captured by French sisters Lauren and Annael Tolila. Watch select images come alive on your phone through the S96 app as videos, Spotify playlists, Instagram filters, and more.
2. The Japanese Art of the Cocktail
Masahiro Urushido, the acclaimed mixologist and founder of award-winning NYC cocktail bar Katana Kitten, demystifies Japan's famed cocktail culture through the context of his own journey as an ABV alchemist, as well as his country's infatuation with spirits. The Japanese Art of the Cocktail introduces more than 80 recipes, ranging from surprisingly simple riffs on the classics to innovative concoctions, plus an informative ingredients guide to keep you grounded. The book that will make you reconsider that basic vodka soda next time you sidle up to the bar.
The late Slim Aarons was one of the most influential photographers of the 20th century, his prolific career defined by iconic images of high society, reveling in the world's most glamorous playgrounds. Published 15 years after his death, Slim Aarons: Style features an assemblage of outtakes from his catalog, as he reported on "attractive people doing attractive things in attractive places." Expect fascinating images from Monaco, New York City, Palm Beach, and beyond.
4. In Bibi's Kitchen: The Recipes and Stories of Grandmothers from the Eight African Countries that Touch the Indian Ocean
In Bibi's Kitchen is chockful of recipes and captivating stories told by bibis (grandmas—a.k.a. the greatest cooks on earth). There are stories and recipes from the eight African countries that "touch" the Indian Ocean: Somalia, Kenya, Tanzania, Mozambique, South Africa, Eritrea, Madagascar, and Comoros.
From sizzling spice mixes to sumptuous stews, the hearty dishes within will unlock the flavors of East Africa—brought to life by beautiful photography that inspires wanderlust (and hunger!).
5. Frida Kahlo. The Complete Paintings
A souped-up, large-format volume—we're talking a whopping 624 pages—dedicated to one of Latin America's enduring and enigmatic artists, Frida Kahlo. The Complete Paintings is just that: a retrospective of all 152 of Kahlo's paintings, as well as diary excerpts, personal letters, and hundreds of photographs from artists like Edward Weston, Manuel and Lola Álvarez Bravo, Nickolas Muray, and Martin Munkácsi. It's a dedicated, wondrous exhibition of one of the world's most legendary artists, available right in the comfort of your own home.
6. The Ideal City: Exploring Urban Futures
Ever wonder what the metropolis of the future could look like? IKEA's research and design firm SPACE10 answers that question, with help from the world's best-known multidisciplinary experts—from entrepreneurs to city planners to community leaders. Rather than dreaming up far-reaching urban idylls, The Ideal City presents a series of innovative projects currently in the works, across 53 different cities in 30 countries, tackling issues like public transportation and energy production.
7. Versailles: From Louis XIV To Jeff Koons
A frivolous purchase it may seem (nearly a grand for a coffee table book—huh?!), but the lofty price tag befits the regal subject matter, if you can afford to splash out for it.
This Fabergé egg of a book—bound in a handcrafted luxury silk clamshell case with metal plaque—starts off with a fascinating intro from Catherine Pégard, president of the estate of Versailles. It then unfolds into a stunning 200-page book full of archival imagery and words, covering the many milestones of the storied palace and its opulent grounds. Fret not—white gloves are included (yes, really) for turning these precious pages. In fact, this might not be one you want to have out while the guests are around!
8. Atlas Obscura, 2nd Edition: An Explorer's Guide to the World's Hidden Wonders
We dare you to find someone who's able to resist flipping through Atlas Obscura's offbeat catalog of the world's strange and wonderful places—from natural wonders like glow worm caves in New Zealand to ancient architectural achievements like India's step-wells.
A must for travel fans, this second edition is bigger and better than the uber-popular original, with more than 100 new spots added in. Plus, there are also five city guides on five continents, and a foldout map for building the ultimate global road trip.
9. Accidentally Wes Anderson
What began as photographer Wally Koval's personal Instagram travelogue—which bore striking similarities to Wes Anderson's quirky multiverse—has evolved into a community of more than a million adventurous followers.
Authorized by the filmmaker himself, Accidentally Wes Anderson tells the tale of 200 aesthetically intriguing destinations around the world seen through Koval's lens. A fascinating read, and of the best coffee table books out there for art and film lovers.
10. Axel Vervoordt: Portraits of Interiors
Legendary interior designer Axel Vervoordt, a celebrity favorite, invites readers in to visit eighteen lavish homes that embody his minimalist, Wabi Sabi-inspired approach.
Among them, you'll tour a Tokyo high-rise apartment, a retreat in Ibiza, and Vervoordt's own residences in Belgium and Venice. A must-have for any aesthete, this monograph coffee table book is a visual masterclass on how to create an oasis of serenity in any environment.
Paul Jebara is a New York City-based freelance writer and photographer. He covers travel, architecture, design, and style for a number of publications including Condé Nast Traveler, Architectural Digest, Men's Journal, and more. When he's not chasing the sun year-round, he loves to binge true crime documentaries, hit up the farmers' market, study the cosmos, and (try to) learn new languages
With contributions from