Colorful eyeliner inspiration: the best looks and how to recreate them
Want to try the trendy colorful eyeliner look? Here's how to nail it...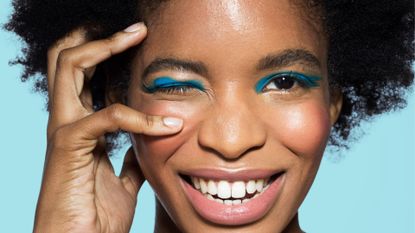 (Image credit: Getty Images)
Colorful eyeliner has been a major trend in the beauty world for a while now and it doesn't look like it's going anywhere anytime soon.
Adding one of the best eyeliners to your makeup arsenal is an easy way to update your makeup look. If you're a fan of bold colors, the vibrant look was reignited when hit the HBO series Euphoria, starring Zendaya and newcomers Hunter Schafer and Alexa Demie, dropped last year and the world fell in love with the eccentric make-up looks their characters experimented with.
From extravagant glitter to colorful eyeliners, the trend took over on social media and fashion runways in summer 2019 and has been staying strong ever since. Why? Well, for starters adding a pop of color instead of your usual black liner is a super-easy way to create a bold, dramatic look. Pick the right color for you and you can leave the rest of your make-up natural while still sporting a creative vibe.
And now, colorful eyeliner is the hottest beauty trend once again, with everyone from A-listers like Ariana Grande to TikTokers rocking it. Many have even shared tutorials on not only how to get the look but how to make your own DIY colorful eyeliners with existing items in your make-up bag such as eyeshadows, setting sprays, and oils.
However, if you want to experiment with some pre-made colorful eyeliners see below for some of our favorite ones to shop for, alongside some inspiration for creating the look.
Colorful eyeliner inspiration: how to recreate the best looks
Blue eyeliner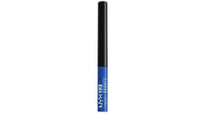 NYX vivid sapphire eyeliner $7
This budget-friendly eyeliner by NYX is a popular one and not only because of its price tag. Available in an array of colors including this bright blue, the eyeliner has been praised by customers for being easy to apply and very pigmented.
Try a simple cateye for an easy update or if you're feeling brave, try a graphic design across your eyelids.
Green eyeliner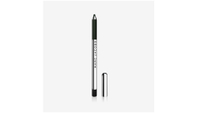 Marc Jacobs Highliner Gel Crayon, $13 (was £26)
Marc Jacobs' gel crayon highliners are long-lasting, waterproof, and super easy to apply. This forest green shade is perfect for winter but they do also have lighter shades of green if you prefer more of a pop of color.
A simple swoosh across the top lid is all you need with this pigment-packed liner.
Purple eyeliner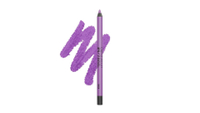 Urban Decay Wired 24/7 Eye Pencil, $22 (£11.20)
A bright pastel purple is one of the most popular shades for colorful eyeliner and Urban Decay's Wired 24/7 Eye Pencil really does the job according to customer reviews.
If you're not sure, the brand lets you try it on virtually via a clever camera feature that makes the shade show up on your skin for a swatch test.
Pink eyeliner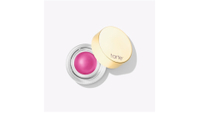 Tarte Clay Pot Waterproof Shadow Liner $21 (£9)
Tarte's entire clay pot waterproof shadow liner collection is dreamy, so much so that you'll be tempted to purchase every shade. However, this hot pink is a standout. The liner comes in a creamy gel consistency and is incredibly pigmented as well being waterproof and long-lasting.
Sagal is a journalist, specialising in lifestyle, pop culture, fashion and beauty. She has written for a number of publications including Vogue, Glamour, Stylist, Evening Standard, Bustle, You Magazine, Dazed and Wonderland to name a few.