These eyeliner hacks will have you applying it like a pro
We'll be following these eyeliner hacks because getting tight flicks is all we're interested in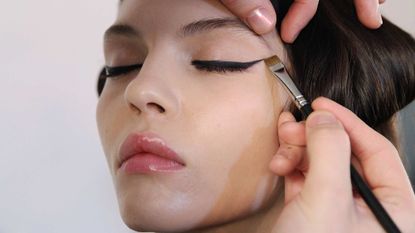 (Image credit: Getty Images / Mireya Acierto / Stringer)
Getting the perfect winged eyeliner look can be tricky, but once you open your eyes to these genius eyeliner hacks, flicks with varying angles and wonky lines will easily be a thing of the past.
Granted, whilst it may feel like there is some miracle magic formula that you need to create in order to get the ultimate flick, there really isn't. Firstly, arm yourself with one of the best eyeliners, (or best eyeliners for beginners, if you truly haven't a clue) and then, make sure you bookmark this page, for the eyeliner hacks that'll help even the wobbliest drawers perfect their technique.
The best tools for eyeliner
When it comes to tools, there are many different eyeliner options from gel in a pot to liquid eyeliner—and who could forget the iconic kohl liner—each with its pros and cons depending on what you're trying to achieve. Oh, and the one piece of equipment you'll need is a bobby pin. Yes, you heard correctly. Using a bobby pin can cut down the time it takes you to apply your eyeliner and make it a breeze.
We know what you're thinking, "We just want them to match" and we hear you. And, there's the whole eye shape thing to contend with. An upward flick might look great on your mate but that doesn't mean it will work on your eyes.
But don't give up just yet. We've found 11 hacks that could help you achieve the glamorous flick that suits you. And, a key thing to remember is that they're sisters, not twins.
Thank us later.
Get the perfect flick with these 12 eyeliner hacks
1. Apply eyeliner using a bobby-pin
As demonstrated by many beauty influencers, using a bobby pin to seamlessly nail your flick really works. Genius? We think so too.
2. Start applying eyeliner on the side you're most uncomfortable with
You've lined one eye and it looks so good you deserve an award. Well done you. Then you try and do the second one. Always a bit of a fail, right?
We tend to always start with the eye we're most confident with but throw caution to the wind and try starting with the eye that's toughest to perfect. It will be easier to match the other one. But if there's one thing we've picked up along the way, it's to remember unless you're Pat McGrath getting them exactly the same will be a challenge. They're sisters, not twins.
3. Try the dot-to-dot eyeliner method
If you find it difficult to draw one fluid line try creating a sequence of dots along the upper lash-line using a liquid liner nib. Then simply join them up.
4. Go big with an eyeliner magnifying mirror
It might sound obvious, but you really need to be able to see what you're doing. Magnifying mirrors can be terrifying but when trying to nail a J-Law flick it's a must.
5. Use a piece of paper
Create a winged eye using the straight edge of a thick piece of paper or thin piece of card, angled and pressed to the side of your eye—this helps keep your hand steady. Use it as a ruler when drawing on the liner.
6. Consider your foundation base—it's all about primer
Think about the surface of your applying the eyeliner onto. Oily lids will make applying liner so much more difficult so be sure to add a spot of primer to them first. This ensures that you have a smooth surface to work with.
7. Tackle the wings first
Some make up fanatics advocate for tackling the wing first. In theory, this makes it easier to then day the rest of the liner from that.
8. Accept that mistakes are part of the process
Don't be afraid of making mistakes along the way and remember, concealer is your friend. Highlight a sharp wing or erase mistakes by using a flat brush or a Q-tip loaded with concealer.
---
---
9. Use the correct eyeliner tools
We would recommend using a mixture of pencil and liquid liner for this, and soft kohl is ideal for tracing out your shape. Once you're happy with the shape, you can go over it with a slick liquid liner.
10. Don't be afraid to experiment with color!
Fancy trying a shade other than traditional black? Brown eyes look great with a navy liner, green peepers should try purple and hazel babes will look fab with gold. If you have blue eyes try a deep mossy green shade.
11. Don't be afraid to use an eraser
Made a mistake whilst touching up your flicks on a night out? Try a little clear lip-gloss as an emergency smudge remover.
12. Remember you can fill in the gaps
If your liquid liner looks a bit wobbly or bitty, fill in the gaps and smooth using black eyeshadow.
So there you have it, some tips and tricks for nailing your eyeliner looks.
Sagal is a journalist, specialising in lifestyle, pop culture, fashion and beauty. She has written for a number of publications including Vogue, Glamour, Stylist, Evening Standard, Bustle, You Magazine, Dazed and Wonderland to name a few.