'Bridgerton' lead beauty artist gives a peek at what it takes to create the world's elaborate looks
As 'Queen Charlotte' hits the screens, we get the 411 on how to create the 'Bridgerton' world's iconic beauty looks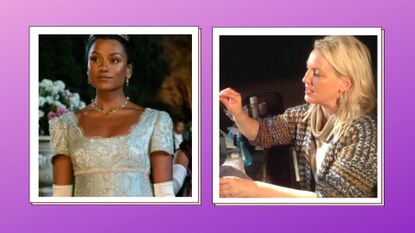 (Image credit: Future)
Since the first season aired back in 2020, the world has been obsessed with the captivating Bridgerton beauty looks. From the striking citrus palette of the Featherington family and their tight red ringlets to Daphne's makeup with her subtle blush and plump flushed lips and, of course, Kate Sharma's luminous skin, razor-sharp bone structure, and no-nonsense hairdo, there is so much to love about how the show helps to create a character through beauty methods.
These signature looks that we all love, and try so hard to recreate, are thanks to the incredible glam squad that brings us the covetable looks of each beautiful character. So, as the long-awaited Queen Charlotte: A Bridgerton Story hits our screens, we chatted to Bridgerton season two's lead makeup and hair designer, Erika Ökvist, about what it takes to create a character's look in the elaborate world of Bridgerton and how the team brings together regency expectations and fuses them with modern-day glitz and glam to keep viewers just as charmed by the show's beauty, as it does the captivating storylines.
Creating a Bridgerton beauty look—with season two lead, Erika Ökvist
For the second season of Bridgerton, the show teamed up with the iconic Pat McGrath Labs to be the official makeup brand of the show. So it's no surprise that the characters boast glows that hold all day, and the most kissable lips, with those products in the makeup bag.
My Imperfect Life beauty contributor, Mollie Davies, caught up with Ökvist, and Pat's legendary team, to find out more about what went into creating the beauty we see in this fantastical world of Bridgerton.
"I'm just so excited, about it all really," Ökvist said of last year's buzz around the second season. "Even my Mum, who is in her 70s, has been talking about how great all the characters look this season. Everybody wants that Bridgerton glow."
Talking of the Ton and creating fresh new looks whilst trying to keep to the core looks of each character and the time, Ökvist describes those who lived the Bridgerton lifestyle during the regency period, to be "movie stars, the famous people of the town." Those who were part of each season were constantly bringing forward new trends and new looks, "almost like Paris Fashion Week, so that every season is the last season." This is why every time we see a character, they may have changed the way that they wear their hair or the rogue they use, as "they constantly have to stay ahead of the game."
Deciding on a brand
When it came to using Pat McGrath as the official brand for the show, Ökvist mentions that above her own love for the brand, the pairing of Shonda Rhimes and Pat McGrath, two incredibly strong and successful women, is a very interesting and strong concept. "The pairing is revolutionizing the way in which we look at the representation of history, television, and skin tones," Ökvist says.
On any show, but especially one like Bridgerton, where the aim is for skin to look natural and not layered up, it's important to create a look that isn't too heavy. "The secret is that you layer things on very finely, rather than putting everything on heavily. You need to cater to how your skin looks on that day, and do the bare minimum. Always do less." Ökvist recommends that everybody looks at everyday like a new face, and only apply what the skin needs.
The arrival of the beautiful, and contrasting, Sharma sisters in season two brought with it the introduction of South Asian representation into the show, and also perhaps the most gorgeously glowing skin we've ever seen. "For me, I've always treated all skin tones exactly the same. It's important to know that there are so many skin tone undertones, and to know them is the most important thing", Ökvist says of working on set. "To make the skin sing with a great foundation, and a blush that looks natural, Pat McGrath caters so well. No matter who sits in your chair, you have the security that there is a perfect product for everyone."
Perfecting a general base
Kate and Edwina, along with their mother Mary, make the journey over from India in order to find Edwina a love match, and Ökvist was keen to embrace the ladies' heritage in the selection of products used. "They came with everything I needed to set the trend, and we just wanted to enhance this. We used a lot of the Mothership V: Bronze Seduction—it's in the name, you know it has all of those luxurious, warm tones that we needed." The same can be said for other products, like blusher. Using colours already within the skin tones, Ökvist loved Skin Fetish: Divine Blush in Lovestruck and Paradise Venus for the Sharma sisters. "By layering everything on so sheer, you mirror the gorgeous tones in the skin. Let's face it, these girls are beautiful, we are just highlighting that."
The Skin Fetish: Highlighter + Balm Duo, which McGrath ends each of her own looks with, was an essential in every makeup bag on set. "The indecency picks up the light and makes cheekbones grow up to God, helping to create an architectural look of the face that the camera loves." Even the men were doused with the Highlighter + Balm Duo on set, which, according to Ökvist, was "a lifesaver." Remembering a scene that was shot outside, as part of a continuation scene, the white stones and sun outside made that the light was reflected on each character's face, and they were quite quickly washed out. "Because the pigments are so good with the Pat McGrath products, we were able to run back in and layer up, so that characters looked the same as they did inside—you never know what a camera will see, and how it will translate the look you've created."
Building a character identity
Deciding the classic look for each character is no small task, as although their look may be elevated from day to night, it largely remains the same. "Of course, I read the script to see how each character's story starts and ends because their look needs to be represented as a journey," explains Ökvist. Working with each actor's makeup artist, and the actor themselves, Ökvist usually conducts three sittings to determine a character's look, encouraging them to go home wearing their makeup and test out its longevity—"these actors need to look flawless for anywhere up to 14 hours."
"It's important that each actor looks in the mirror and feels like their character, and not like themselves," says Ökvist on transforming the person sitting in her chair into the world of Bridgerton. "You aren't just applying what is most flattering, but you have to consider what you want the audience to perceive with the look you are showing them."
Kate Sharma's look, according to Ökvist, needed to be no-nonsense, "she needed to look like she just got out of bed. You wouldn't see her sitting down with her maid moisturizing her skin and putting on her lipstick", so Ökvist opted for MatteTrance Lipstick, a velvety lipstick that feels comfortable but looks natural. Created by McGrath to be a long-lasting lipstick, it worked perfectly on set. "It's also kissable", adds Ökvist, giggling. We're sold, just throw in the dreamy Anthony Bridgerton, please.
Although Kate's hair is very simple and neatly pulled back, Ökvist mentions that once she starts to fall in love with Anthony, and loses herself in her thoughts, little wisps of hair start to appear around her face that she has forgotten to tie back. It is those small details that Ökvist says she is endlessly thankful to her talented team for.
Establishing a regency look
"Bridgerton is regency as a heightened reality, it's a world of its own," says Ökvist about creating a look that appeals to the modern eye but speaks back to its historical period. "I have probably read every single book that there is, and Pinterested every regency look that I could find out there. There was makeup out then, people were using rouge and people wanted to look elegant and classic—they may not have been open about it, but you'd definitely be heading to the powder room after a heated dance." But, Ökvist says, "they didn't have mascara or foundation, so we can't have any running dribbles of product. It keeps us on our toes every day, and this is why we do the job."
Color harmony is vital to creating each character's look, according to Ökvist. "From the jewelry and the dresses to the makeup. The Mothership Palette's jewel tones pair up well in darker settings like a ball, where characters are wearing lots of jewelry, to help pick up the light."
On ensuring that makeup lasts all day, Ökvist swears by the Skin Fetish: Sublime Perfection Primer, claiming it to be her favorite product. "Even if I feel like I don't have time to do anything else, I will put the primer on," says Ökvist. It's universal and great for all skin types, as well as feeling instantly hydrating, which helps to create the gorgeous skin quality we see on the show. Containing hyaluronic acid, which Ökvist calls the Ozone layer for the skin, it ensures a long-lasting, dewy look. Thinking back to that heart-thumping scene where Kanthony fell into the mud when playing pall mall, Ökvist recalls how they always try to shoot these likely messy scenes last on set, and by adding thin layers, it's often easy to be corrected.
What really stands out among Ökvist's advice about her work on Bridgerton, is that creating that Bridgerton-approved beauty is all about enhancing natural beauty, and remembering that less is always more. Thin layers of makeup are exactly what you need to create a dewy, long-lasting look, that is easy to touch up and make adjustments to—something that we can definitely translate over into our IRL looks.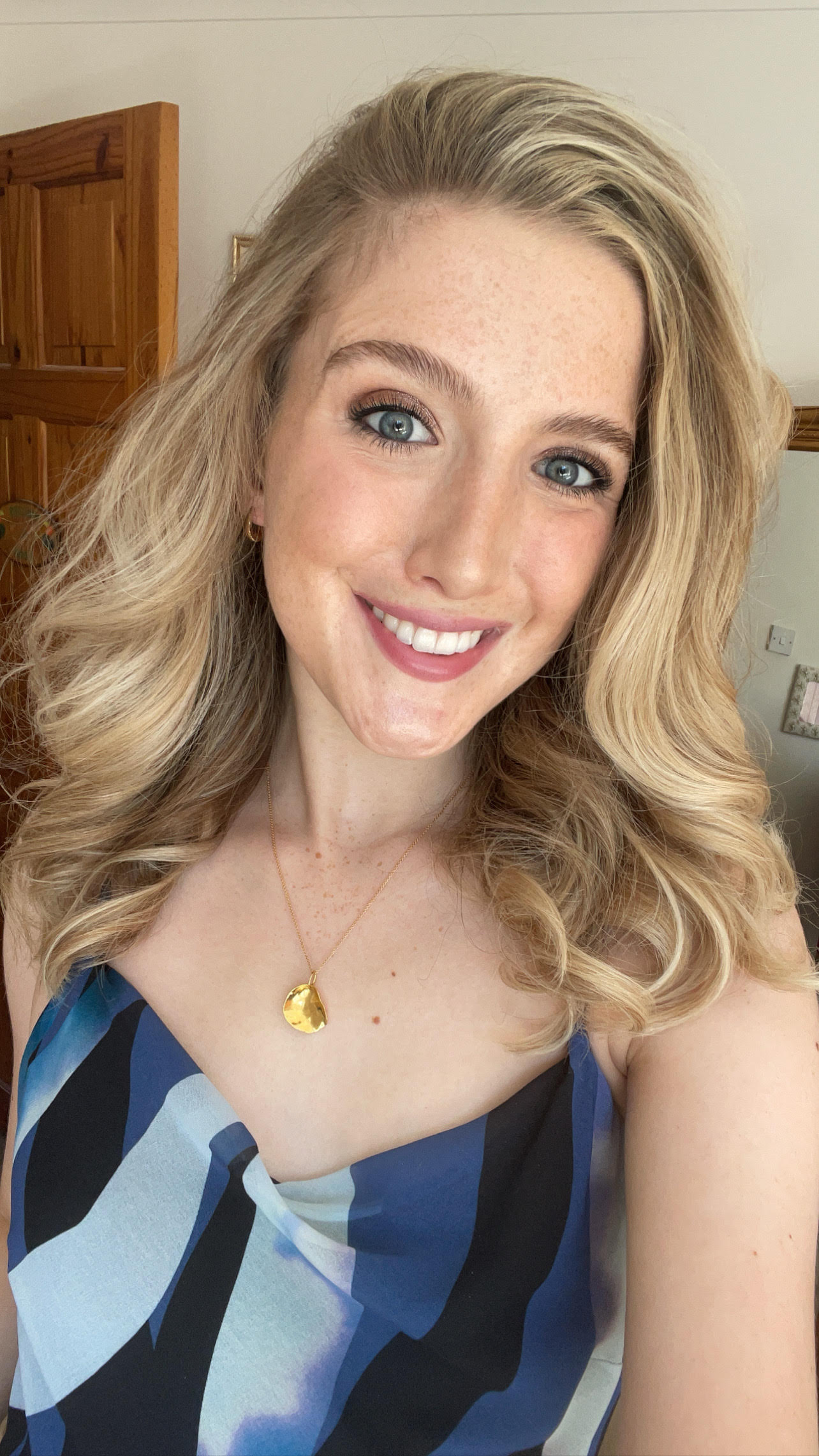 Mollie Davies is a lifestyle, fashion and beauty journalist. Her work can be found in international publications such as Good Housekeeping, Insider, Evening Standard, Cosmopolitan, amongst others. In her spare time, she's found at the pottery studio, baking, or enjoying musical theatre, and loves to be with her basset hound, Olive.