Who is Kate in 'Bridgerton'? All about the season 2 character
She's about to change things up in the Ton but who is Kate in 'Bridgerton'?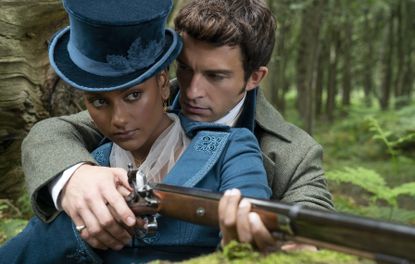 (Image credit: Liam Daniel/Netflix)
Dearest readers, who is Kate in Bridgerton?
If you're deep in the world of Ton stans on Twitter, then you'll have noticed the name pop up regularly in talks about the Bridgerton season 2. But who exactly is this new character—who'll be played by Sex Education's Simone Ashley—and why does everyone love her so much already?
Last year, we got the devastating news that Regé-Jean Page, who plays the dreamy Duke of Hastings, will not be returning for the second season and naturally, our hearts were shattered. However, that doesn't mean there isn't plenty to look forward to when we finally get the follow-up season on Friday, March 25—the main being some fresh new faces to get to know.
Ever since Netflix delivered that special note from Lady Whistledown, detailing that the plot of the second season would focus on Anthony Bridgerton's quest for a wife, we've been keen to know who was in the running to steal the eldest Bridgerton's heart, or whether he would marry for love at all, even after vowing to "remove love from the equation," at the end of the first season. Well, it looks like a certain Kate may be our answer to that...
---
---
Who is Kate in 'Bridgerton'?
In the sequel to Quinn's first book, which is titled The Viscount Who Loves Me, a woman named Kate Sharma Sheffield is the main character. We are actually introduced to her as Anthony Bridgerton is set to marry her younger sister but Kate is totally opposed to the idea as she deems Anthony unworthy, which frankly, we understand. He did say he'd marry practically anyone as his 'duty.'
Netflix has described Kate's character as a "smart, headstrong young woman who suffers no fools—Anthony Bridgerton very much included."
However, in a classic enemies-to-lovers story, Kate and Anthony end up falling for one another, which means he could end up marrying for love after all. But as we know, TV adaptations don't always follow the exact plot of the books so anything could happen. However, this definitely sounds like a new fictional relationship we can obsess over, especially as Daphne and Simon will no longer be taking center stage. Plus, Kate already seems to have a strong fan base, with fans expressing their excitement for her to be introduced on the show ever since the second season was confirmed.
Who are the Sharmas in 'Bridgerton'?
Along with Kate, season 2 is welcoming two more Sharma ladies to the Bridgeron cast: Kate's younger sister Edwina (played by Charithra Chandran) and their mother, Lady Mary (Shelley Conn).
The three Sharmas arrive at the Ton from India to debut Edwina to society and get her married off. They move into the home of Lady Danbury (Adjoa Andoh), who accompanies them to balls around town and helps with the matchmaking.
While the Sharmas debut certainly brings with it a good amount of drama and intrigue, it's nothing new for Lady Mary, whose marriage to a widowed tradesman of no aristocratic standing caused a scandal for her upper-class British family. Now Mary is back from Bombay—a TV setting swap-out for the book's Somerset—and rejoining the aristocracy under the watchful eye of its residents and Lady Whistledown.
"Mary comes from a long line of deep-rooted aristocracy in England," actress Shelley Conn says in an interview with Shondaland. "I suppose that makes her quite an original because a lot of Bridgerton speaks to the theme of love versus duty and what is marriage. Is it purely a contractual obligation between two people that will justify families to keep going forward? Or is there an element that allows for true love? That's a question that Mary had to deal with in her past. She chose love."
And as for Kate and her less-than-eager thoughts about marriage, "the first season was about the constraints that women feel being trapped in the marriage mart," says Bridgerton executive producer Shonda Rhimes to Shondaland. "Season two builds on that … and through Kate, we're seeing the sense of responsibility that goes along with being a woman who doesn't want to get married but who wants to get her sister married. And that's wonderful."
Simone Ashley tells Shondaland: "Kate's taken on the role of caring for Mary and Edwina, and I think she can be quite controlling. She tends to make decisions on everyone else's behalf a little bit, which can be a good thing and a bad thing. Mary is still processing and grieving the loss of her husband, and there's a lot of trauma for her coming back to England and facing the ton."
"That puts a lot of responsibility onto Kate to take care of Edwina and make sure she's being married off in the right way," Ashley continues. "She feels a lot of duty as the other sibling. Kate's not coming to London wanting a husband or to be married herself, so she is totally focused on Edwina."
Are the Sharmas Indian in 'Bridgerton'?
Bridgerton is known for its blind casting, which came into play when it comes to the Sharma women. In the book, their last name is Sheffield and they hail from Somerset, but in the TV adaptation, the family is of Indian descent and their surname is Sharma.
"Making the Sharmas of South Asian descent was actually a very simple choice," Rhimes tells Shondaland. "I wanted to feel like the world we were living in was as three-dimensional as possible, and I wanted to feel like the representation was as three-dimensional as possible too. Finding some South Asian women with darker skin and making sure that they were represented on-screen authentically and truthfully feels like something that we haven't seen nearly enough of."

"You really see the authenticity and the details of the Sharmas' South Asian heritage throughout the series," show creator Chris Van Dusen says to the outlet. "And you also see the close bond that exists in this family. I always wanted to see and do and hear things that aren't normally seen or done or heard in your typical period pieces, and the Sharmas are very much a reflection of that."
Who will be playing Kate in 'Bridgerton'?
Netflix announced that it has cast Sex Education star Simone Ashley to play Kate Sharma Sheffield in season two. Ashley will play the female lead alongside Jonathan Bailey, who will reprise his role as Anthony Bridgerton.
Julia Quinn was over the moon with the casting of Kate, taking to Instagram shortly after the news was announced to express her excitement: "WE HAVE OUR KATE!!!!! Welcome to #Bridgerton, @simoneasshley! I couldn't dream of a more perfect Kate," Quinn wrote in a post. "I mean, just LOOK at her expression in that first photo!"
What about Siena Rosso?
In the first season, we saw Anthony having an affair with opera singer Siena Rosso (played by Sabrina Bartlett). The two were in love but couldn't be together due to their contrasting social statuses. They reluctantly parted ways for good at the end of the season, leaving Anthony heartbroken, hence his vow not to marry for love. So will Siena be making a return in the second season?
According to the books, the affair is only ever mentioned in passing meaning Siena never returns. But Van Dusen did tell Entertainment Weekly before season two was announced: "If we're going to tell Anthony's story in a later season, I always found it interesting to figure out what would have happened to Anthony before he came in the book. Exploring his background and giving him real texture and backstory."
When asked about Siena returning, he said it was "too early to say" at the time. So, you never know!
Meet Kate Sharma and the rest of the Sharma family when Bridgerton season 2 premieres on Netflix on Friday, March 25.
Sagal is a journalist, specialising in lifestyle, pop culture, fashion and beauty. She has written for a number of publications including Vogue, Glamour, Stylist, Evening Standard, Bustle, You Magazine, Dazed and Wonderland to name a few.