Bridgerton season 2: everything we know so far
The series showrunner just fans gave a little tease for Bridgerton season 2—here's the scoop on the Netflix sensation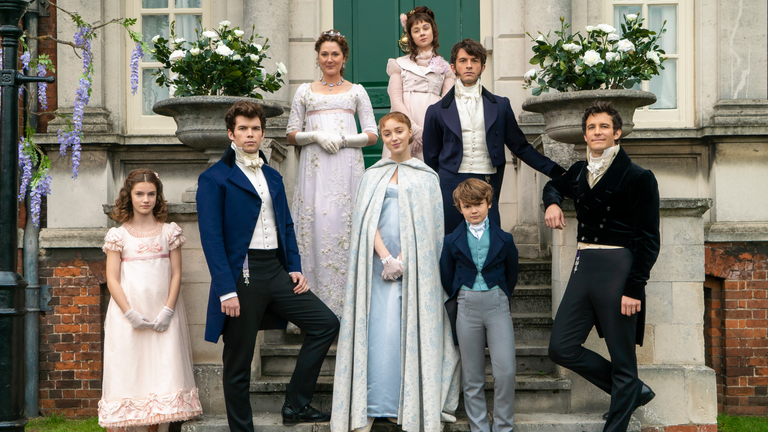 (Image credit: Netflix)
As we all eagerly await the return of Bridgerton to our screens and the new spinoff series, we're all burning for any new info we can get on the seductively dramatic period drama—and the show's creators have just teased some very juicy news.
Though we're still mourning the departure of The Duke of Hastings (and his spoon) from the show, creator Chris Van Dusen has promised fans that the new romantic leads are just as 'magnetic.'
The second series will follow the flow of the original books by Julia Quinn. The second book 'The Viscount who loved me' focuses on Anthony Bridgerton (Jonathan Bailey) and Kate Sharma (Simone Ashley.)
Prepare for another social season. Bridgerton is returning for season two, only on Netflix. pic.twitter.com/yqapEULKz4January 21, 2021
See more
Speaking to E! about the new couple, Chris said: "I don't think the people are going to be ready."
"I think, honestly, it's everything I think audiences loved so much about the first season, but just more."—Now that's what we like to hear!
He continued saying: "You cannot take your eyes off of them when they're together on screen, I can't wait for audiences to see that, or really, to feel that. I'm really excited."
Back in June, Chris shared some teasing insights about the first episode of season 2 from Bridgerton. He posted a snap of the script and title of the season premiere on his Instagram with the caption: "'Capital R Rake' #Bridgerton #Season2 #ItsComing #ScriptsInTheWild."
"Capital R Rake" 👀🐝 #Bridgerton #Season2 #ItsComing #ScriptsInTheWild 💜💫 pic.twitter.com/VRfPThbRGwJune 14, 2021
See more
Van Dusen included a bee emoji and the shift-eye emoji with the post, alluding to season 2's new lead character, Anthony Bridgerton. Bees are a frequent motif in the Bridgerton universe, showing up in the homes and wardrobes of the Bridgerton family.

Van Dusen has previously Tweeted about the bee motif, writing: "This bumblebee is a very important symbol & thematic element for us. Yes, it's cute but it's also backstory, history, HIERARCHY. Queens & drones. (There's an essay in here somewhere.)"
Although our other favorite rake, the beloved Duke of Hastings, won't be making a return (*sigh*), we're anxious to see how Anthony's love story will unfold. From casting and filming locations to plot predictions and sneak peeks, our updates will give romance fans the inside scoop about what's next. You deserve nothing less.
When and where is Bridgerton season 2 filming?
Excellent news, your grace: the cameras have started rolling and we've been spoiled with some first-look snaps of the cast back on set.
We caught wind of Jonathan Bailey (Anthony Bridgerton) riding on horseback in Windsor Great Park, which immediately sent us back to the Regency era. We can only hope that he is not preparing for another duel.
Meanwhile, Luke Newton (Colin Bridgerton) posted a behind-the-scenes snap with the caption: "An actor prepares — by texting his mum."
Actress Adjoa Andoh, who plays Lady Danbury, also joined in the social media fun. She posted a fun photo on set alongside Golda Rosheuvel (Queen Charlotte) and Ruth Gemmell (Lady Bridgerton) with the caption: "Gearing Up for Season 2..."
Why is Regé-Jean Page leaving Bridgerton season 2?
Alas, Regé-Jean Page will not be returning to play the dashing Duke of Hastings in Bridgerton season 2, something we're still grappling with, truthfully.
After Meghan Markle and Prince Harry's Oprah Winfrey interview, actress Adjoa Andoh (Lady Danbury) got our hopes up that parenthood for Simon and Daphne would mirror the royal couple.
Sadly, we now know that Regé-Jean Page is not returning, we are unlikely to find out much about the Duke and Duchess of Hastings' married life, as was previously predicted.
The Instagram announcement of his departure, written à la gossip from Lady Whistledown herself, does suggest that actress Phoebe Dynevor and her character Daphne Bridgerton will return for Bridgerton season 2: "Daphne will remain a devoted wife and sister, helping her brother navigate the upcoming social season and what it has to offer—more intrigue and romance than my readers may be able to bear."
Phoebe Dynevor breaks her silence on Regé-Jean Page
Our leading lady is giving us small tidbits about what fans can expect without the hunky Duke of Hastings. Although there is certainly a void, we can expect nods to Simon throughout the new series.
"I think he'll definitely be referred to a lot. I think we'll see the baby. And we'll just focus more on her relationship with the Bridgerton family," she told The Wrap in a June interview.
When is Bridgerton season 2 coming out?
Since the Netflix series has begun filming again in spring 2021, it seems likely that 2022 will be when fans see their favorite Bridgerton characters return to the screen.
However, with all this joyous news, of course, comes some sadness—filming is facing some delays after filming was paused after some crew members tested positive for Covid-19.
The Sun has reported that: "Netflix has gone to great lengths to ensure all the relevant measures are in place on Bridgerton, but this just goes to show how difficult it is for such a large set to be completely Covid-secure."
In true Lady Whistledown fashion, we'll be the first to inform you once a date is confirmed.
Who is the Bridgerton season 2 cast?
Netflix has announced some exciting additions to the already first-class cast, which includes the likes of Phoebe Dynevor as Daphne Bridgerton, Jonathan Bailey as Anthony Bridgerton, Nicola Coughlan as Penelope Featherington, and acting sensation Julie Andrews as the Bridgerton narrator, the mysterious Lady Whistledown.
Dear Readers, it seems we have a few new faces in the Ton. Do try your best to welcome them generously. I know I certainly will... ✍️ https://t.co/JsqLx8RDtaApril 5, 2021
See more
Regarding cast additions, Netflix said—in true historical romance fashion— "Dear Readers, it seems we have a few new faces in the Ton. Do try your best to welcome them generously. I know I certainly will..."
Four new talents are joining the Bridgerton family tree for season two. Simone Ashley was cast as Bridgerton's Kate Sharma, who will be the love interest for Anthony. Now, Charithra Chandran has been cast to play Edwina Sharma, Kate's younger sister, and Shelley Conn (from Liar), will play Mary Sharma, Kate's mother.
Two new male characters have also been announced. Calam Lynch will play Theo Sharpe, and Rupert Young will play Jack. So although we have bid farewell to dreamboat Regé-Jean Page, at least we have some new faces appearing in season two.
What will happen in Bridgerton season 2?
With the announcement of the second season, Lady Whistedown alluded to what fans can expect to see in the show's sophomore season. In a special edition of her Society Paper, she revealed that Bridgerton season 2 will focus on finding the perfect suitor for the family's eldest son, Anthony.
Fans of the books by Julia Quinn have pointed out that Regé's departure is not really a surprise, as each book focuses on a different Bridgerton sibling. The second book, The Viscount who Loved Me, focuses on Anthony Bridgerton's love life.
And not only will there be a second season but seasons 3 and 4, as well. According to Bridgerton showrunner Chris Van Dusen, we can expect a whopping eight seasons of the show if he has it his way.
Speaking to Collider, he said: "This being a family of eight children and there being eight books, I would love to be able to focus and really tell stories and love stories for all the Bridgerton siblings. For each character, for sure. I would love that."
Likewise, Phoebe Dyenvor told The Wrap, "I think every season is just going to be really different and magical in its own way. And that's honestly what I think is so brilliant about what Shonda and Chris [Van Dusen] have created."
Safe to say we've got plenty to look forward to with the Bridgerton clan! The second season is sure to be just as juicy as the first—fans won't be disappointed.