'Bridgerton' season 2: everything fans need to know about the new episodes
'Bridgerton' season 2 is on its way, and you'll love these first glimpses of the sophomore installment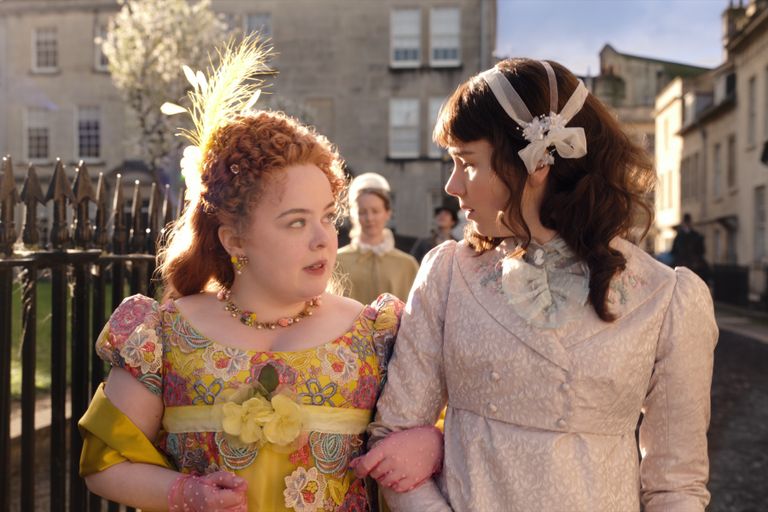 (Image credit: Netflix)
As we eagerly await Bridgerton season 2 to grace our screens, we're burning for any new info we can get on the seductive period drama.
Thankfully, Penelope Featherington herself, a.k.a. Nicola Coughlan, was in a chatty mood and divulged some fresh intel on the Netflix smash hit. Speaking with Entertainment Tonight in September 2021, Coughlan said the sophomore season is based on The Viscount Who Loved Me, the "fan favorite" of the Bridgerton books. The novel focuses on the eldest Bridgerton sibling, Anthony, and his quest for a wife.
"When you do season 1, you don't know if you're gonna get a season 2, but we were like, 'I really hope we get a chance to tell that story because people love it so much.' And Kate is such a fiery character," Coughlin said of Kate Sharma, Anthony's love interest.
Who is Kate, Bridgerton's new leading lady? The role is played by Simone Ashley of Sex Education. Calling the Sharma family "stunning," Coughlan added that the chemistry between Kate and Anthony is "quite major."
While viewers can expect plenty of romance in season two, the actress clarified that her character Penelope might not be involved in much of the lovey-dovey drama this season. "There is a book dedicated to Penelope so it will get there," she said, referring to book four of the Bridgerton series, Romancing Mr. Bridgerton. "Currently, she's still a wallflower. She's a working lady. She's an independent woman in Regency London, so she's doing a lot."
After bouts of COVID plagued production in August 2021, things got back up and running fairly quickly. Netflix even gave fans its first sneak peek of season 2 just several weeks after the production issues. Following the Netflix Tudum event, we have been treated to a small glimpse of Anthony's hunt for a leading lady. Have a look at the trailer below.
---
---
Plus, we've also been treated to a few production images via Instagram. "Ask for more, and you shall receive, dear readers," a post's caption read. "Do enjoy an early view of what is to come this social season..."
"Sharma family is perfect ❤️" one user commented.
Most of the commenters are particularly excited about the Kathony pairing, and we cannot blame them!
When and where is 'Bridgerton' season 2 filming?
Excellent news, your grace: the cameras have started rolling and we've been spoiled with some first-look snaps of the cast back on set.
We caught wind of Jonathan Bailey (Anthony Bridgerton) riding on horseback in Windsor Great Park, which immediately sent us back to the Regency era. We can only hope that he is not preparing for another duel.
Meanwhile, Luke Newton (Colin Bridgerton) posted a behind-the-scenes snap with the caption: "An actor prepares — by texting his mum."
Actress Adjoa Andoh, who plays Lady Danbury, also joined in the social media fun. She posted a fun photo on set alongside Golda Rosheuvel (Queen Charlotte) and Ruth Gemmell (Lady Bridgerton) with the caption: "Gearing Up for Season 2..."
Why is Regé-Jean Page leaving 'Bridgerton' season 2?
Alas, Regé-Jean Page will not be returning to play the dashing Duke of Hastings in Bridgerton season 2, something we're still grappling with, truthfully.
After Meghan Markle and Prince Harry's Oprah Winfrey interview, actress Adjoa Andoh (Lady Danbury) got our hopes up that parenthood for Simon and Daphne would mirror the royal couple.
Sadly, we now know that Regé-Jean Page is not returning, we are unlikely to find out much about the Duke and Duchess of Hastings' married life, as was previously predicted.
The Instagram announcement of his departure, written à la gossip from Lady Whistledown herself, does suggest that actress Phoebe Dynevor and her character Daphne Bridgerton will return for Bridgerton season 2: "Daphne will remain a devoted wife and sister, helping her brother navigate the upcoming social season and what it has to offer—more intrigue and romance than my readers may be able to bear."
When is 'Bridgerton' season 2 coming out?
Since the Netflix series began filming in spring 2021 and has already faced several COVID-related delays, it seems likely that 2022 will be when fans see their favorite characters return to the screen.
In true Lady Whistledown fashion, we'll be the first to inform you once a date is confirmed.
Who is in the 'Bridgerton' season 2 cast?
Netflix has announced some exciting additions to the already first-class cast, which includes the likes of Phoebe Dynevor as Daphne Bridgerton, Jonathan Bailey as Anthony Bridgerton, Nicola Coughlan as Penelope Featherington and acting sensation Julie Andrews as the Bridgerton narrator, the mysterious Lady Whistledown.
Dear Readers, it seems we have a few new faces in the Ton. Do try your best to welcome them generously. I know I certainly will... ✍️ https://t.co/JsqLx8RDtaApril 5, 2021
See more
Regarding cast additions, Netflix said—in true historical romance fashion— "Dear Readers, it seems we have a few new faces in the Ton. Do try your best to welcome them generously. I know I certainly will..."
Four new talents are joining the Bridgerton family tree for season two. Simone Ashley was cast as Bridgerton's Kate Sharma, who will be the love interest for Anthony. Now, Charithra Chandran has been cast to play Edwina Sharma, Kate's younger sister, and Shelley Conn (from Liar), will play Mary Sharma, Kate's mother.
Two new male characters have also been announced. Calam Lynch will play Theo Sharpe, and Rupert Young will play Jack.
What will happen in 'Bridgerton' season 2?
With the announcement of the second season, Lady Whistedown alluded to what fans can expect to see in the show's sophomore season, and it's all about Anthony.
And not only will there be a second season but seasons 3 and 4, as well. According to Chris Van Dusen, we can expect a whopping eight seasons of the show if he has it his way.
Speaking to Collider, he said: "This being a family of eight children and there being eight books, I would love to be able to focus and really tell stories and love stories for all the Bridgerton siblings. For each character, for sure. I would love that."
Safe to say we've got plenty to look forward to with the Bridgerton clan! The second season is sure to be just as juicy as the first—fans won't be disappointed.